Anima + Benedikt Wedding
Thank you for attending our wedding - in person or in spirit.
Below is a selection of our favorite photos with some words from Anima.
Location
The Caltech Athenaeum (or Ath for Caltech folks) holds a special place in my heart. I recall being filled with awe when I first visited Caltech and dined at the Athenaeum, and learned about its history. Albert Einstein made it his second home during his extended visits to Caltech. The place is rich with historic photographs and paintings that transport one to a different era. When we decided to get married, it had to be Ath for me, and Benedikt was also thrilled.
We decided on a morning ceremony to celebrate the California sunshine. Since early June is known for its June gloom, which keeps temperatures cool, we found a daytime event to bring the best of both.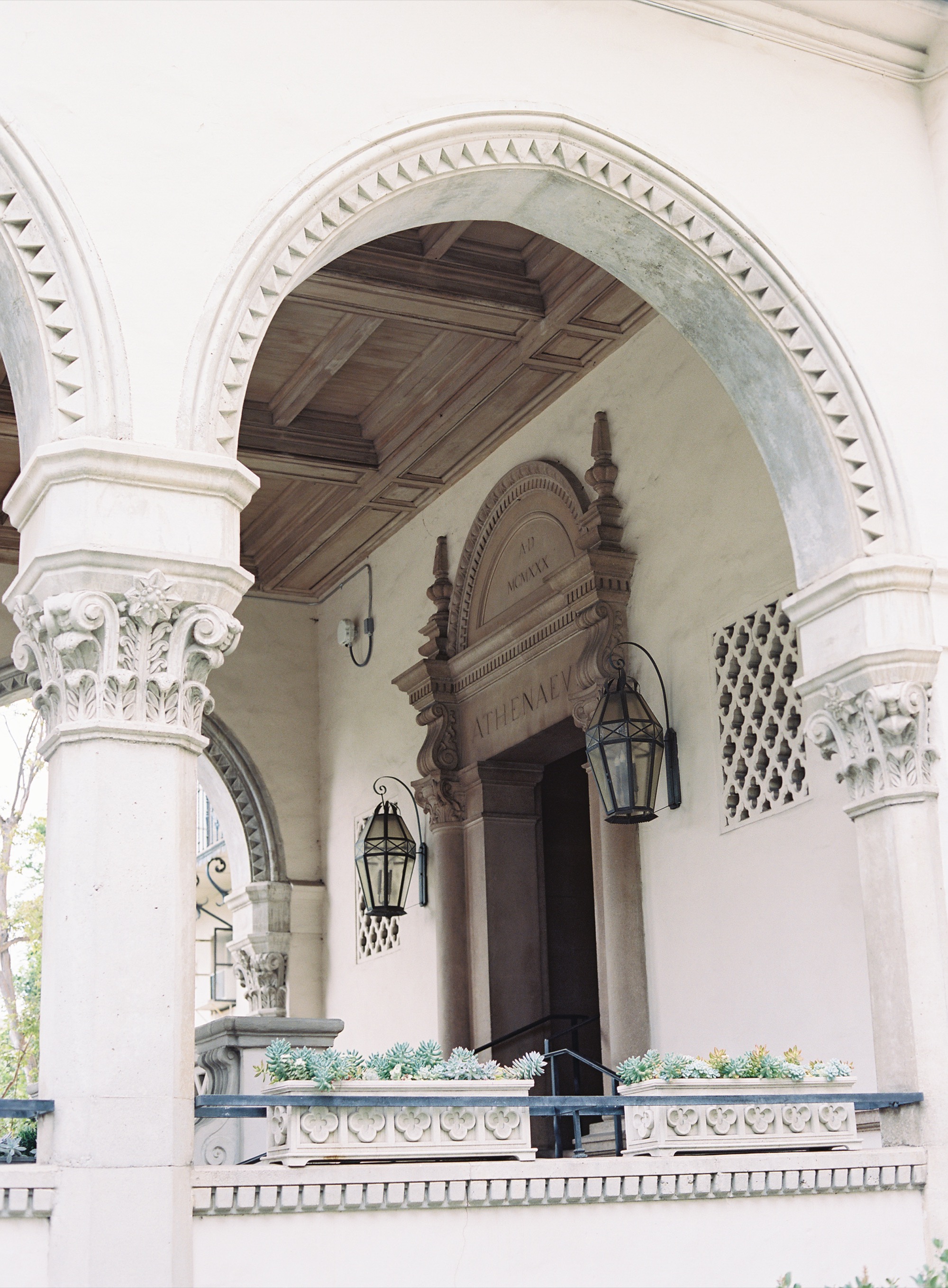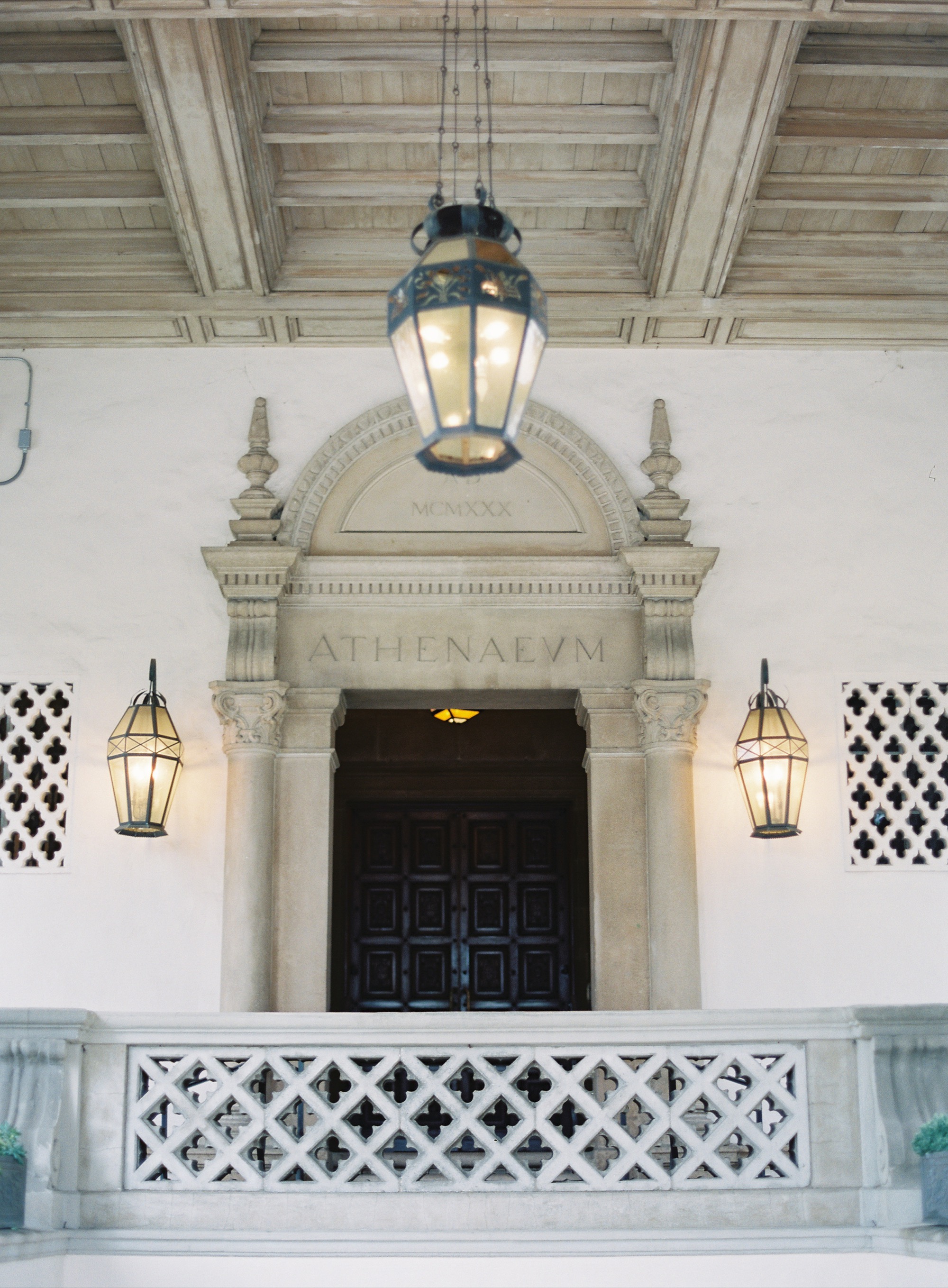 The Setup
Rings: We picked our rings to be in rose gold that complements both our skin tones well. We laughed at the vast size difference in our ring sizes when we first saw the rings.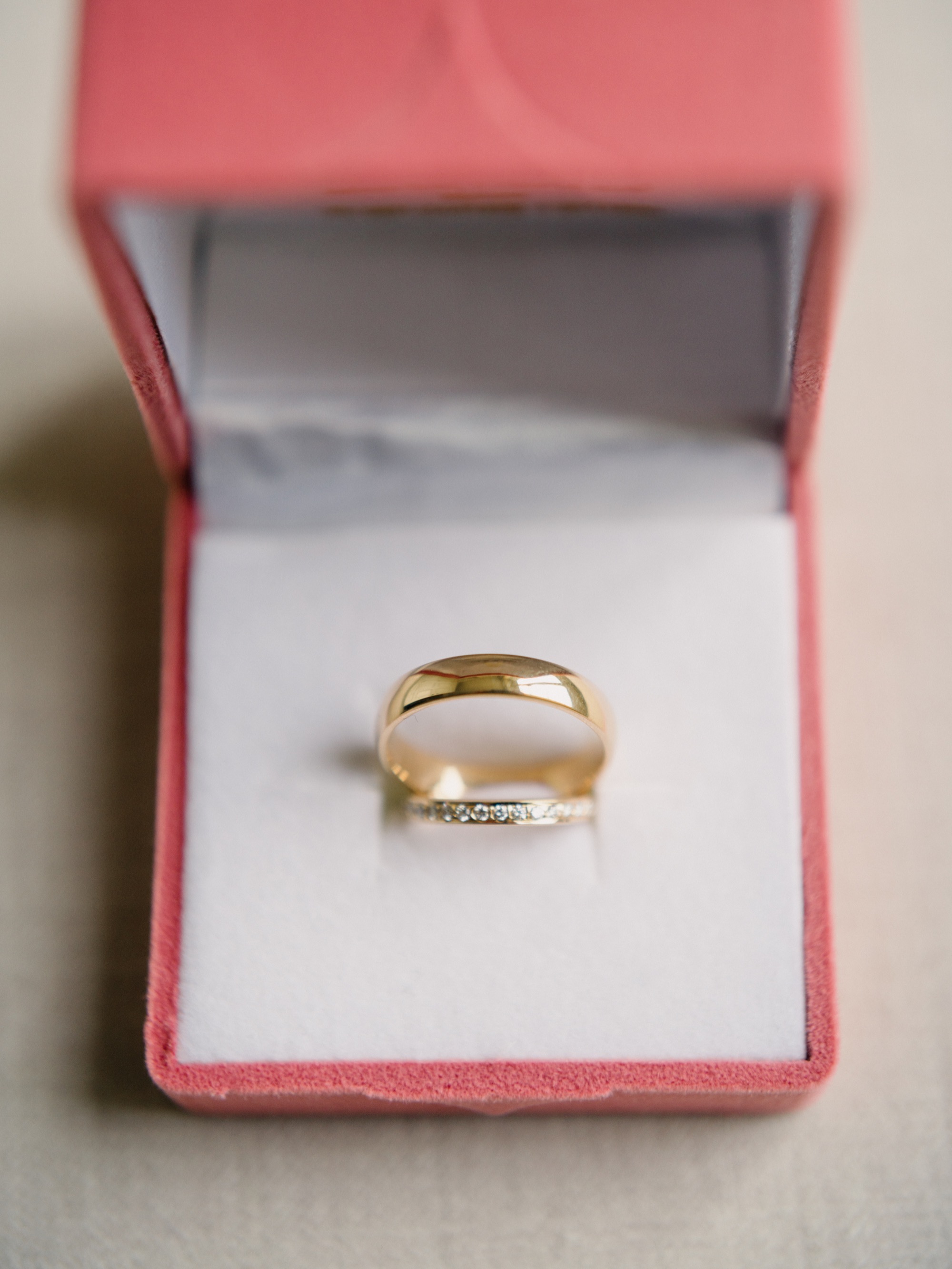 Jewelry: I decided to wear traditional uncut or rough diamond jewelry for the ceremony, a tradition that dates back thousands of years in India. It is even mentioned in famous ancient Sanskrit texts, including the Arthashastra, from the fourth century BC. Coincidentally, my great-great-grandfather Shamashastri discovered the Arthashastra, which was lost for thousands of years.
I find uncut diamonds to be more natural and subtle, and their imperfections bring about a richness that polishing takes away.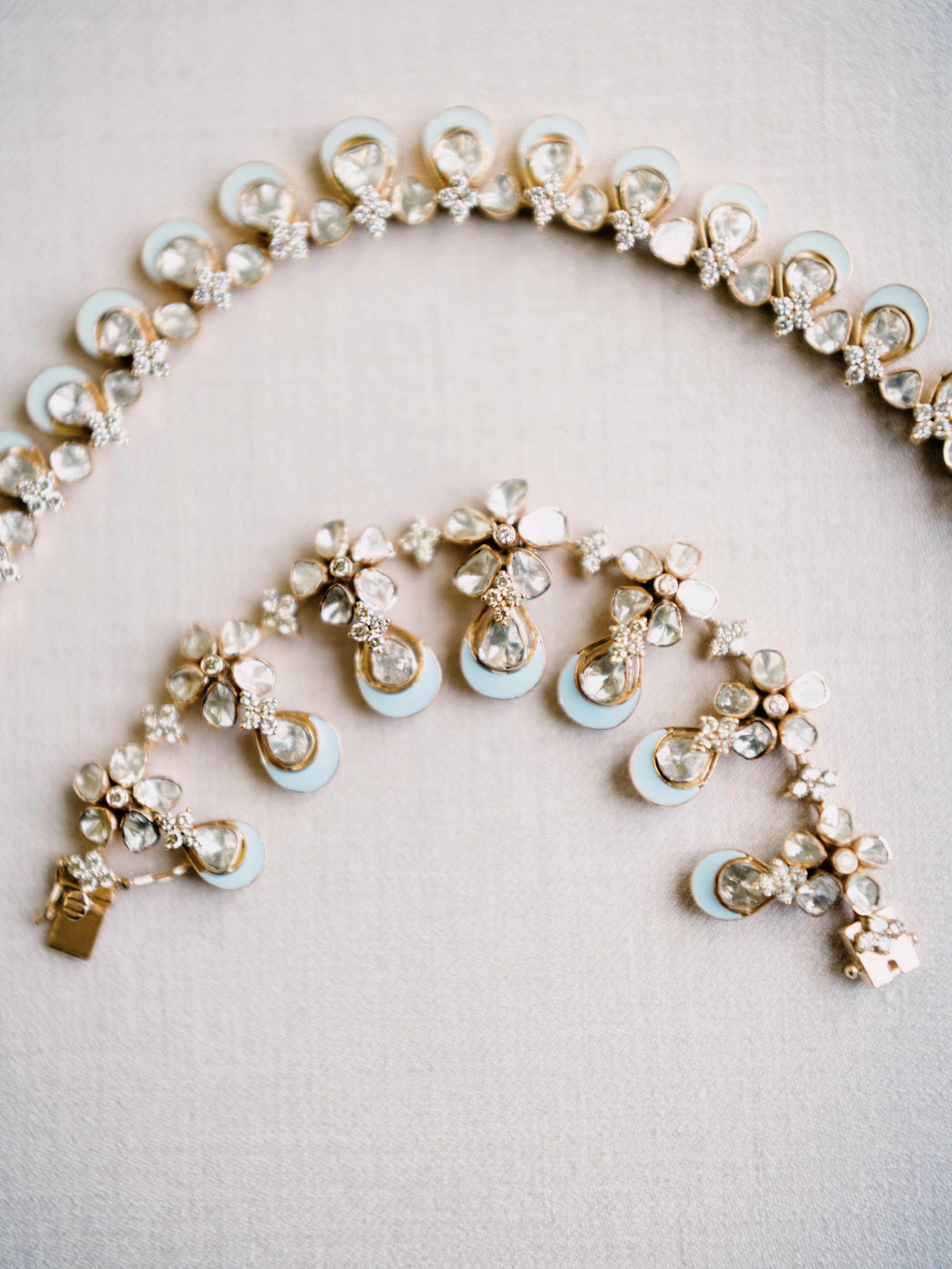 Shoes: It is always hard to find shoes that fit Benedikt's feet since they are beyond the normal sizes. In fact, Benedikt fought hard to find climbing shoes his size, when I proposed a climbing gym as our first date, and he won me over. He was so happy when he found his favorite patent leather shoes in his size for the wedding.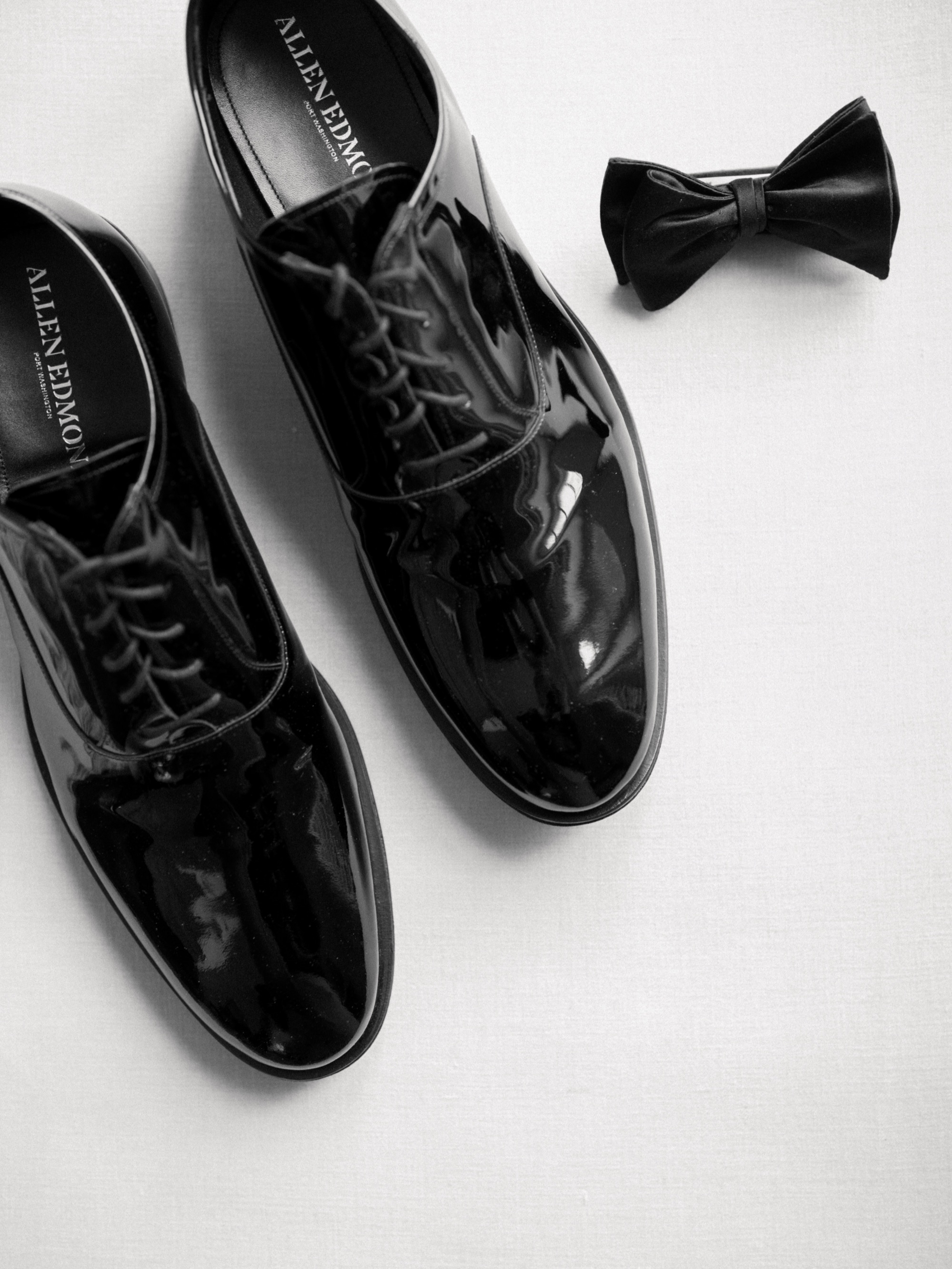 Dress: I searched far and wide for a suitable dress. Unfortunately, none of the usual designs appealed to me. My fashion aesthetic tends to be minimalistic with clean lines and I was looking for the same in a wedding dress. One day Benedikt saw me in my Roland Mouret ivory jumpsuit (below) and suggested that it would make the perfect outfit for the ceremony.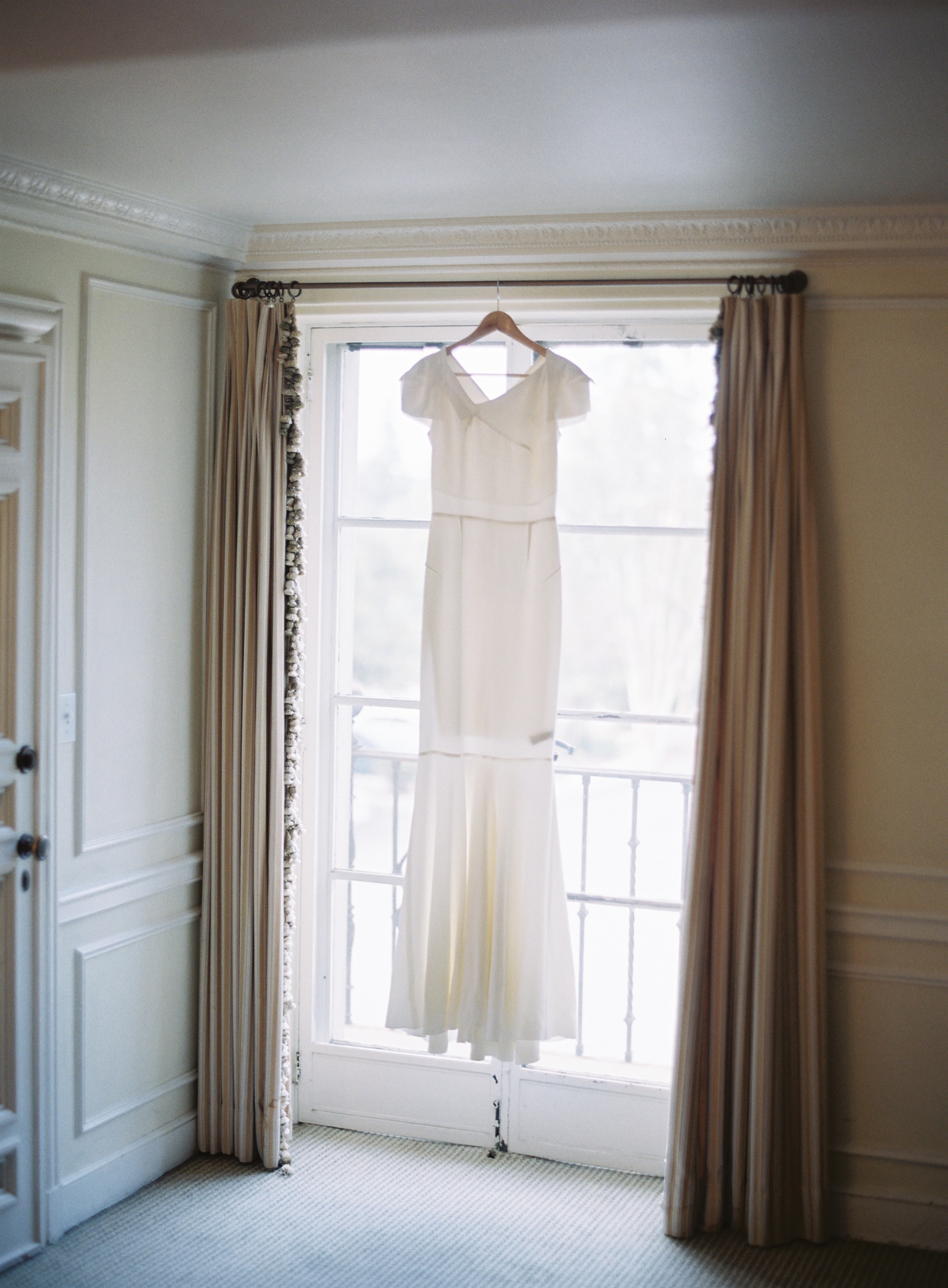 Dress: I could see the appeal of a jumpsuit and Benedikt wanted to see me as a confident woman in a jumpsuit, but I didn't want to let go of the idea of a dress. We made a compromise: I would wear the jumpsuit for the reception lunch, and find a dress for the ceremony. Given that we both loved the Roland Mouret jumpsuit, I then started searching for a Roland Mouret bridal dress. To my dismay, I found out that Roland discontinued his line due to the pandemic. I was lucky to find one of the last dresses online. It was a fluted stretch-crepe gown with a few origami folds at the shoulders, neck and waist.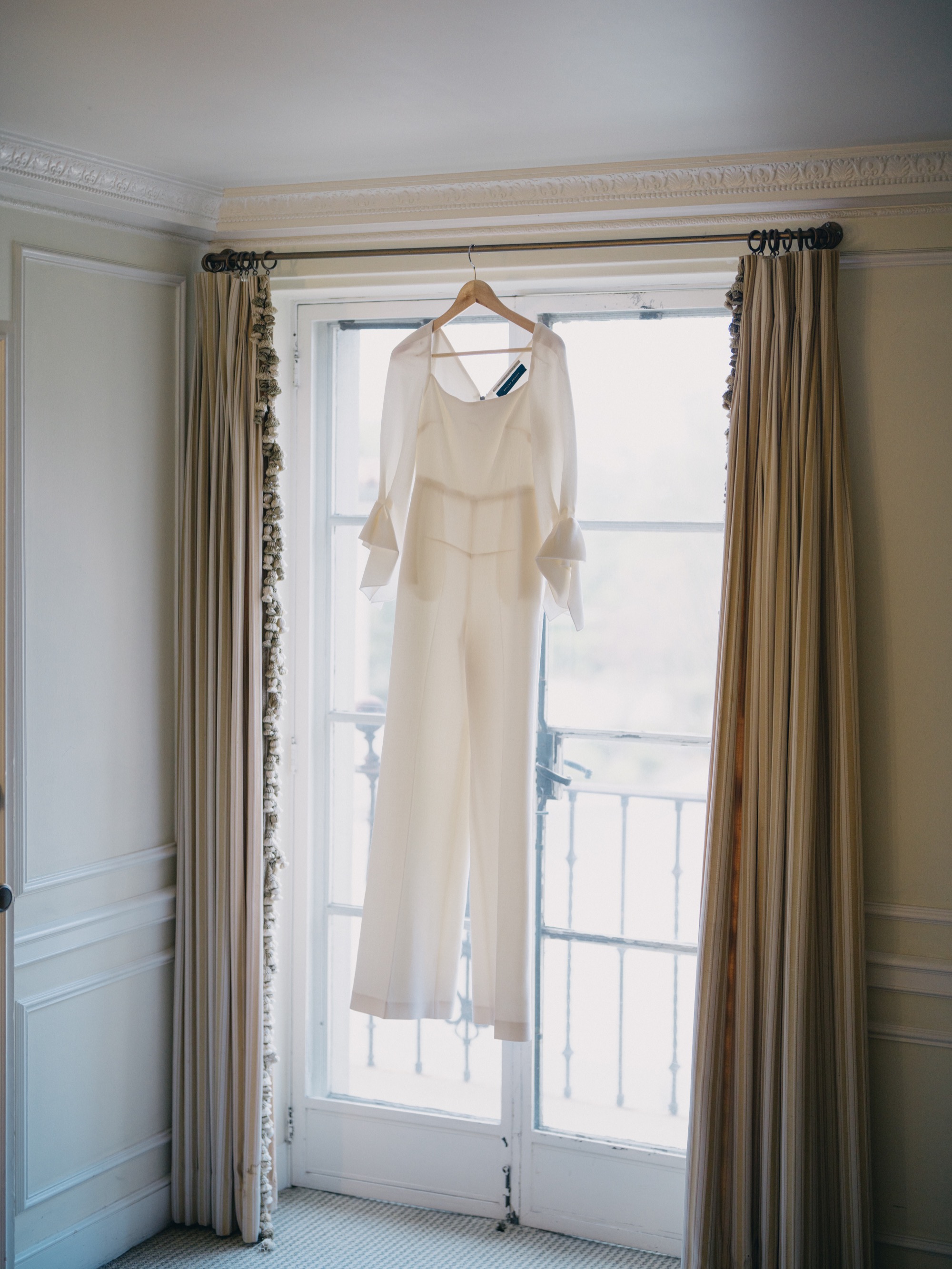 Jacob Maarse, a local florist in Pasadena, did a great job at creating an elegant floral hair crown and hairpin.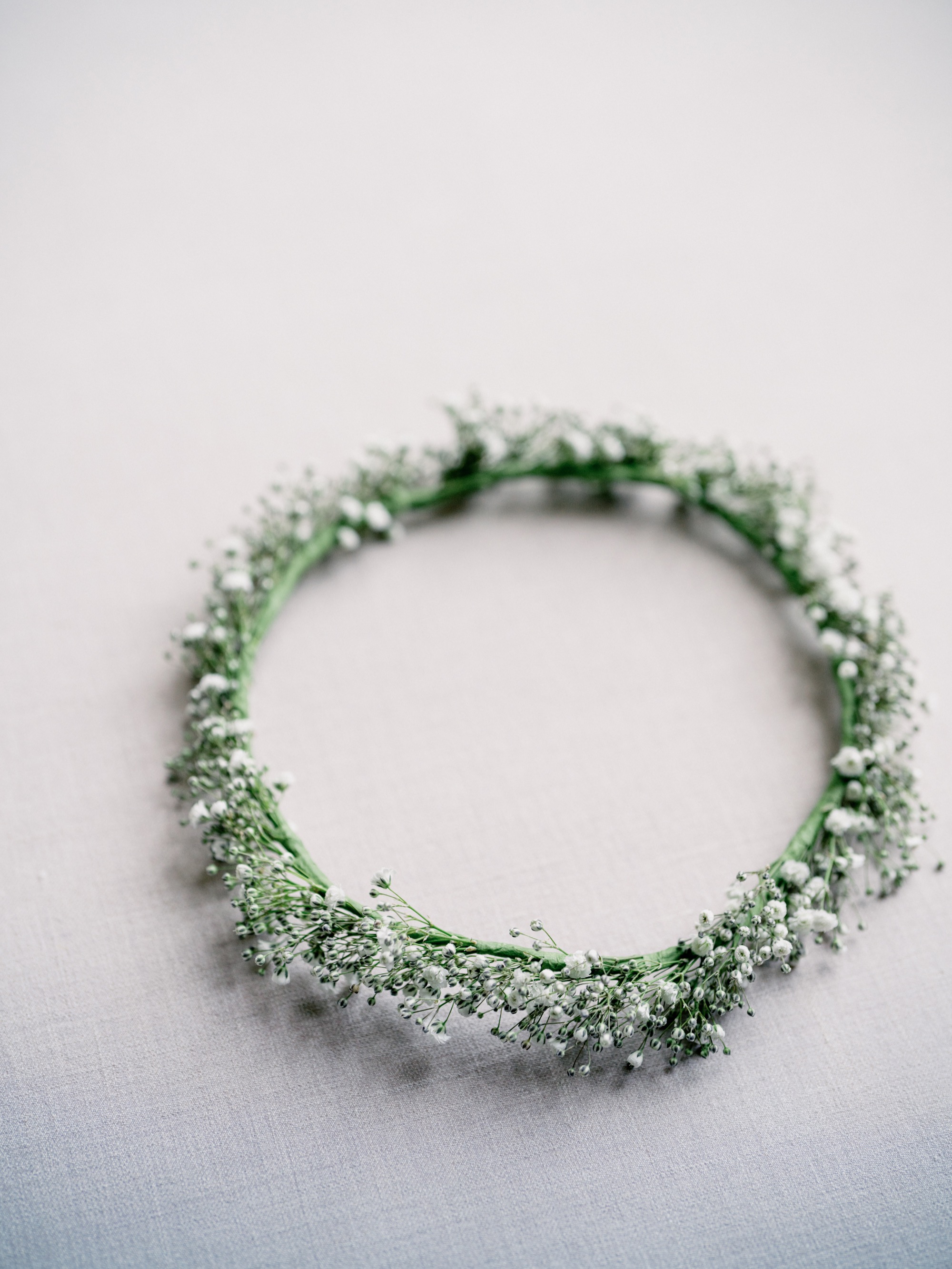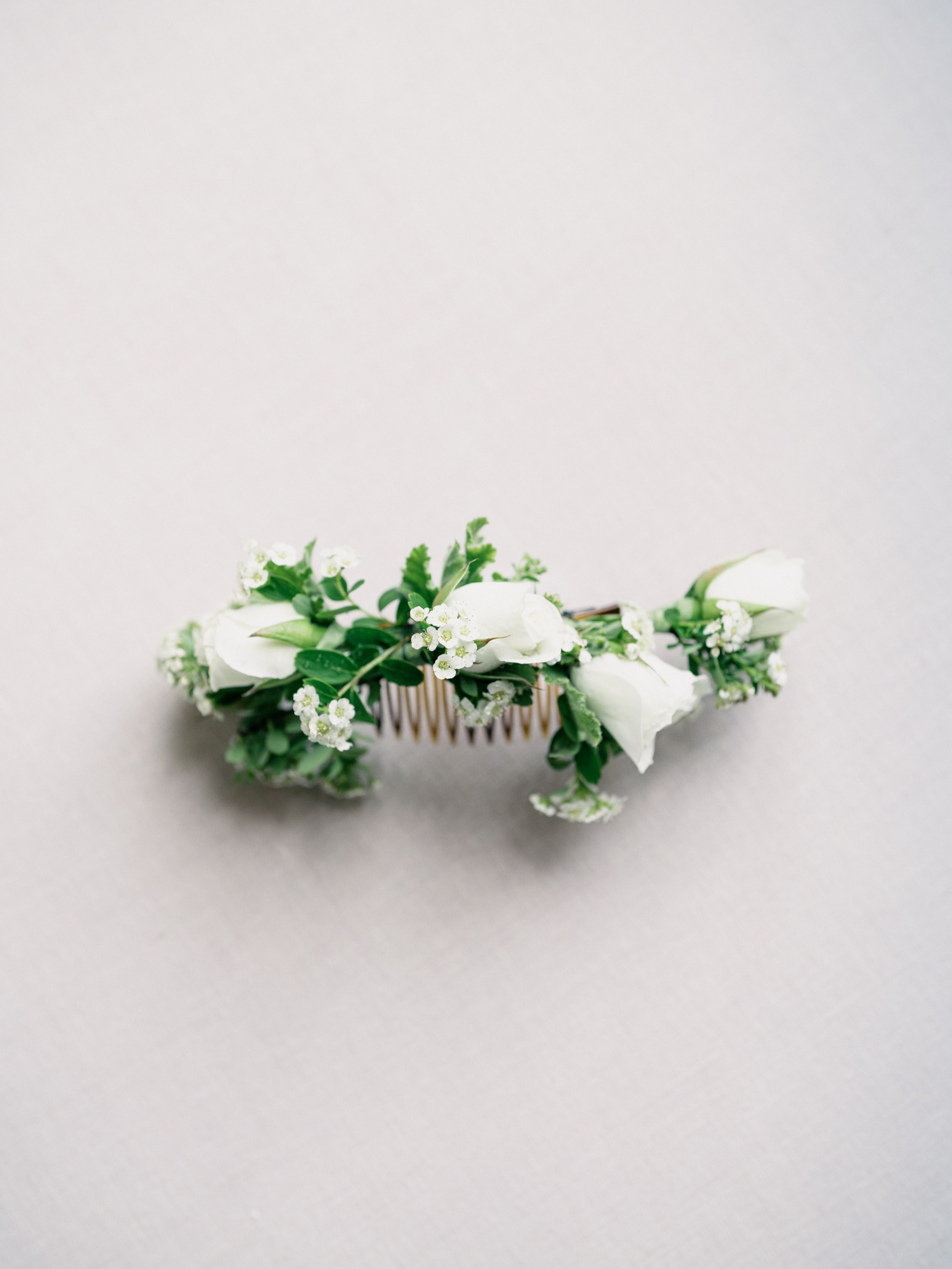 Getting ready at the Ath
A morning ceremony meant waking up early for hair and makeup.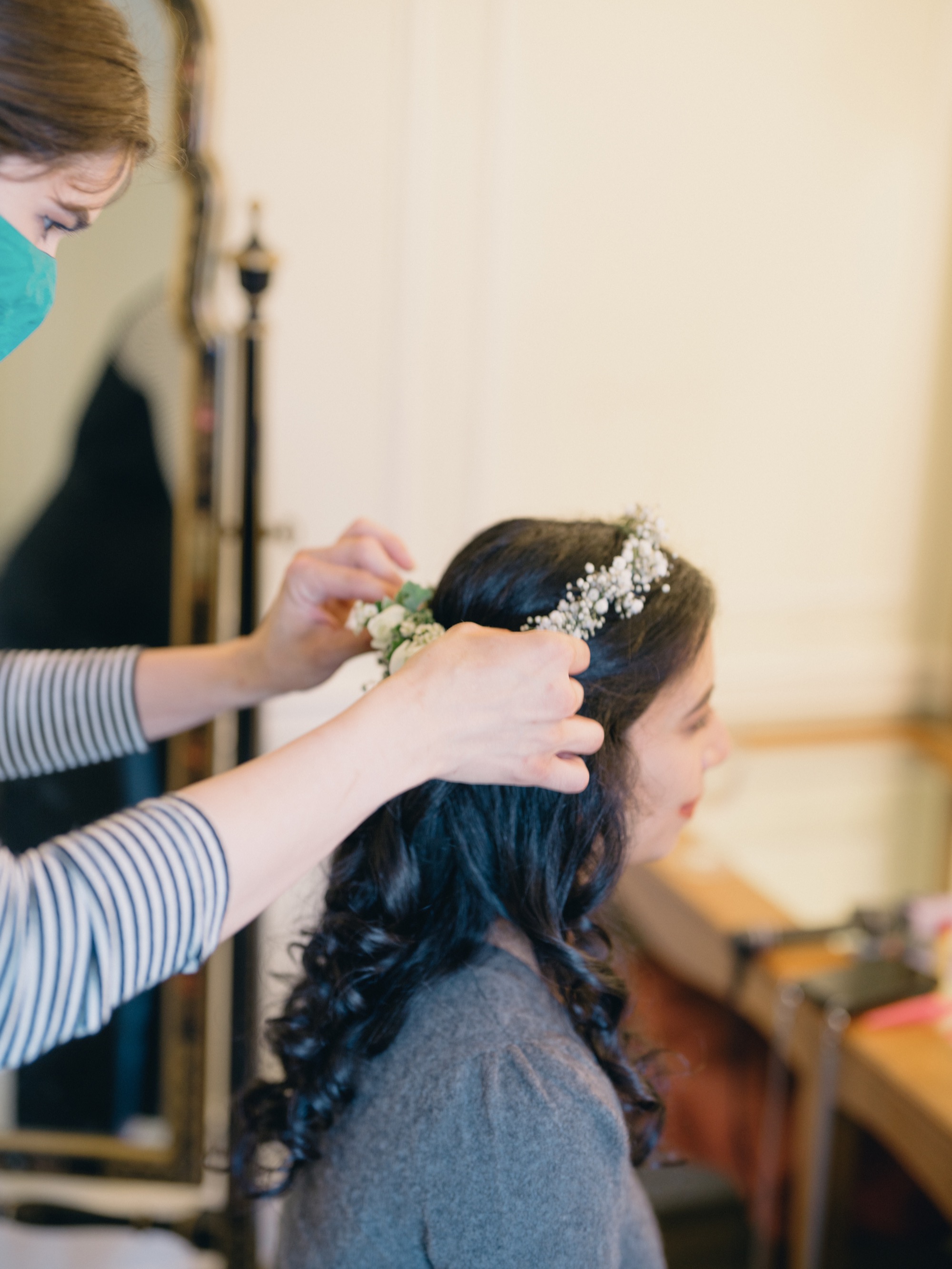 We didn't follow the tradition of avoiding seeing each other before the ceremony, and instead helped each other get dressed. Benedikt even brought me breakfast and made sure I was well fed before the ceremony. In this picture, Benedikt is helping me with my bracelet.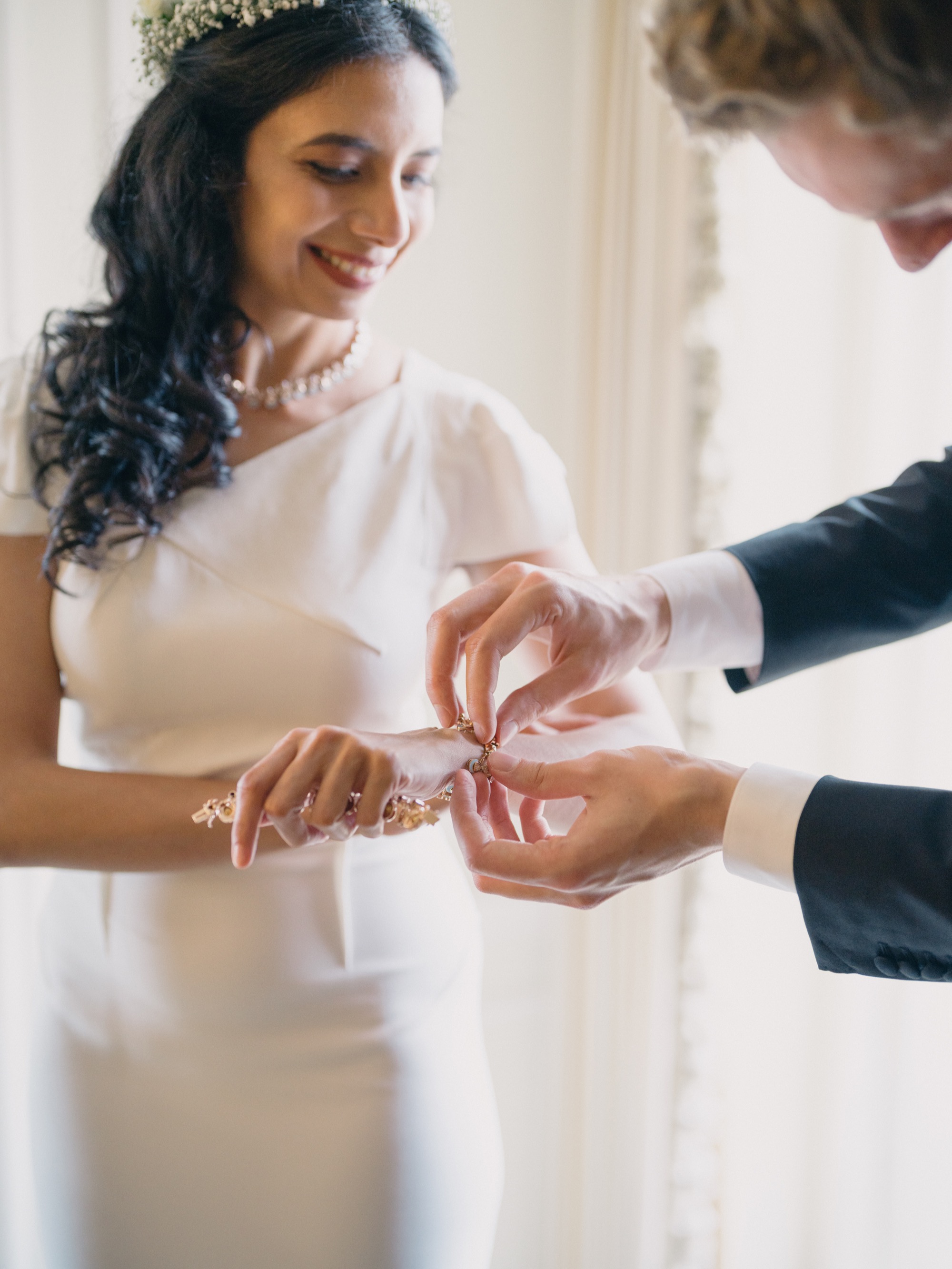 And I am applying hair gel (microscopic amounts as Benedikt insisted).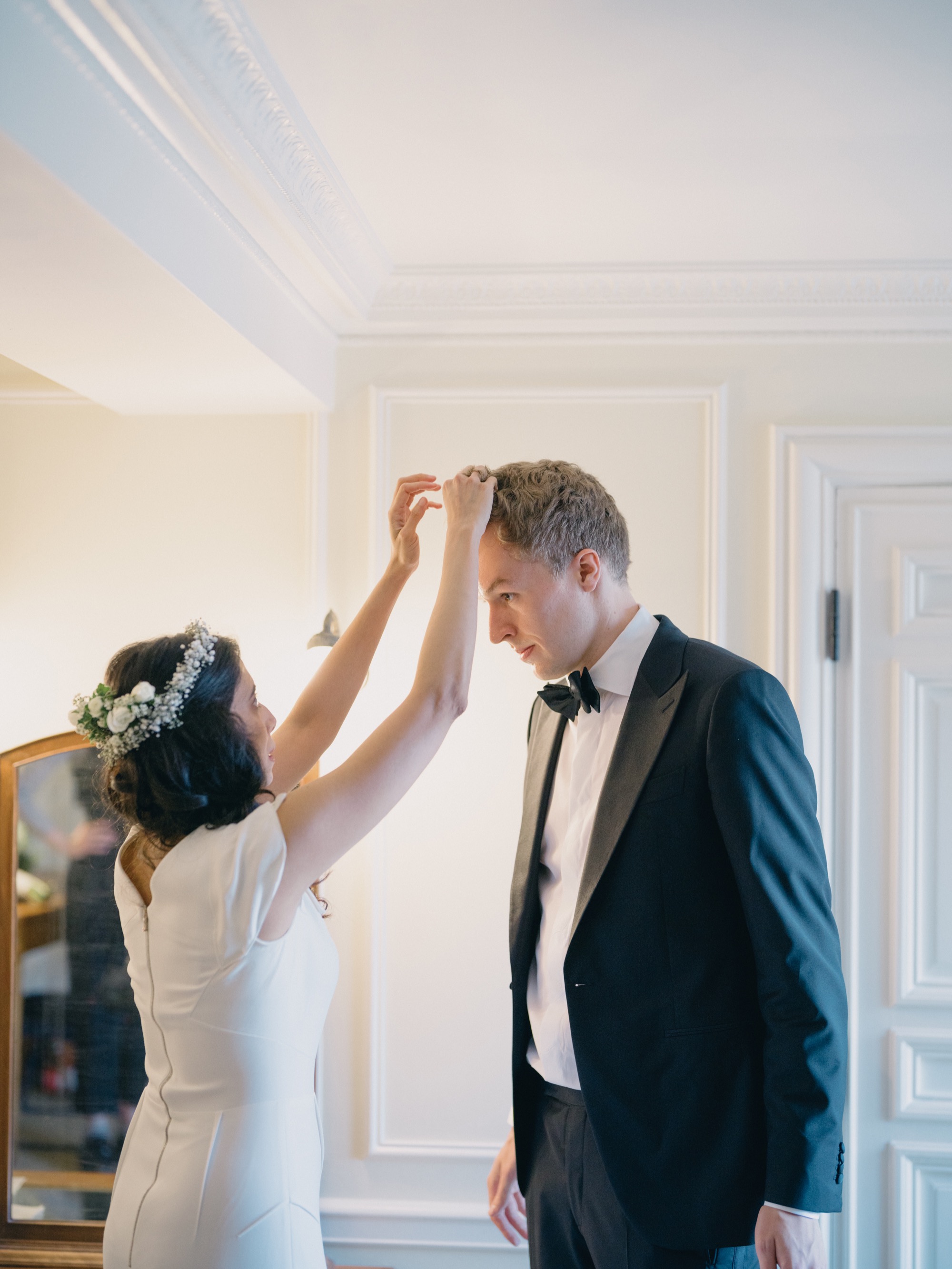 Benedikt got a custom tux stitched since nothing standard fits his 6' 9" frame.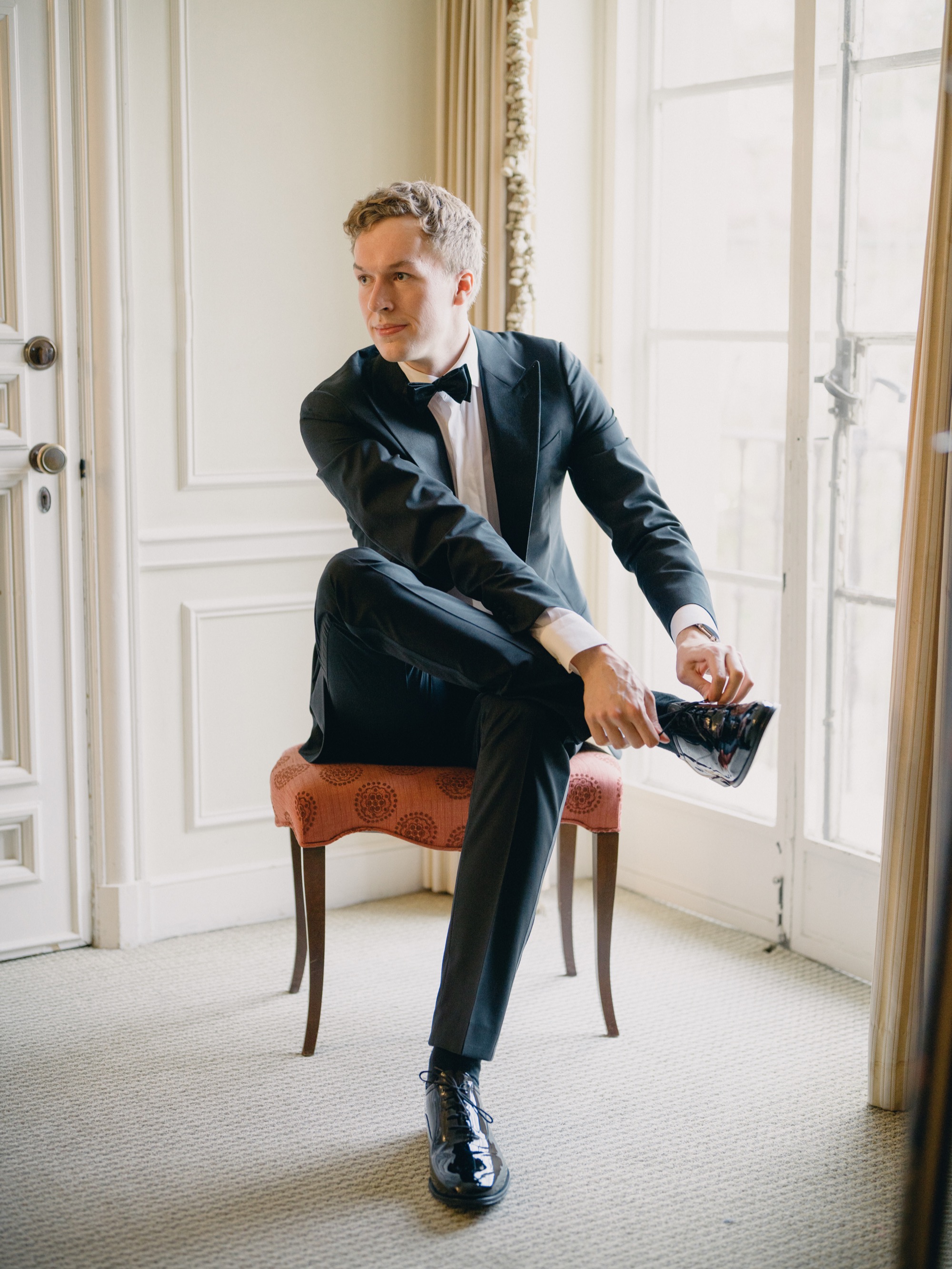 I got a cathedral-length shimmery veil to complement the minimalism of my Roland Mouret dress.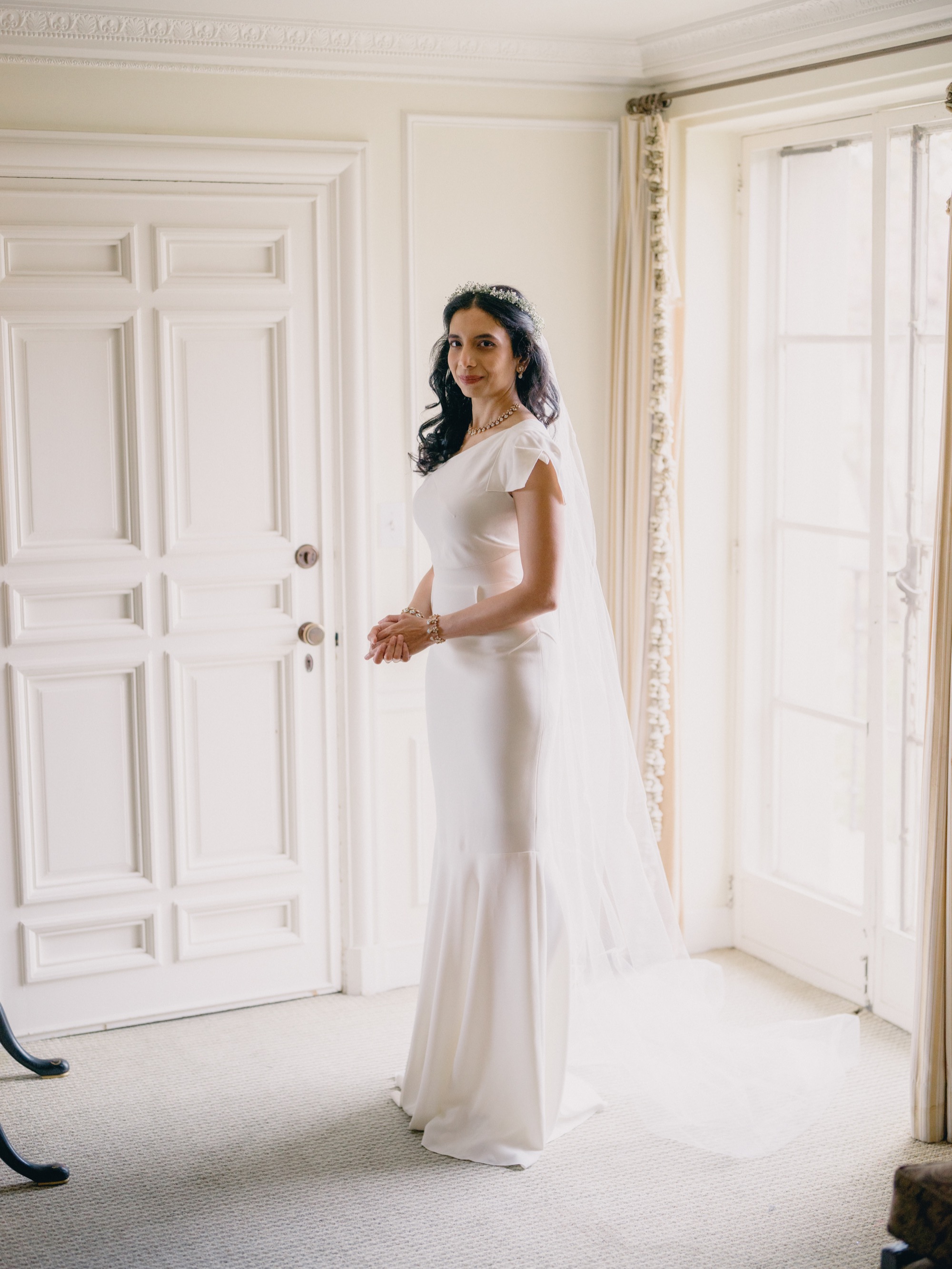 Wedding Ceremony
We kept a basket of flower petal cones for the guests to throw after the ceremony. We also had printed wedding cards.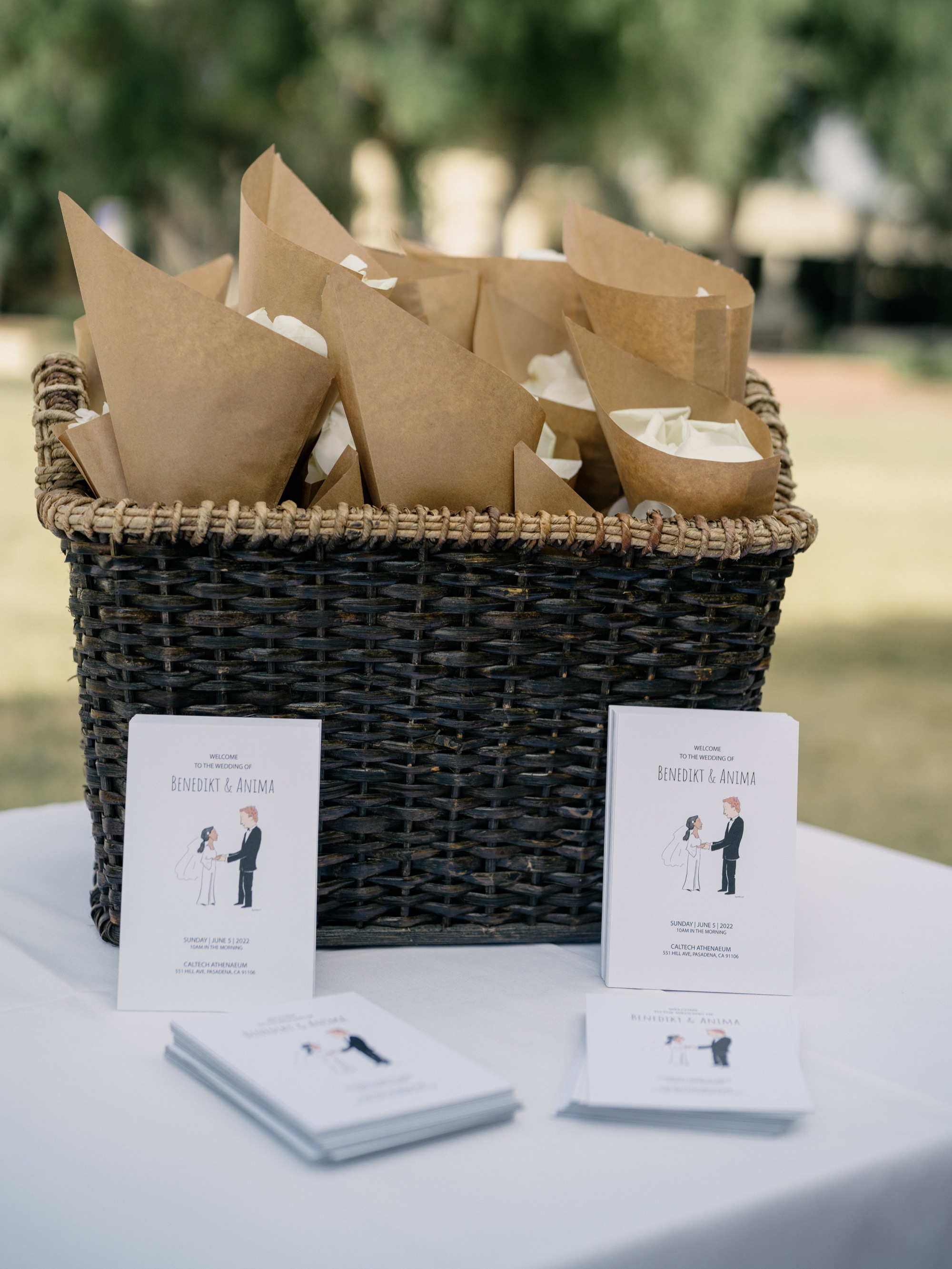 We were so happy when Liza Donnelly, the New Yorker cartoonist, agreed to draw for us for the wedding. I had Liza draw me at a Women in Data Science conference. She was so quick with her hands and had captured me so well. Here's the wedding card with Liza's sketch.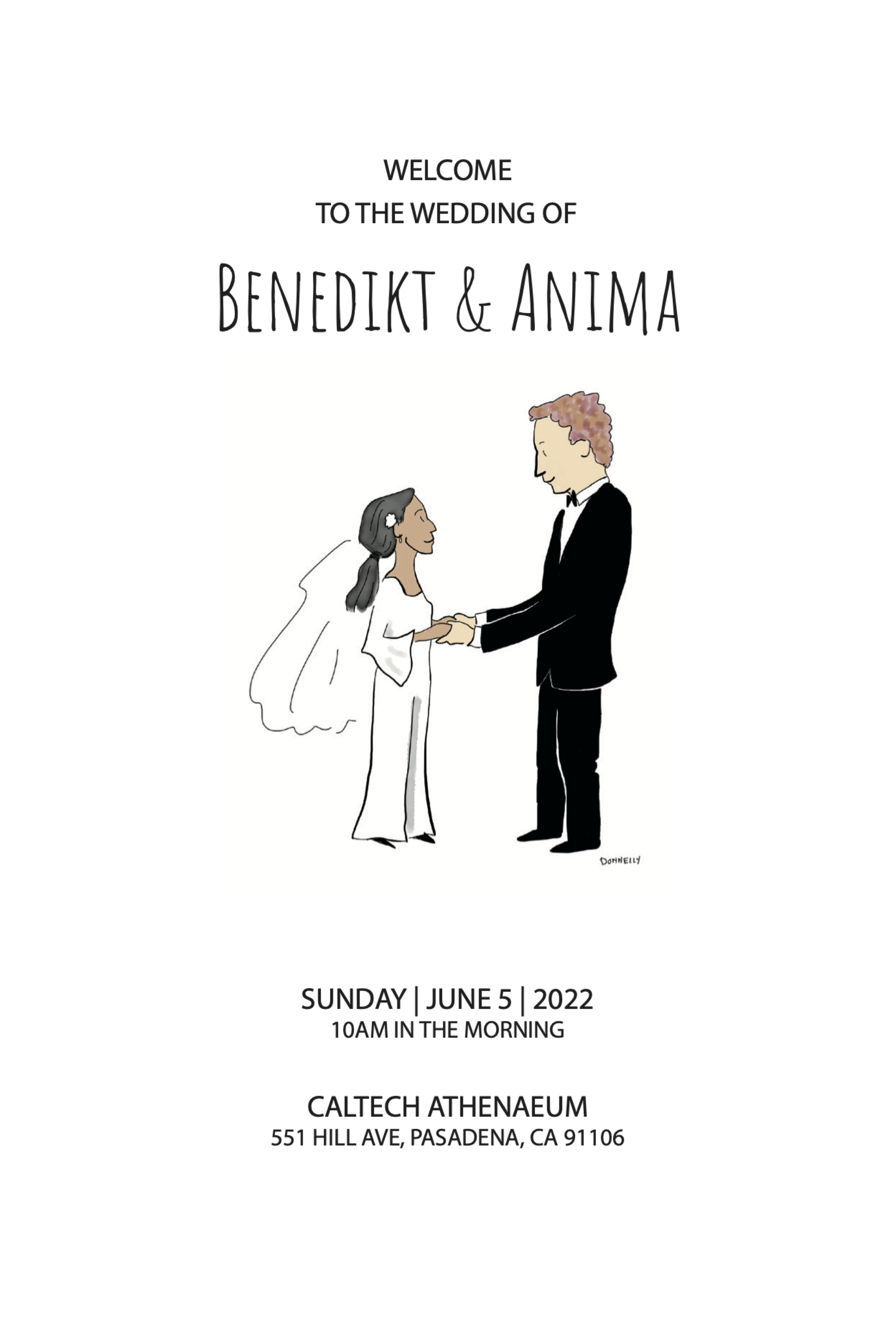 We still had the signature LA Jacaranda blooms thriving on our wedding day at our ceremony tree.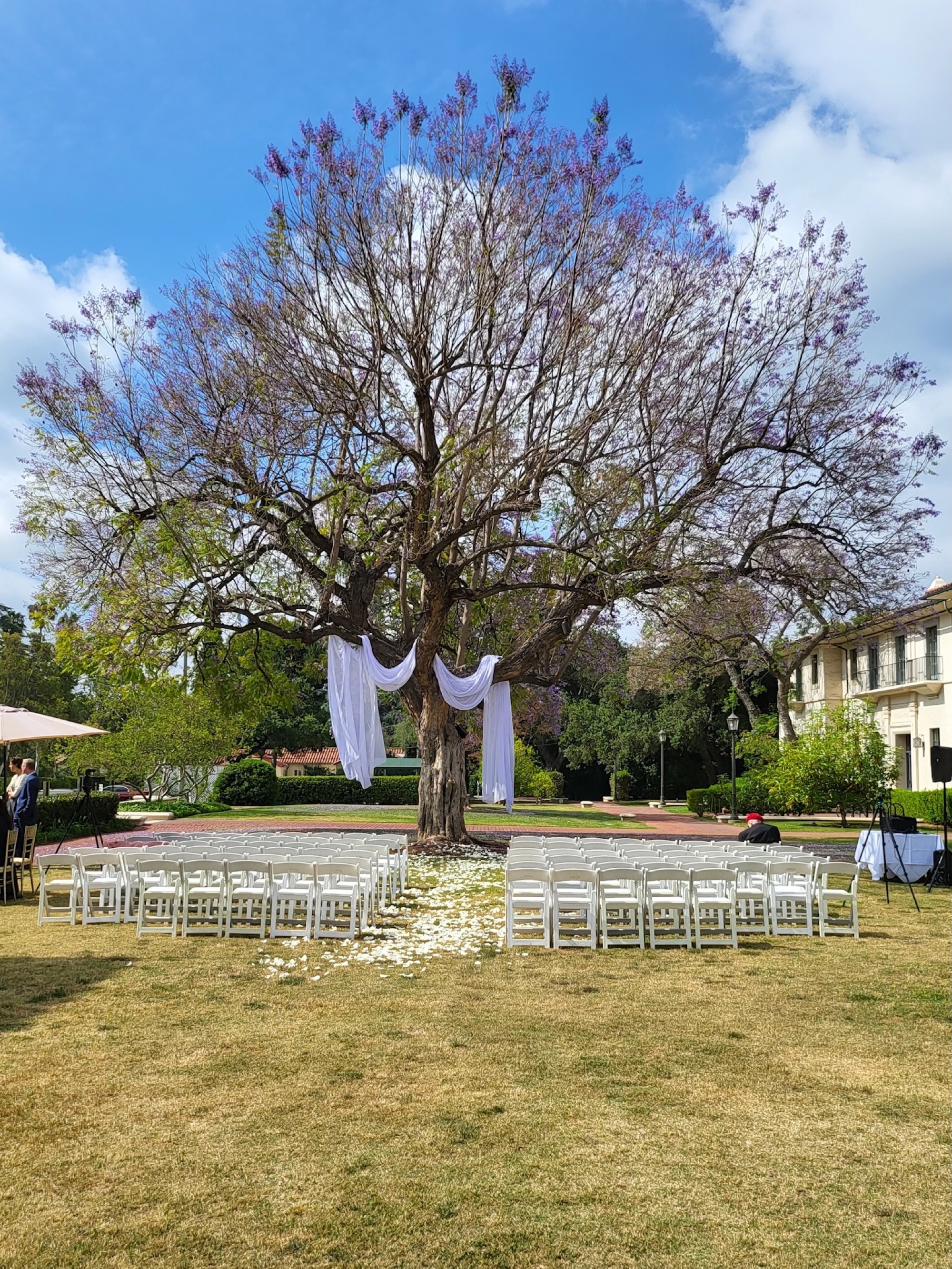 Wedding Processional
The first entrance was made by our officiant Frances Arnold. Frances has been my role model. She kindly agreed to officiate our wedding and we were so touched!
The groom breezing through.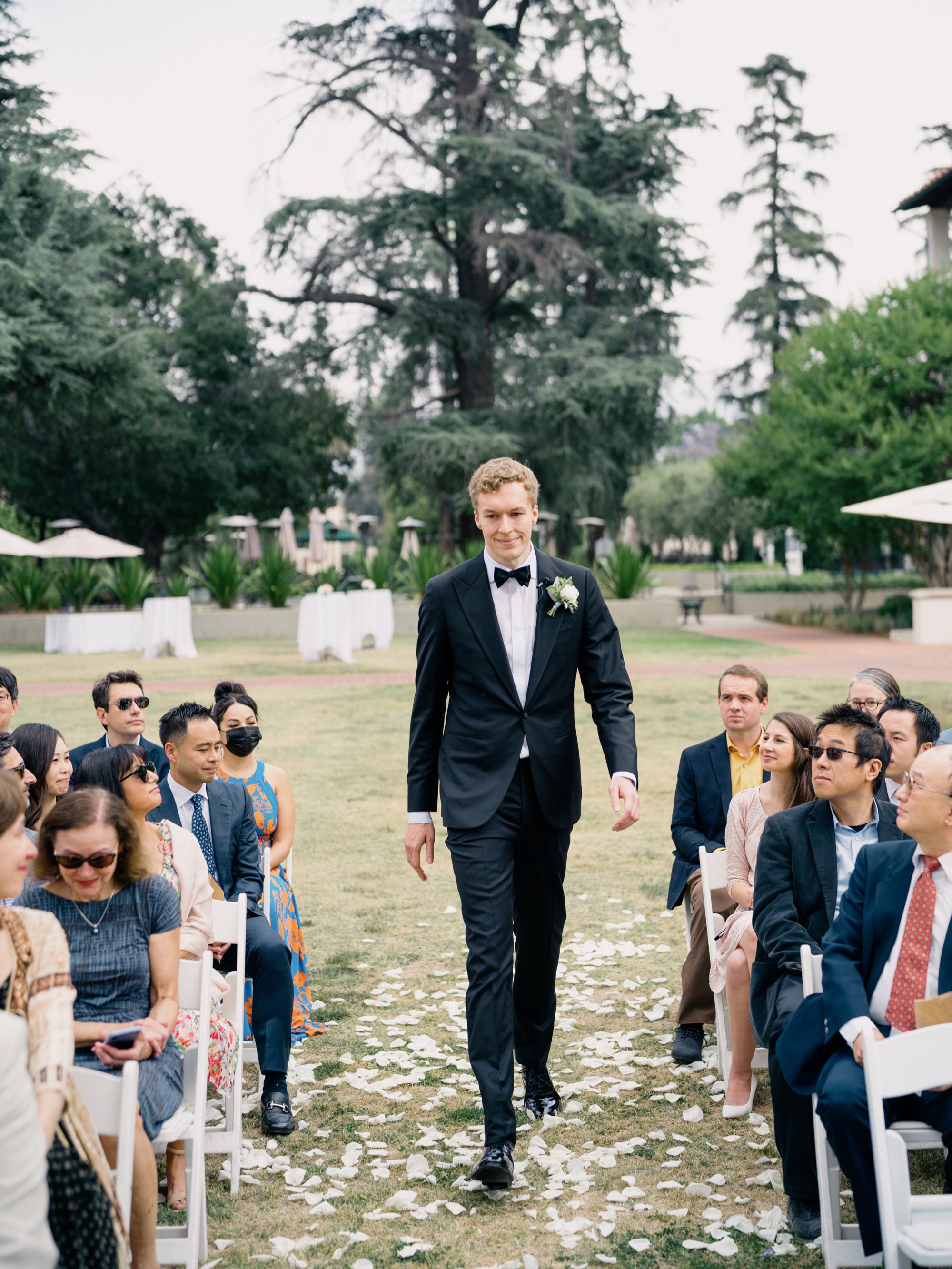 The bridal walk.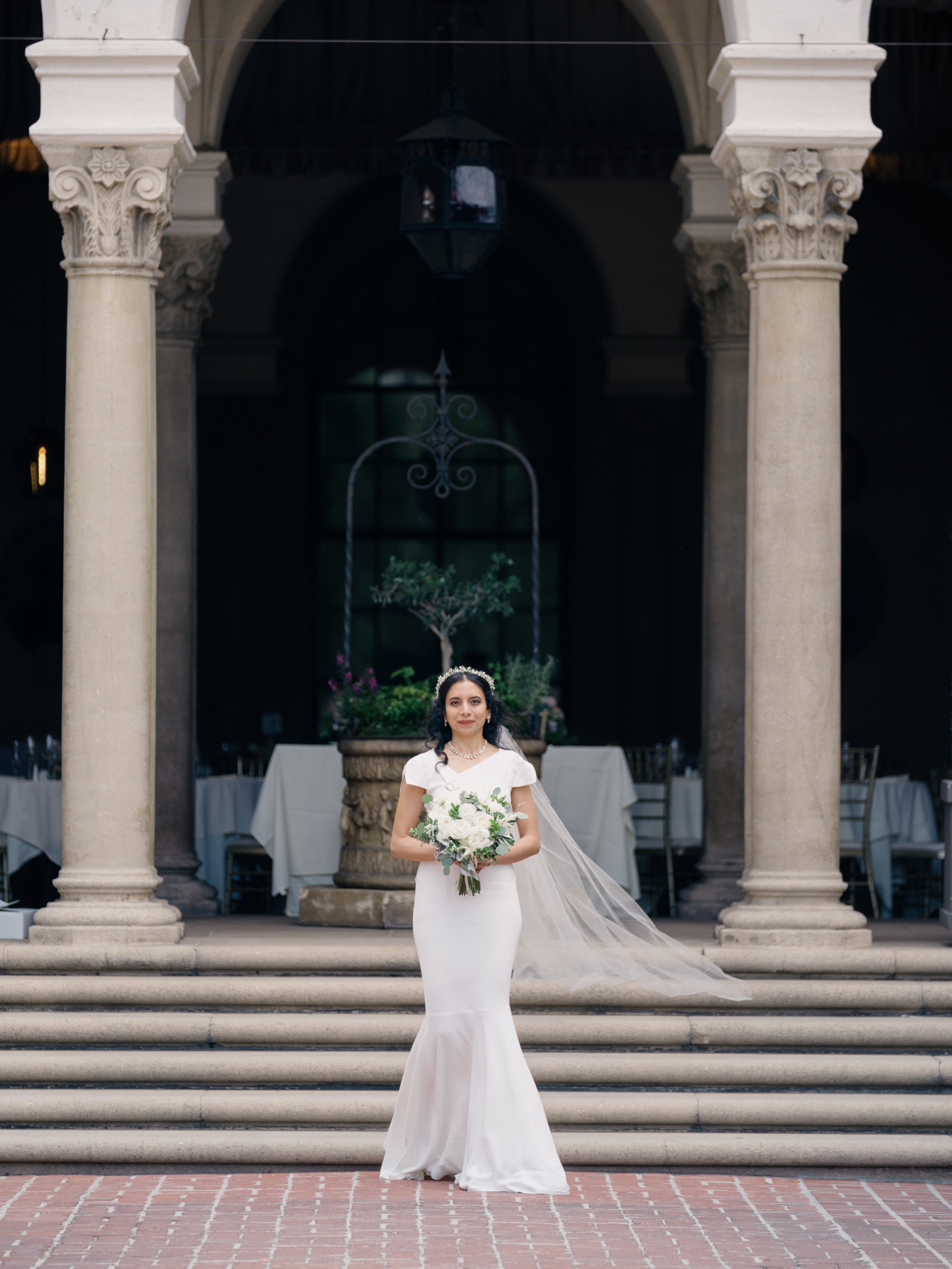 The wind had perfect timing to show off my long veil.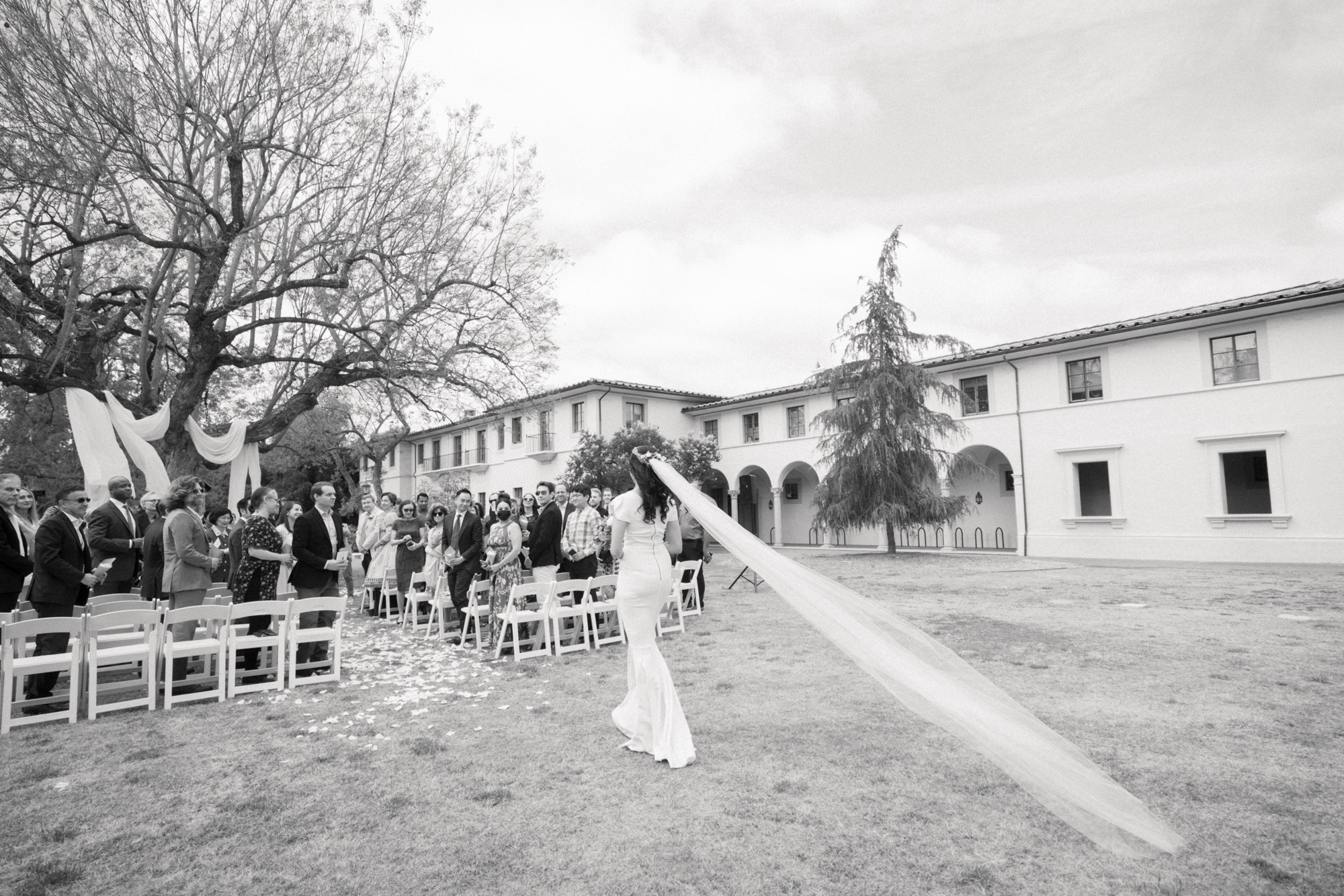 I was so touched to get a standing ovation from the guests. That's when I realized that I was walking way too fast and needed to slow down from my normal pace to cherish the moment.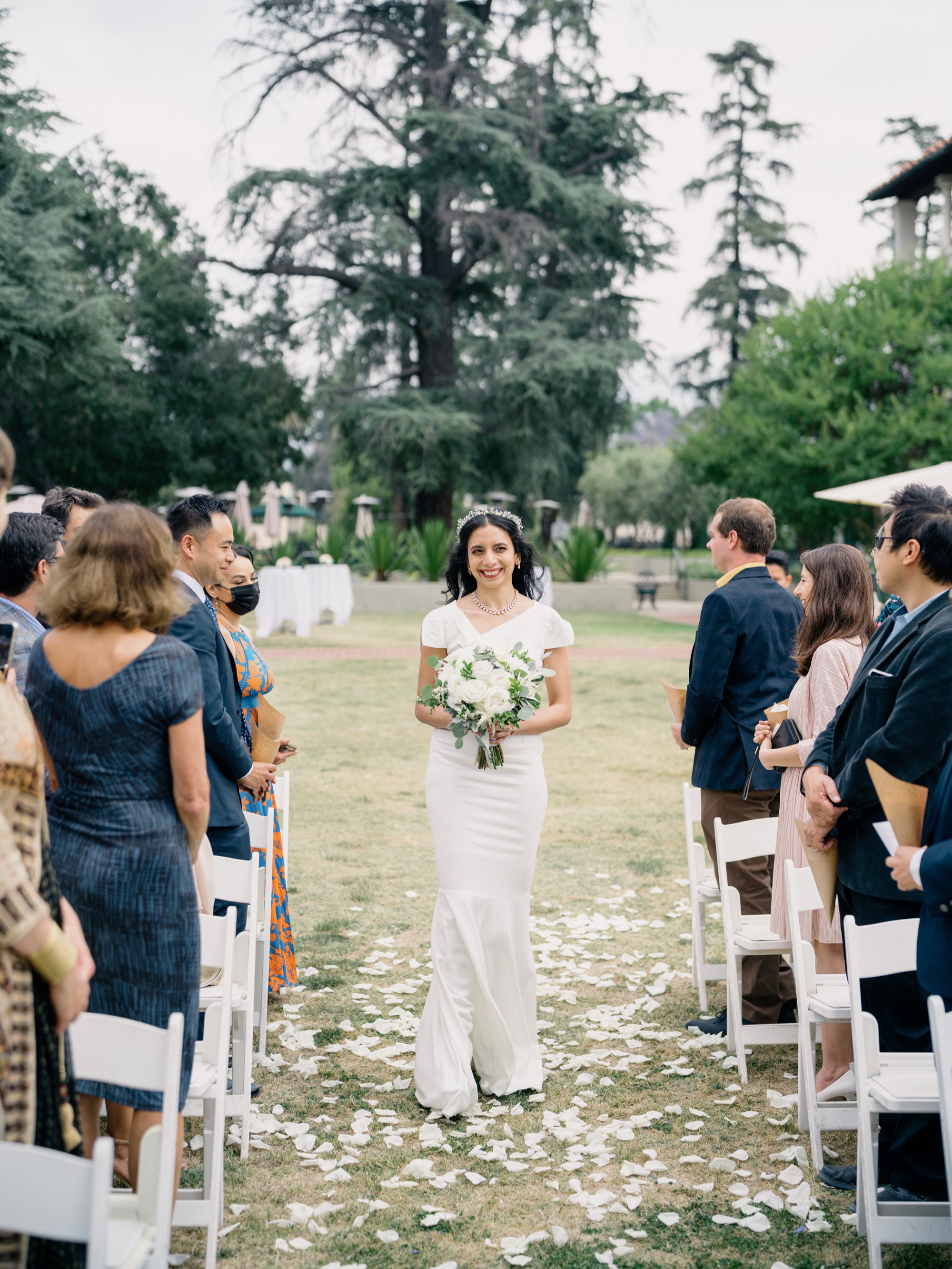 Frances kicked it off and used a folder from her wedding to read her speech. The breeze was great and created magic with all the drapes on the tree.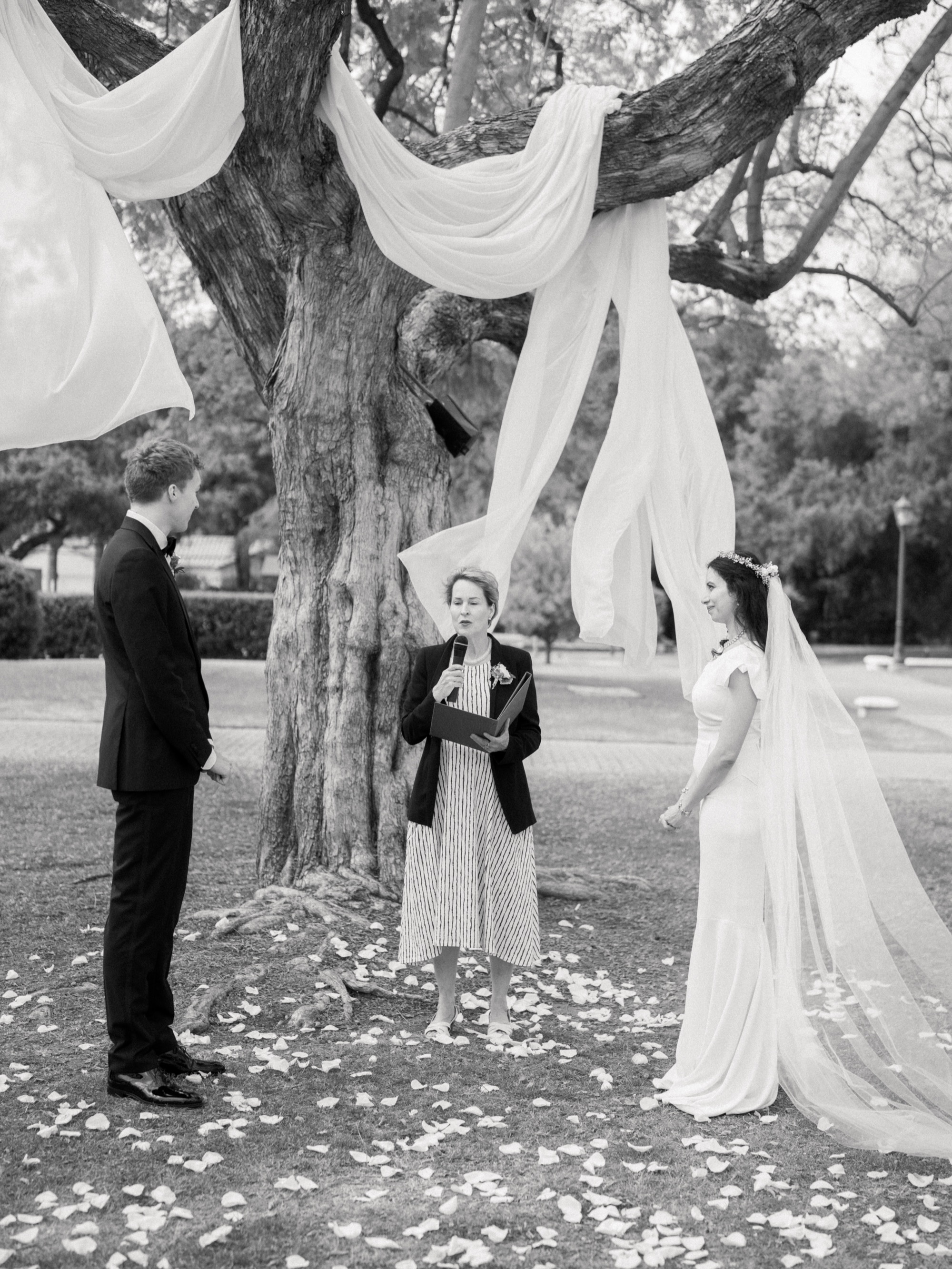 Benedikt's speech.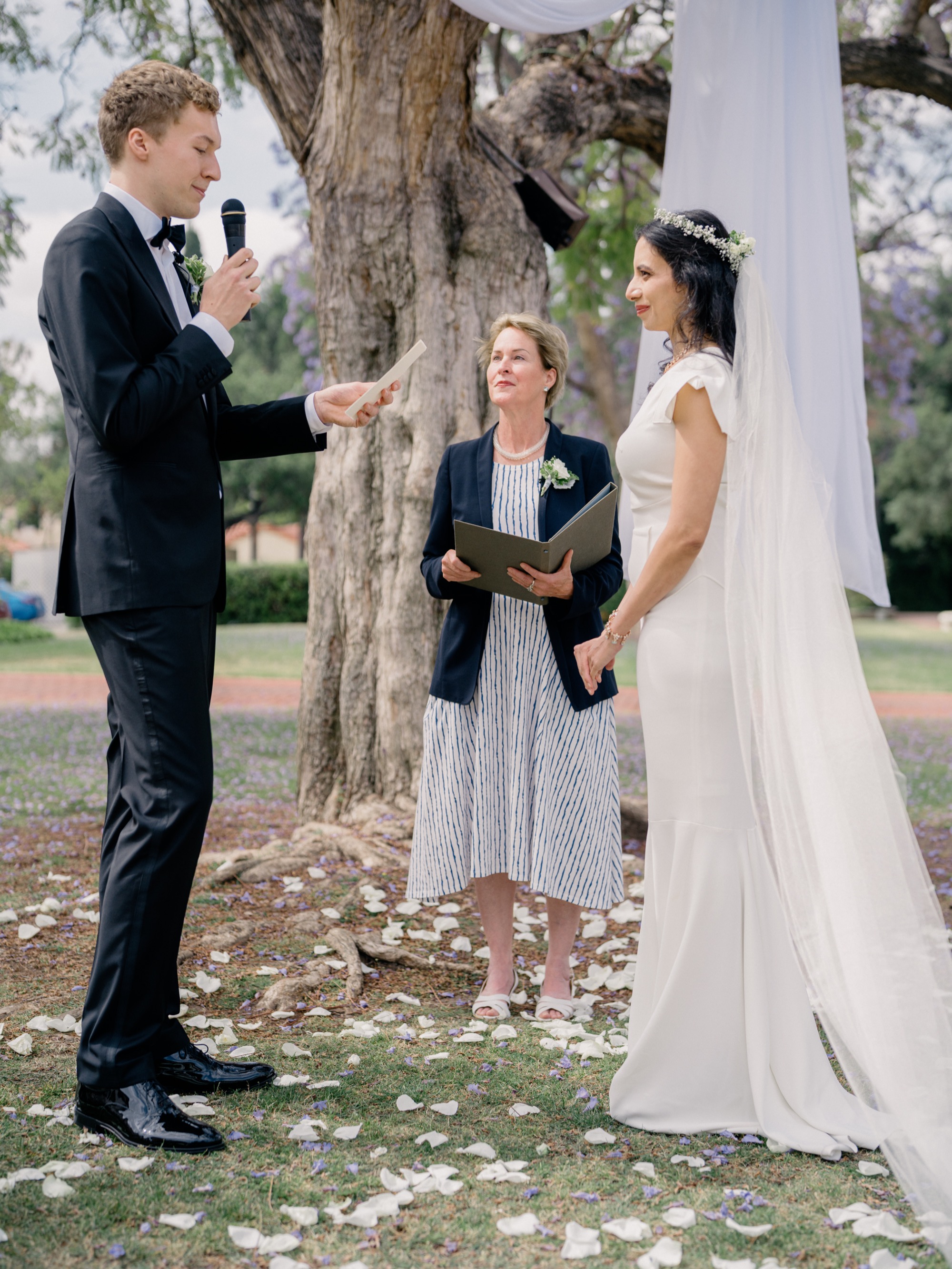 The ring ceremony.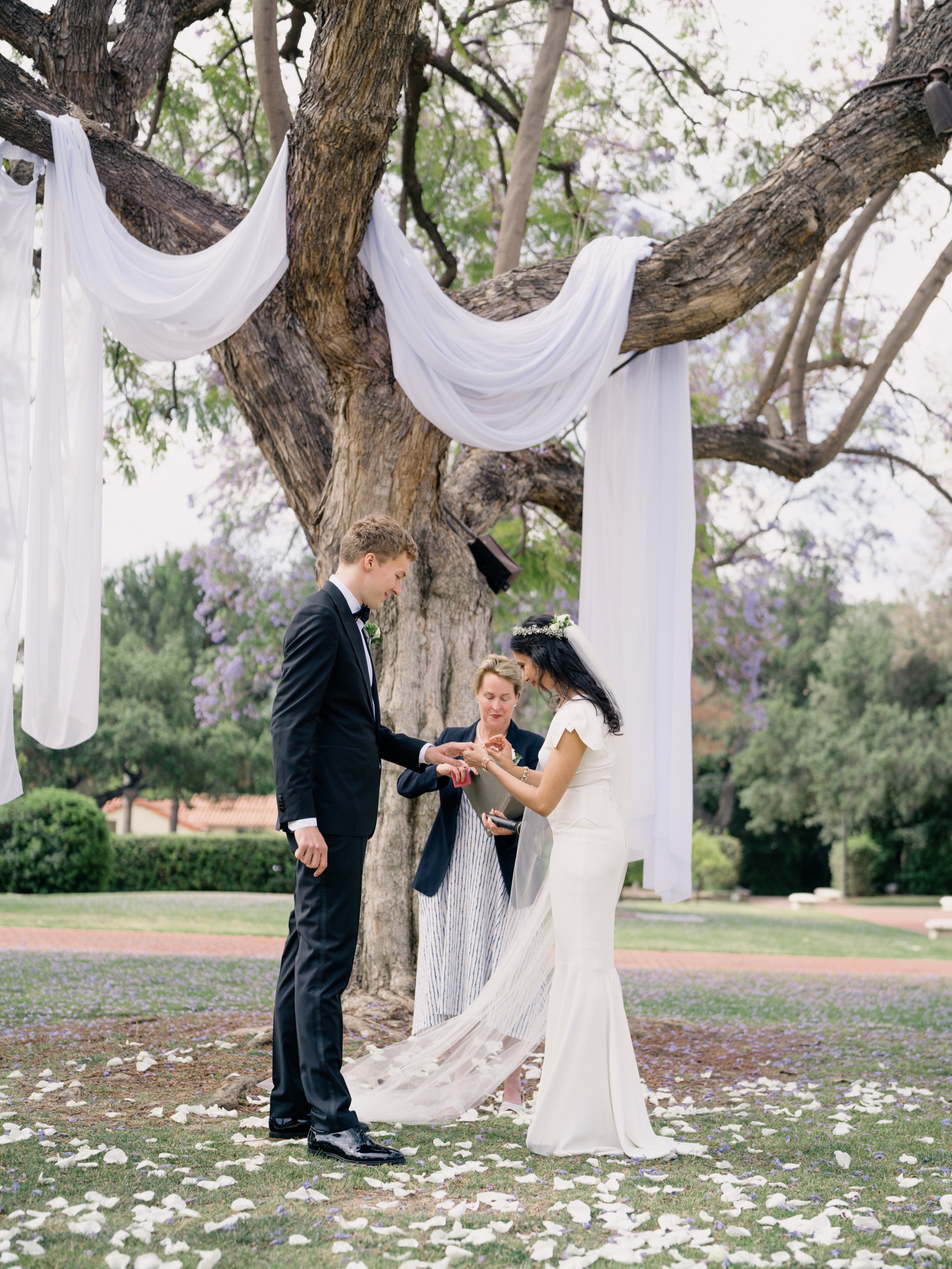 I got too excited after putting the ring on Benedikt and lunged for the kiss. Benedikt later told me that he knew I was off schedule, but still went for it, not to leave me hanging. Always a gentleman :)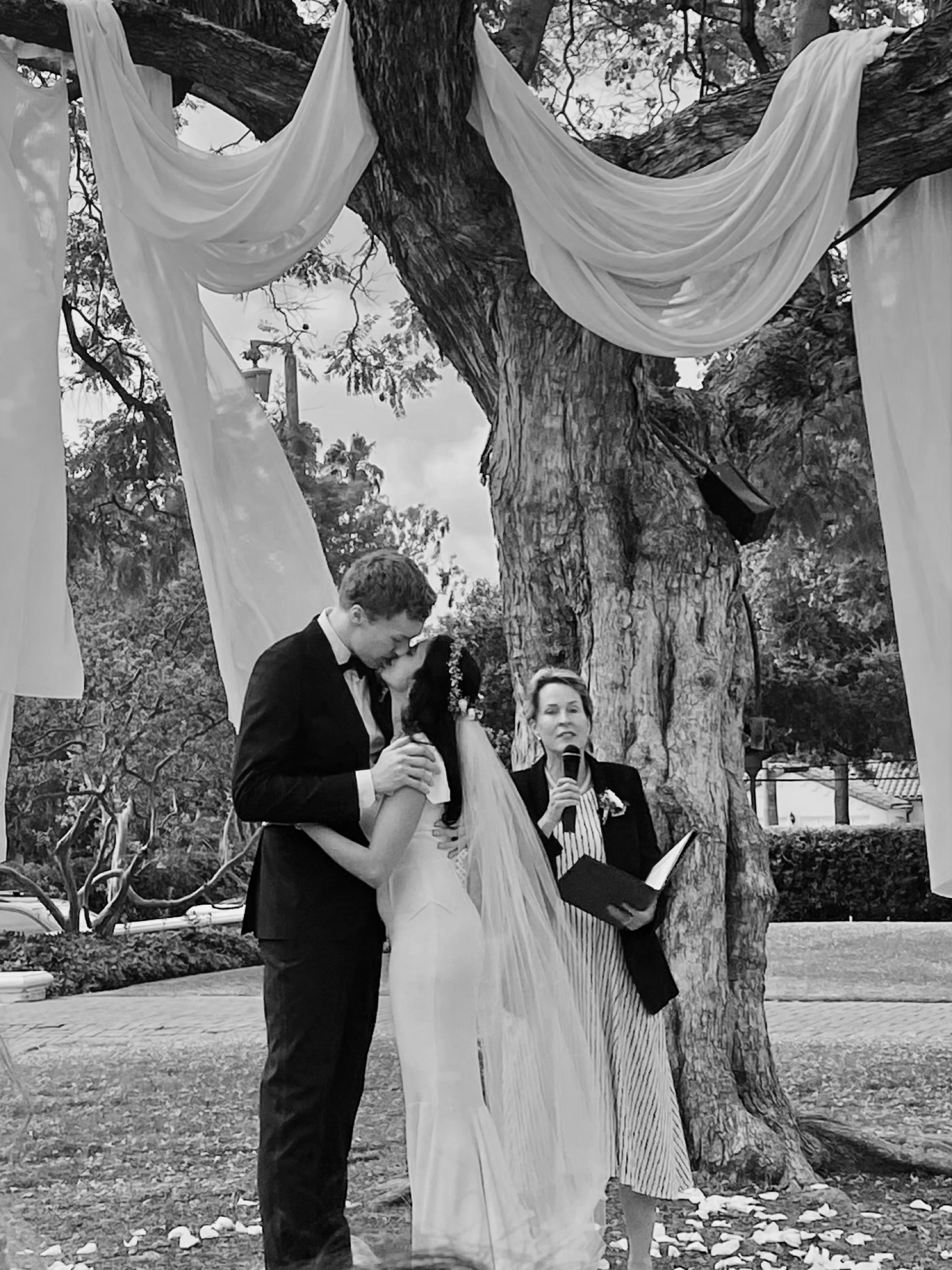 Frances improvised on her feet, finished her speech, and asked us to kiss again; this time on schedule.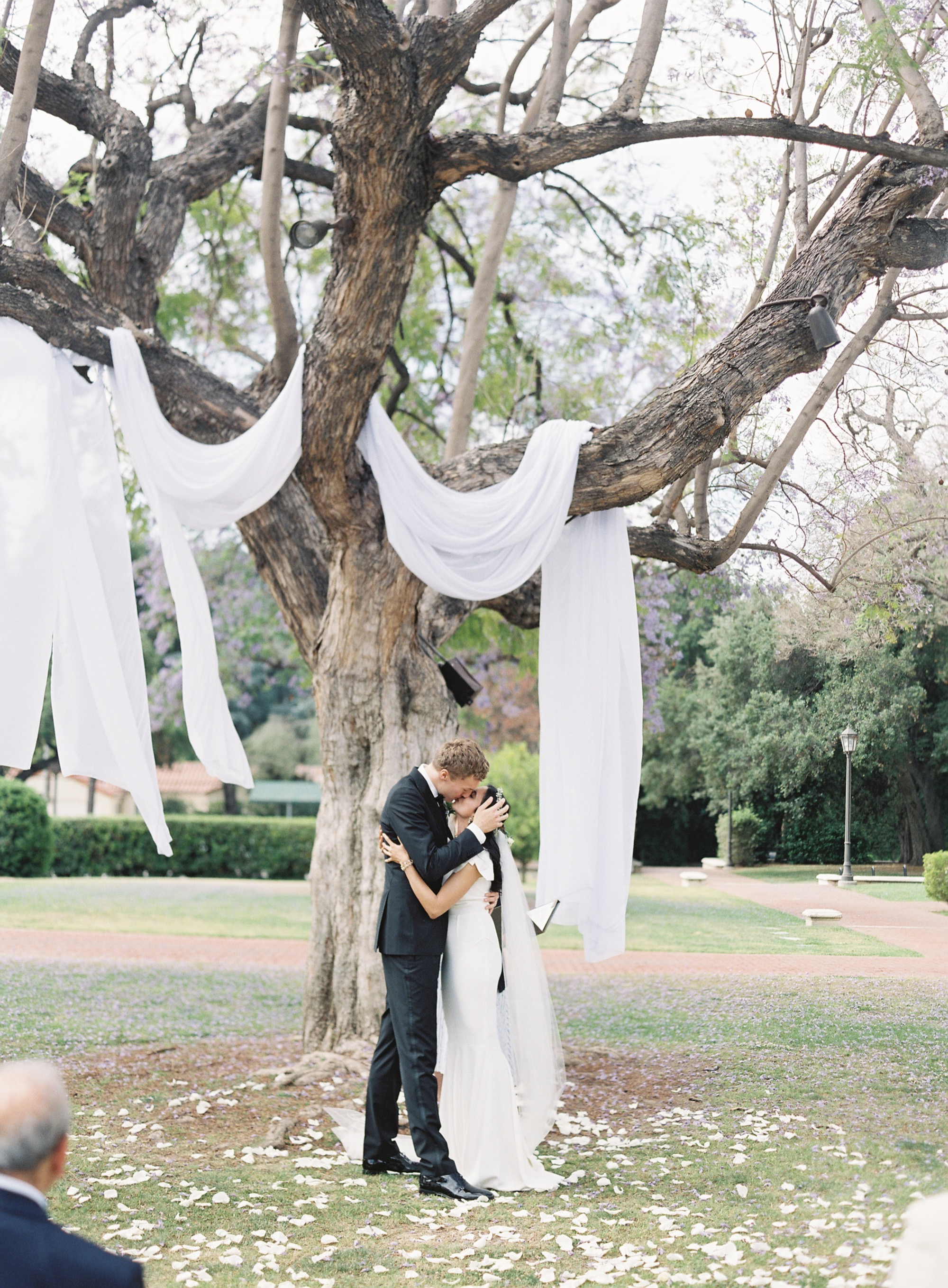 At the recessional, Benedikt tried to head back at his usual fast pace. I tugged and signaled him to wait and enjoy the petal shower.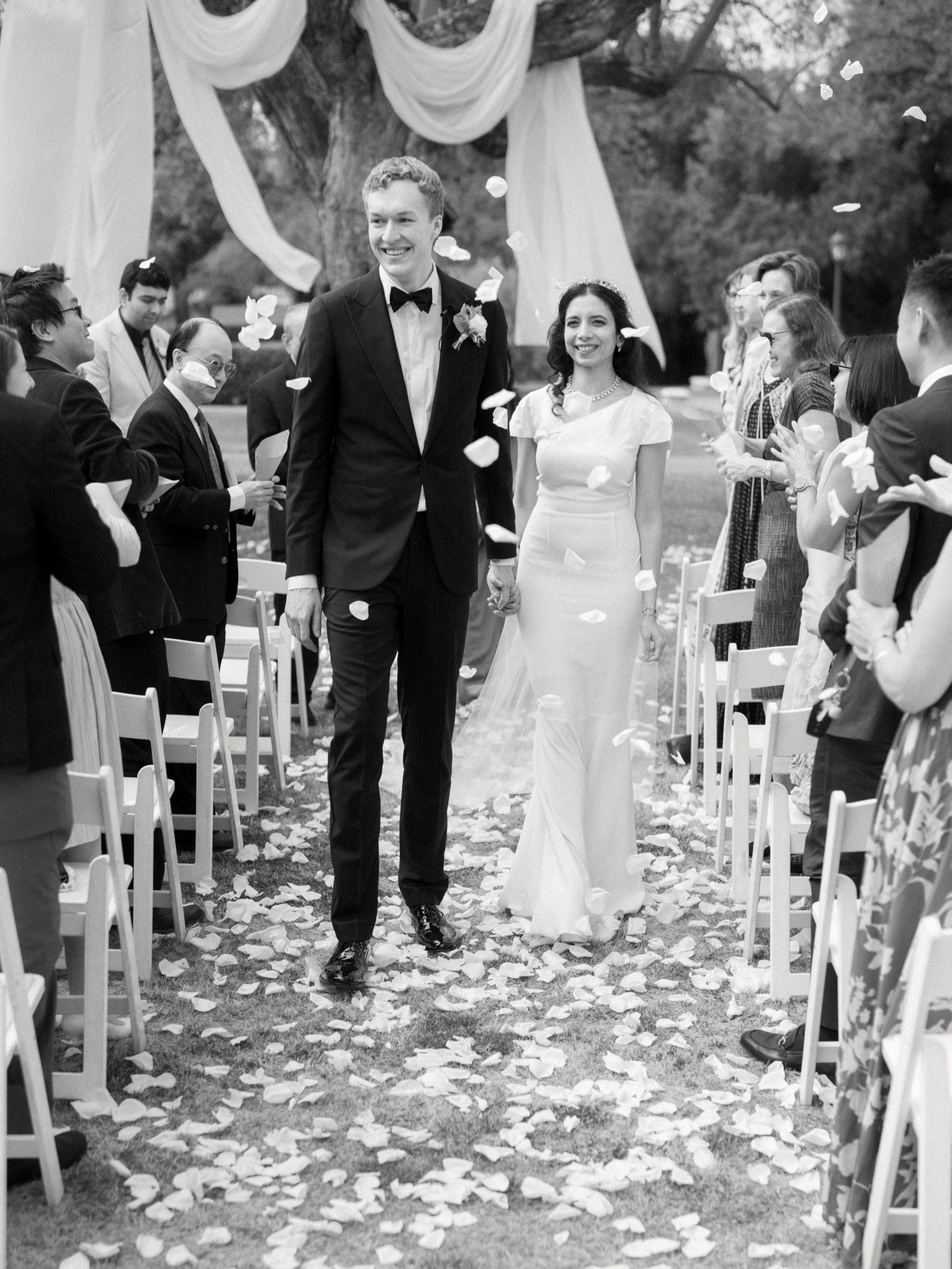 He made sure to steal another kiss before heading back.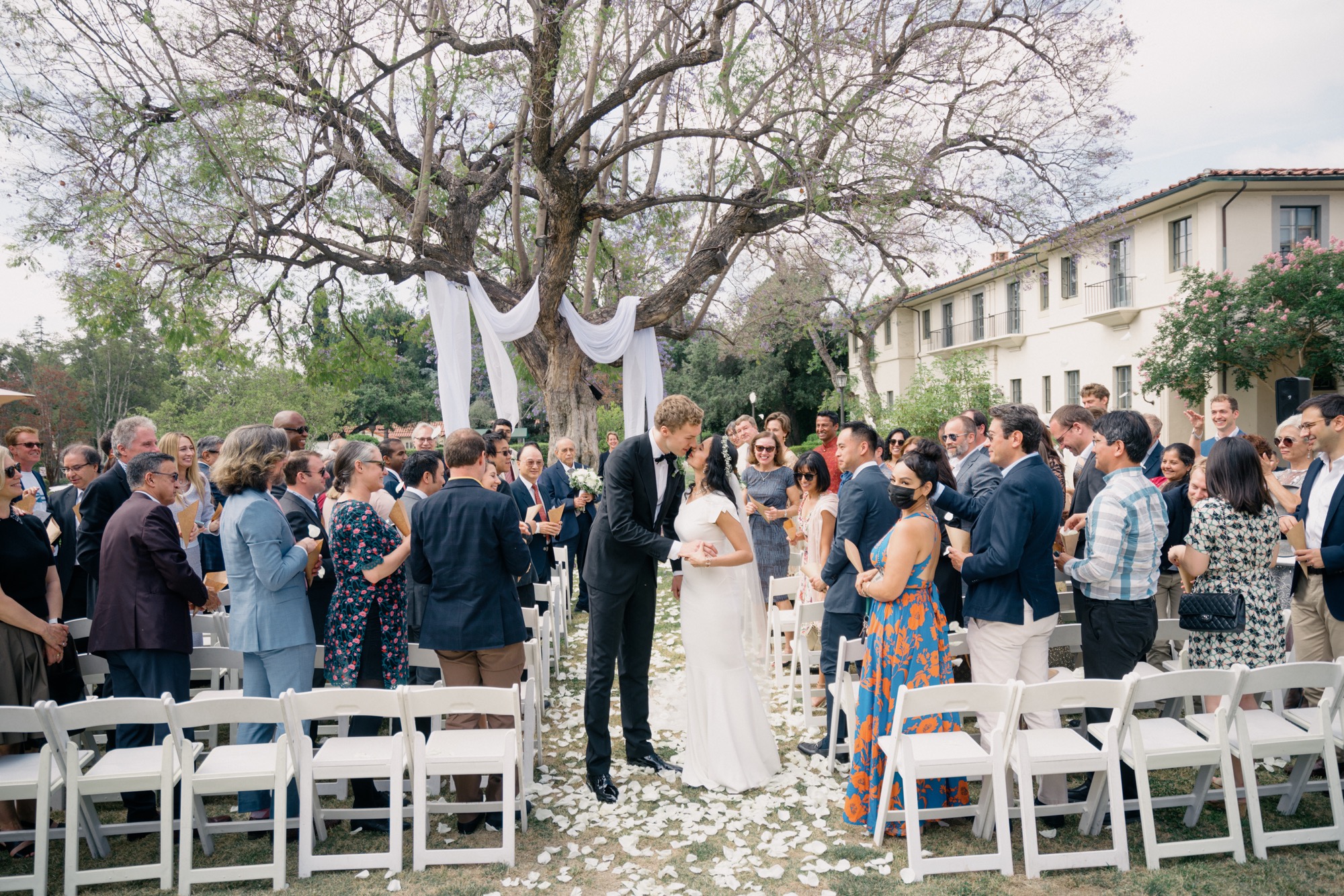 Heading back to the Athenaeum.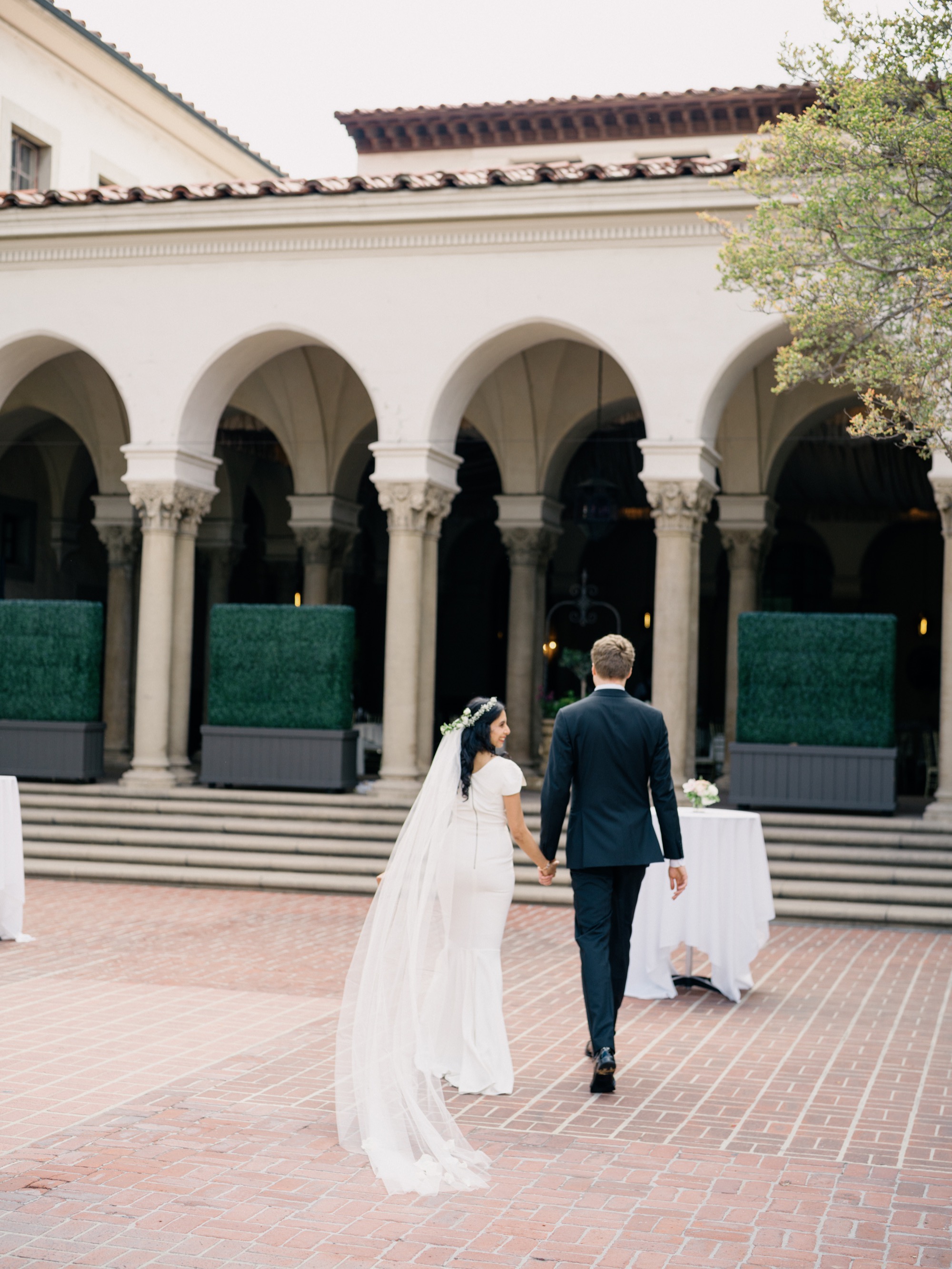 Bride & Groom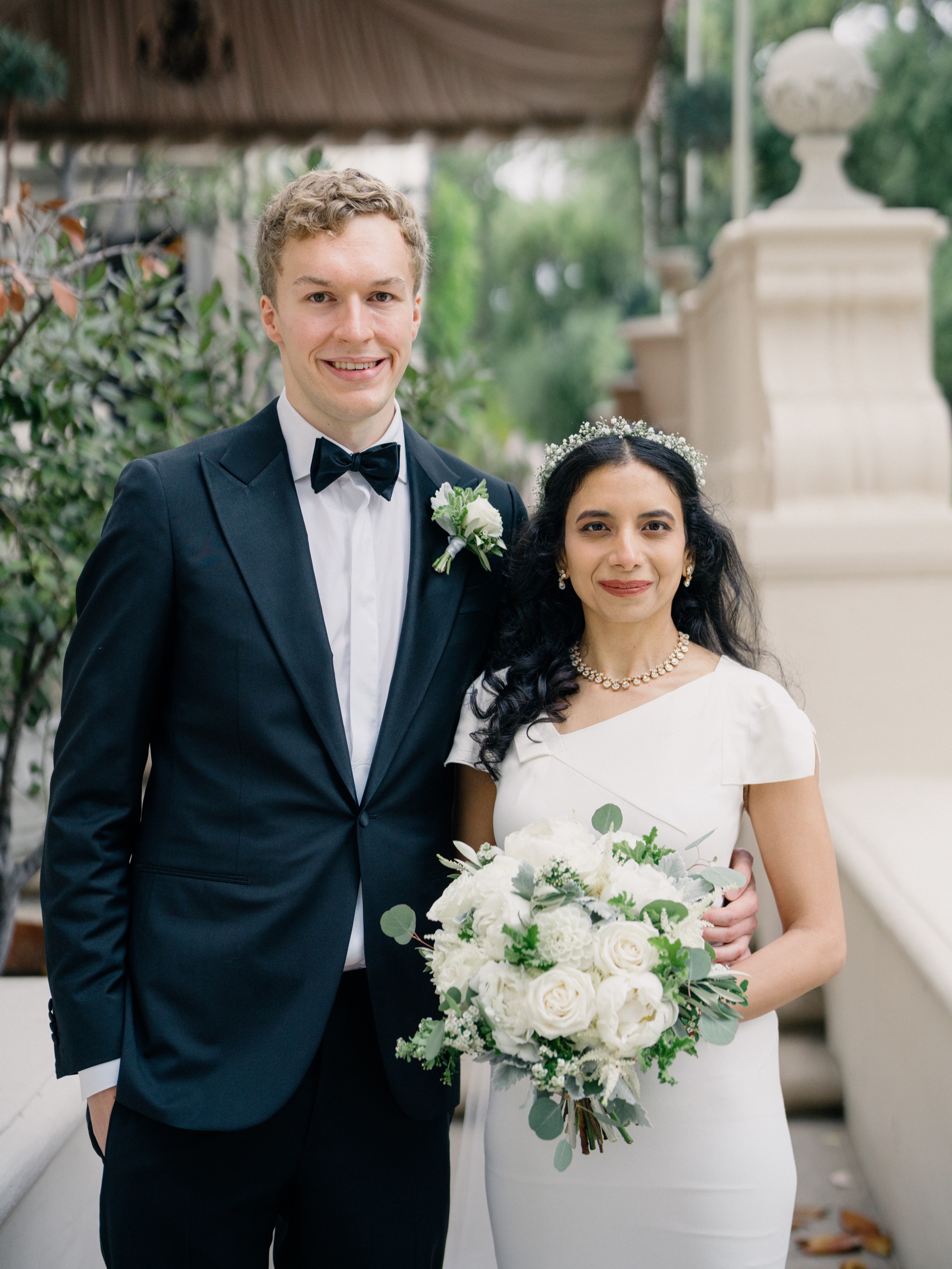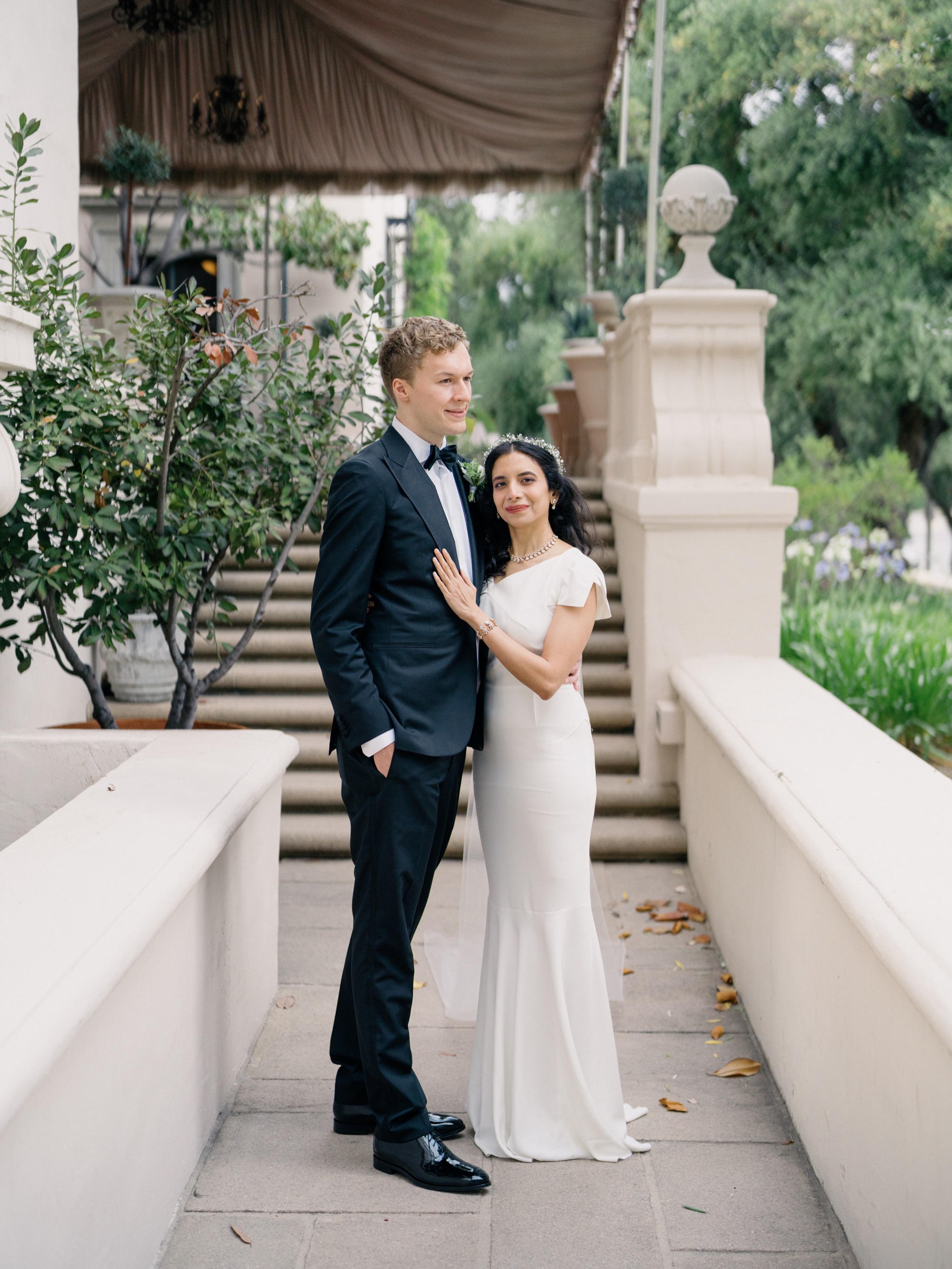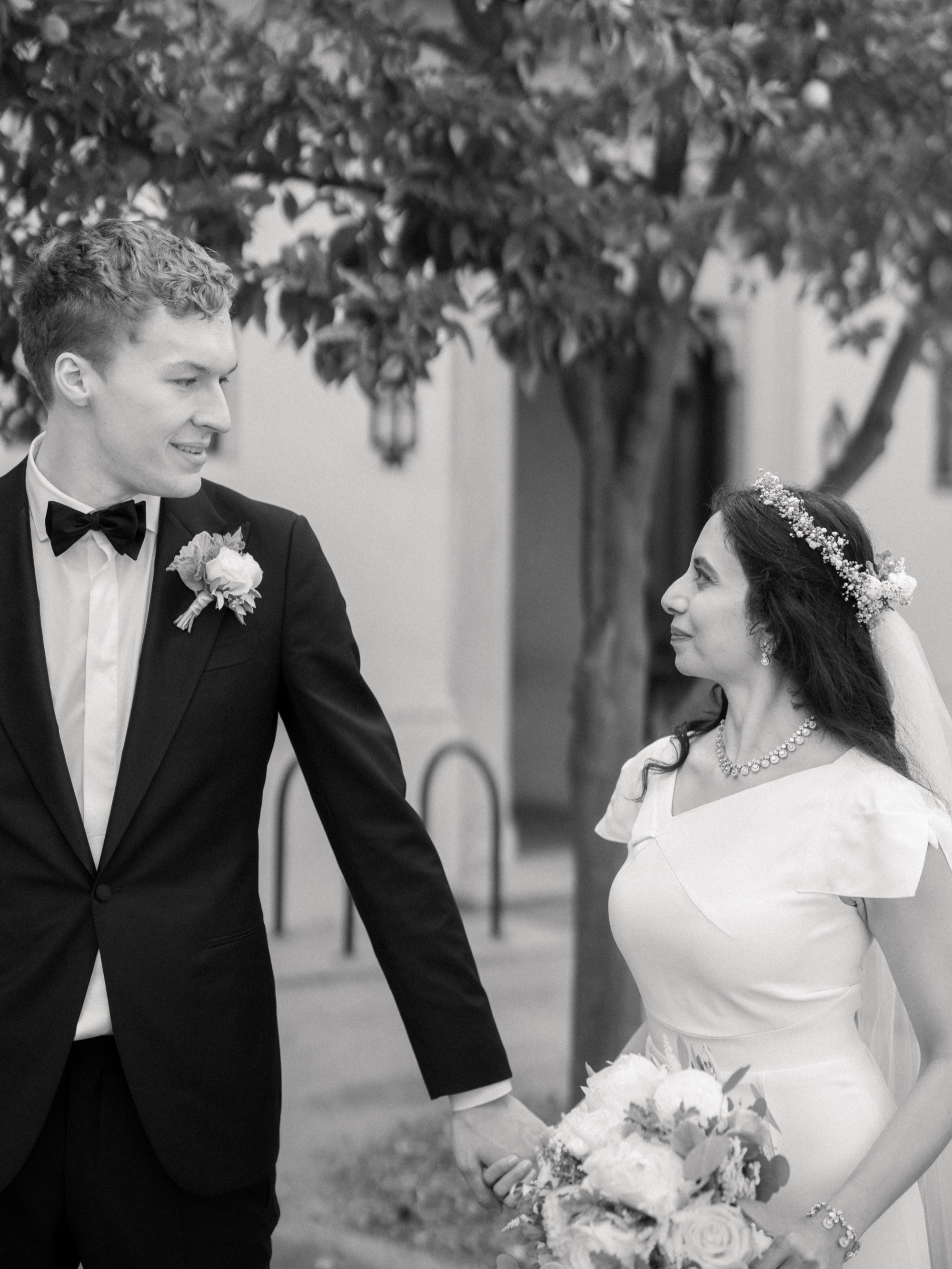 At the Athenaeum entrance.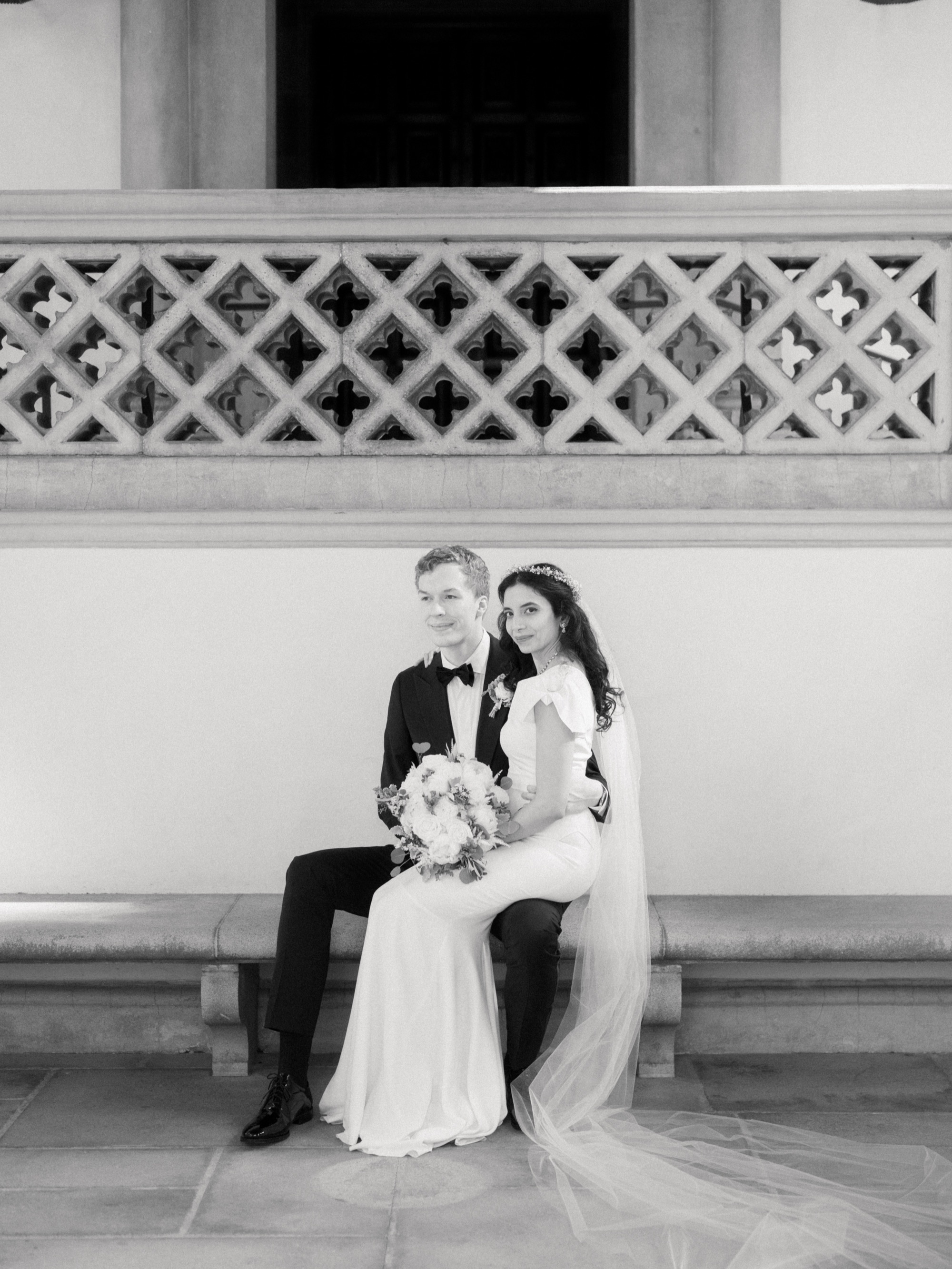 I really like this picture with the Fleming Cannon, a Caltech landmark and Franco-Prussian war era weapon circa 1870.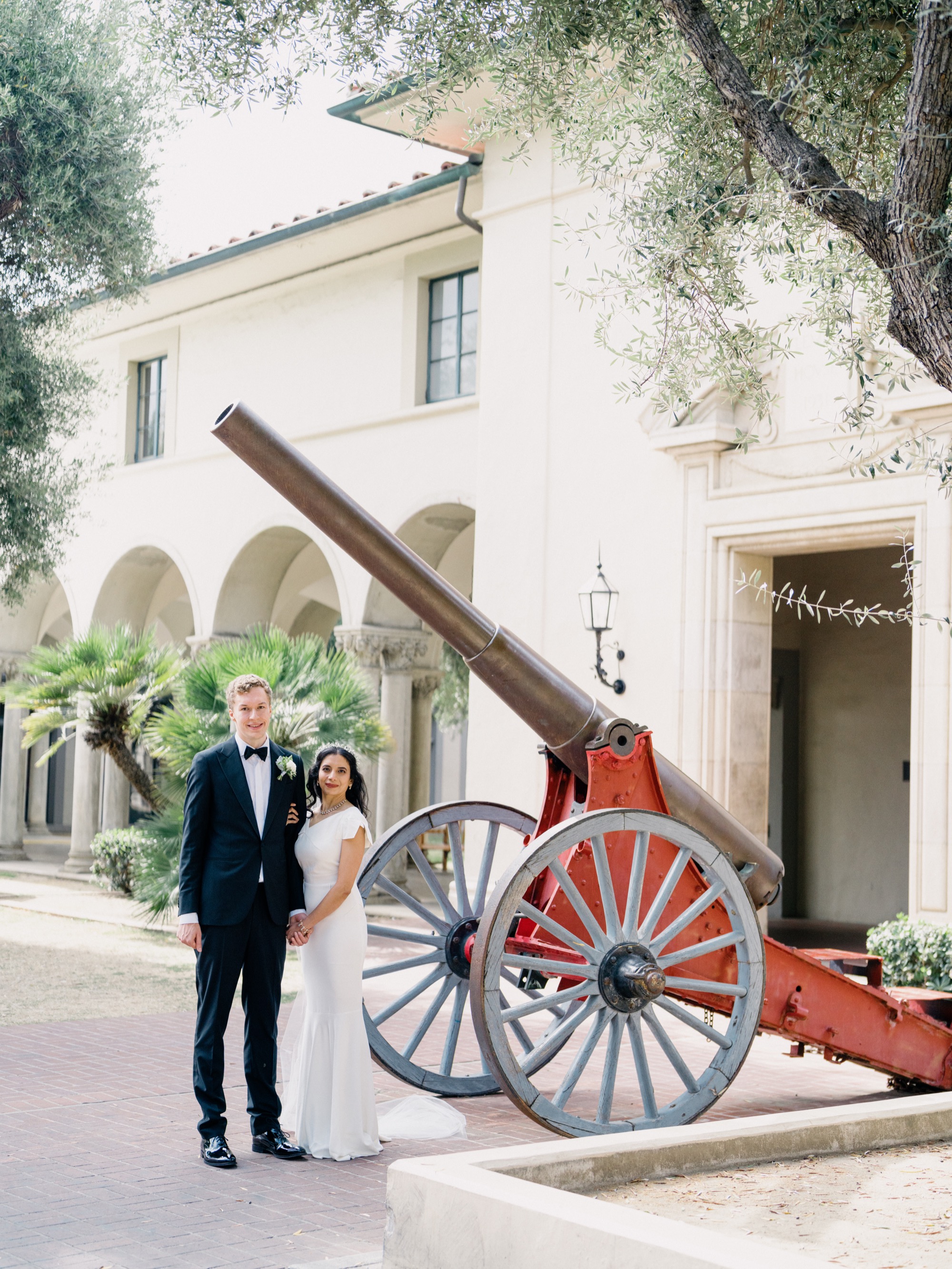 The Indian Ceremony
We changed quickly for the Indian ceremony. I chose a Mysore silk saree, made in my hometown, Mysore, which is known for its pure gold border. The Mysore silk weaving factory was started by the then Maharaja of Mysore in 1912 and was the first of its kind in India.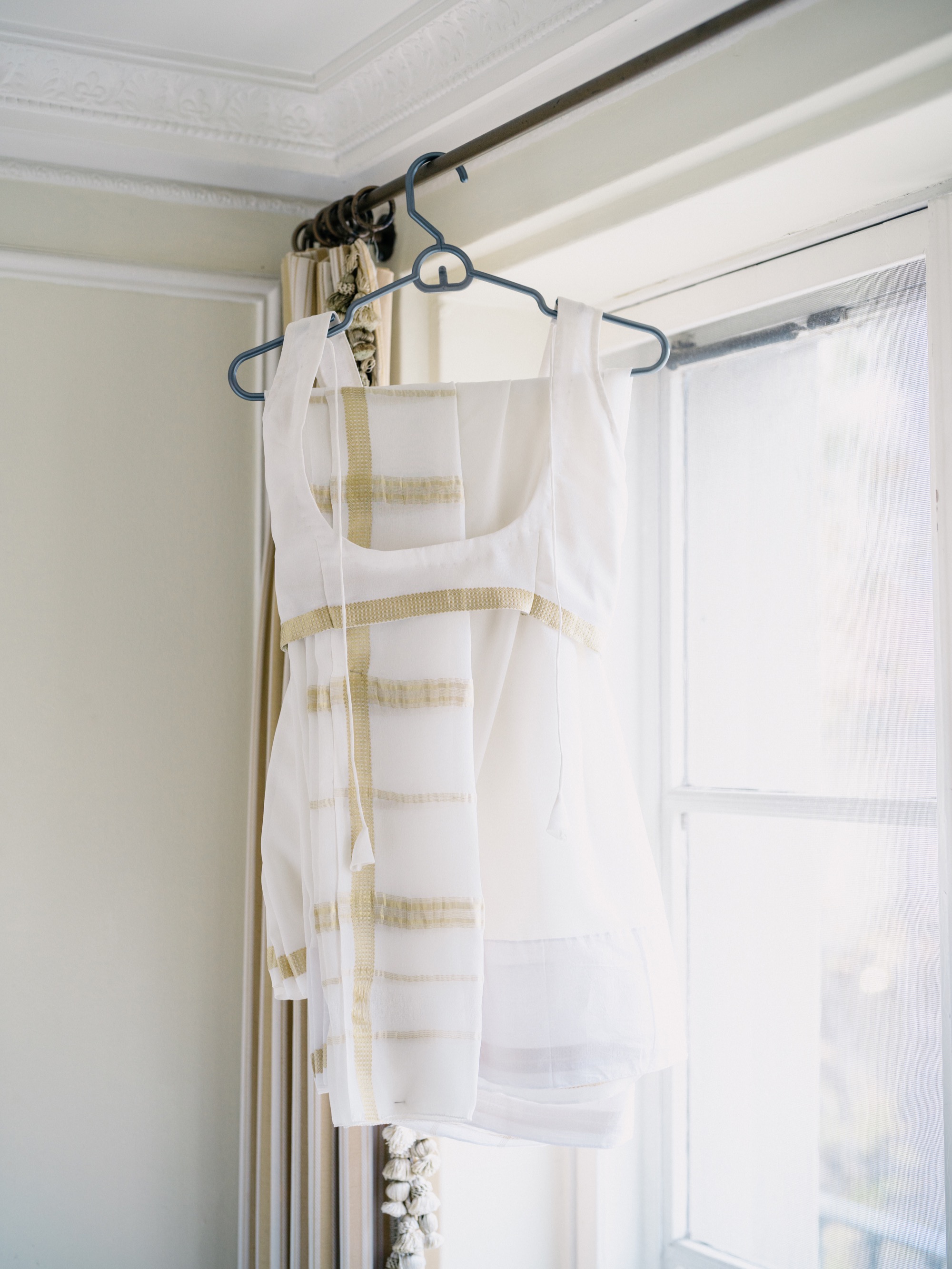 Indian wedding starts with a garland exchange. A varmala is an Indian wedding garland, a tradition that is more than 3000 years old. Ancient epics depicted women choosing their husbands of choice by placing a garland around them, in a tradition called Swayamvar. We chose garland colors to match the colors we picked for our reception tables and loved them.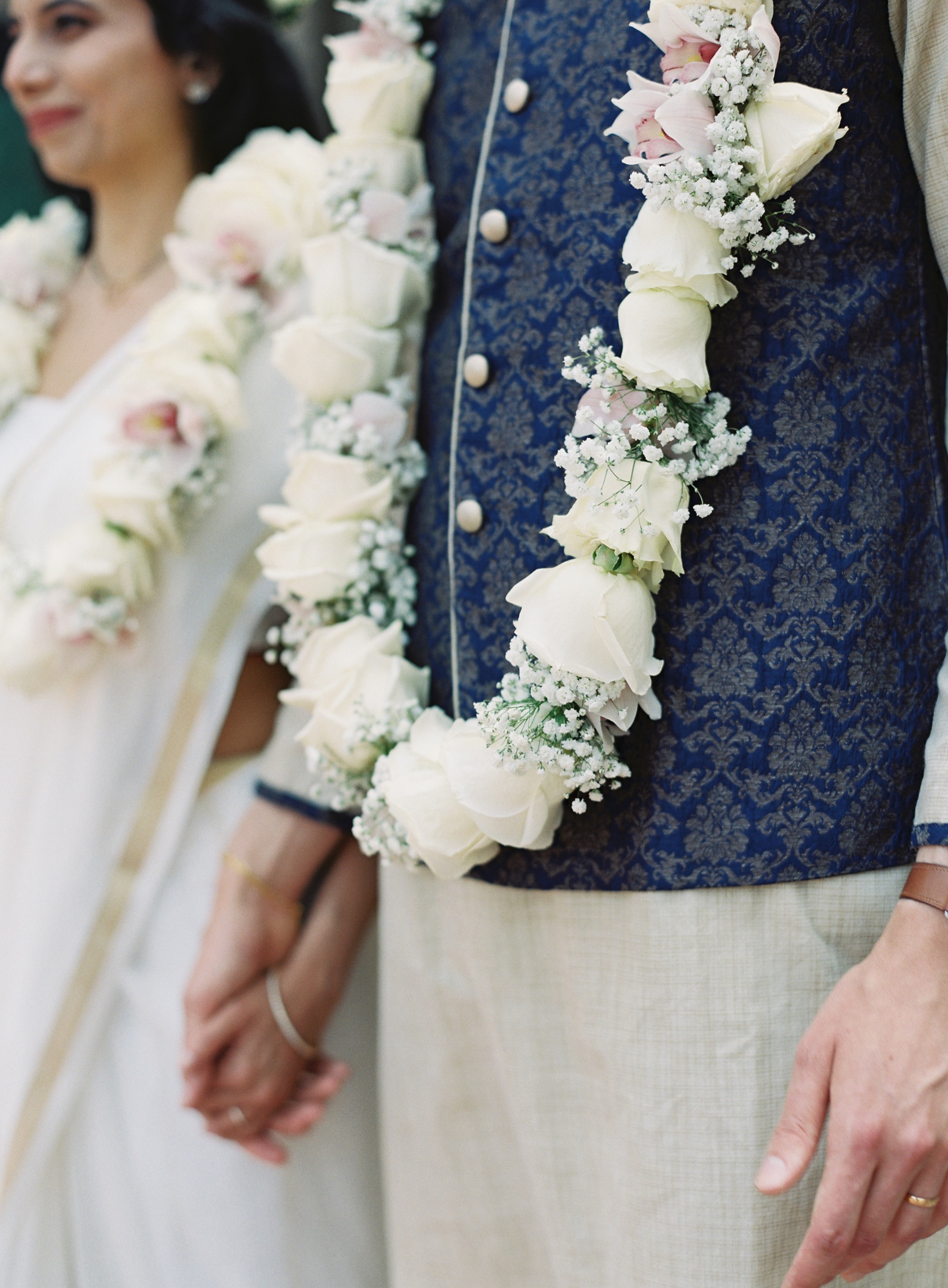 Benedikt wore a traditional Kurta ensemble with a jacquard jacket.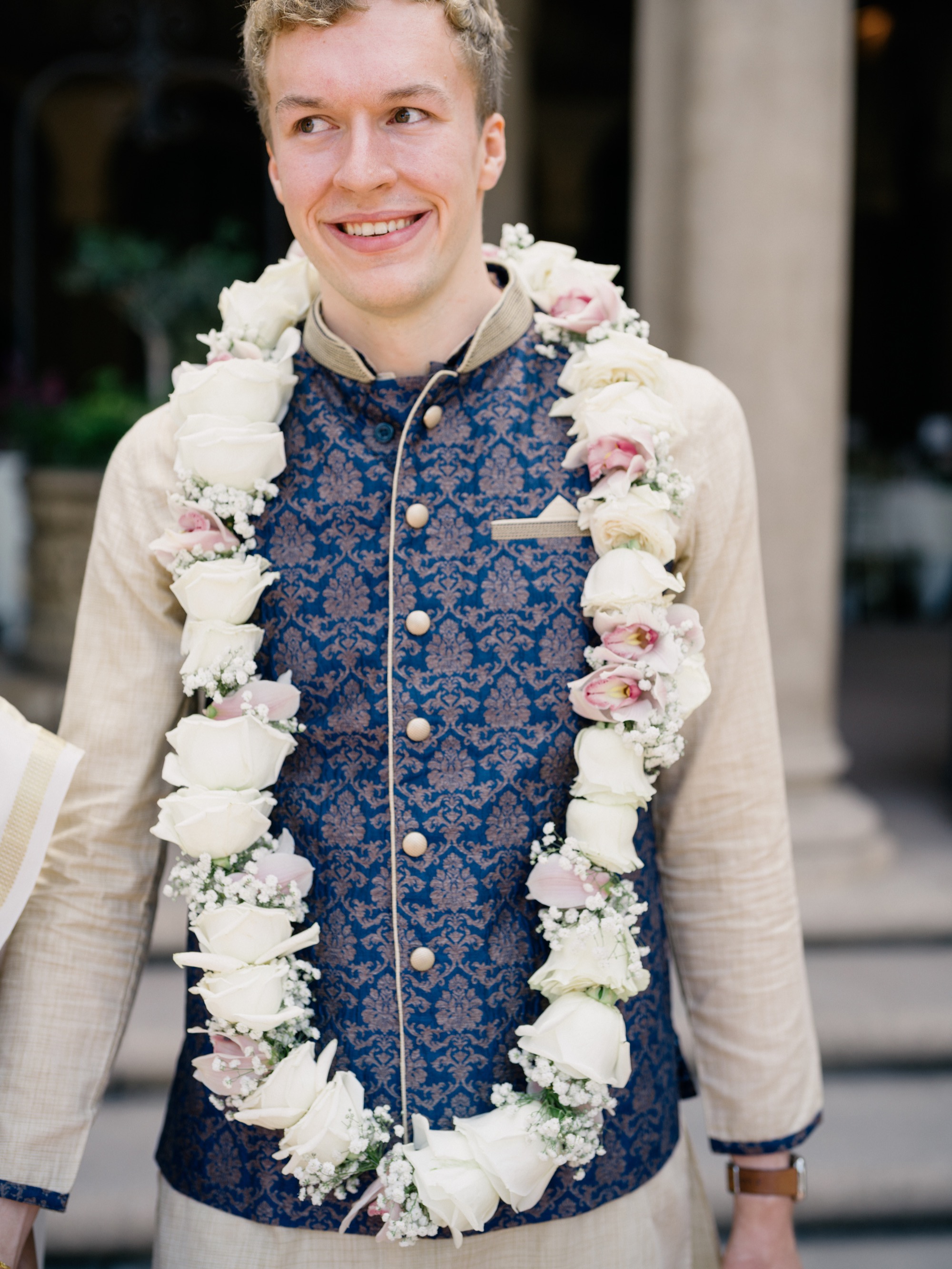 After the garland exchange, we did the Mangal sutra ritual. Mangal sutra literally means "an auspicious thread" that is knotted around the bride's neck and consists of black beads. According to Hindu tradition, the mangal sutra is a symbol that the couple is bound in matrimony and is worn by the wife for husband's long life.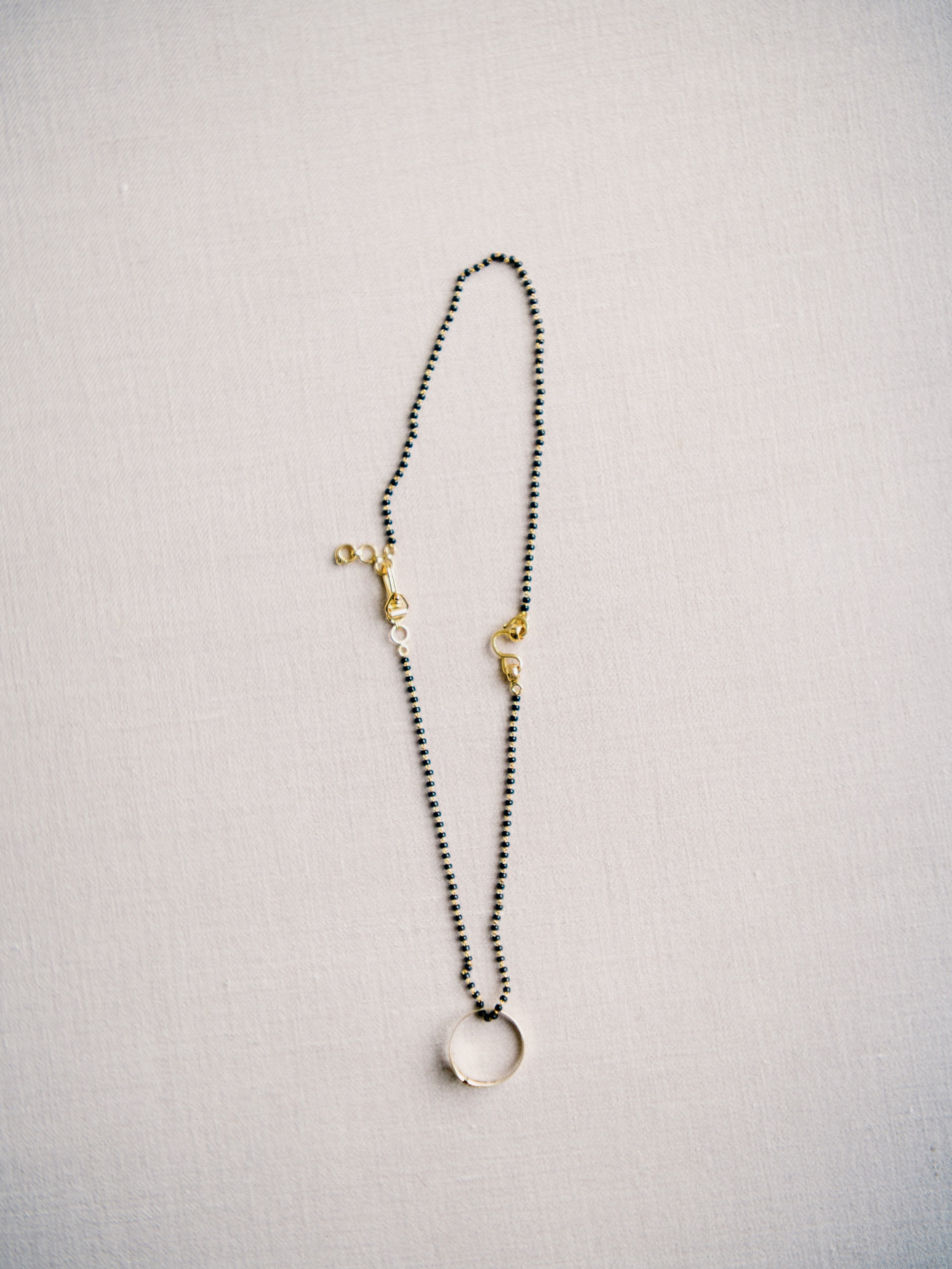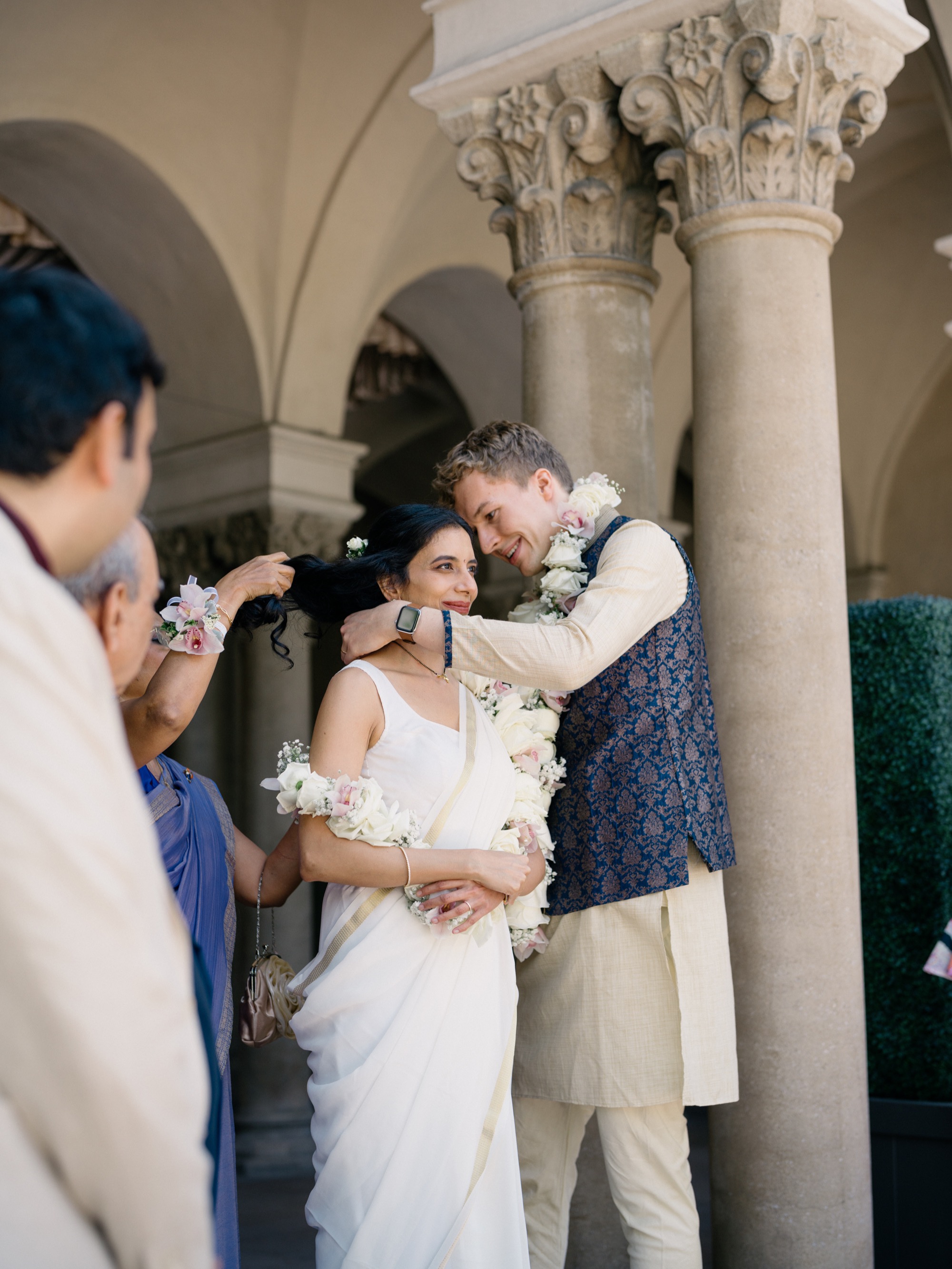 With the garland and the Mangal sutra.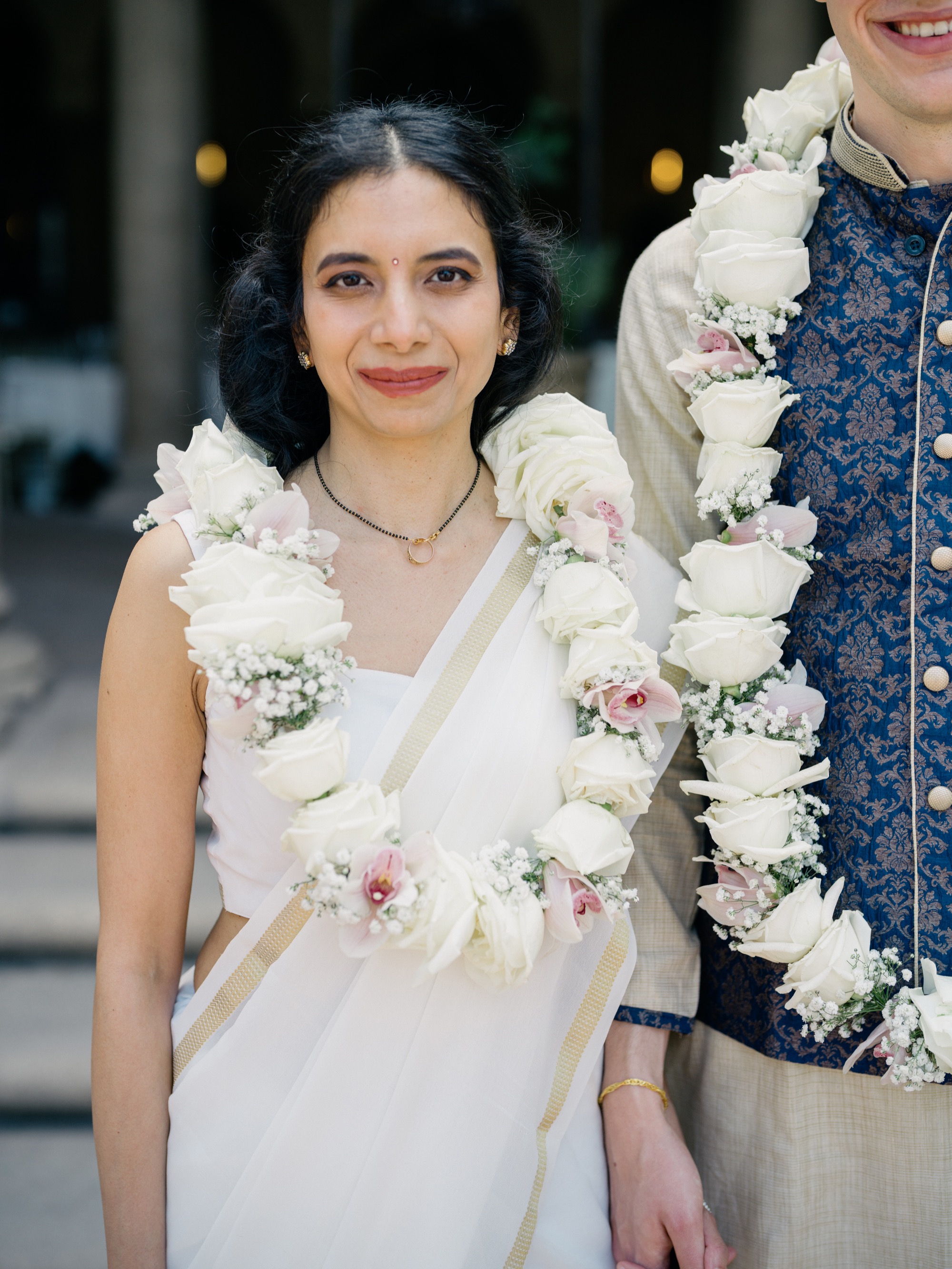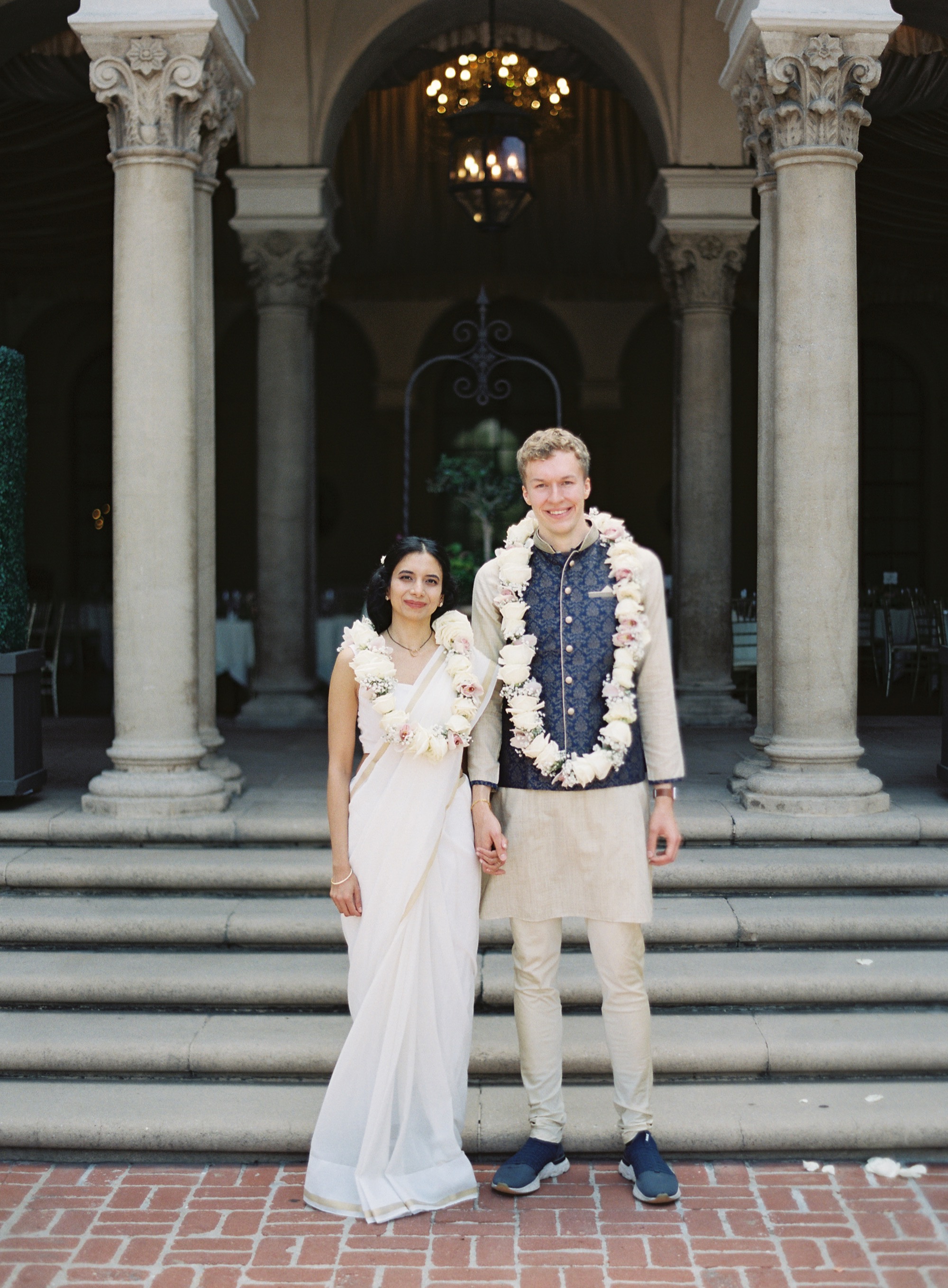 Heading over to greet the guests after the ceremony.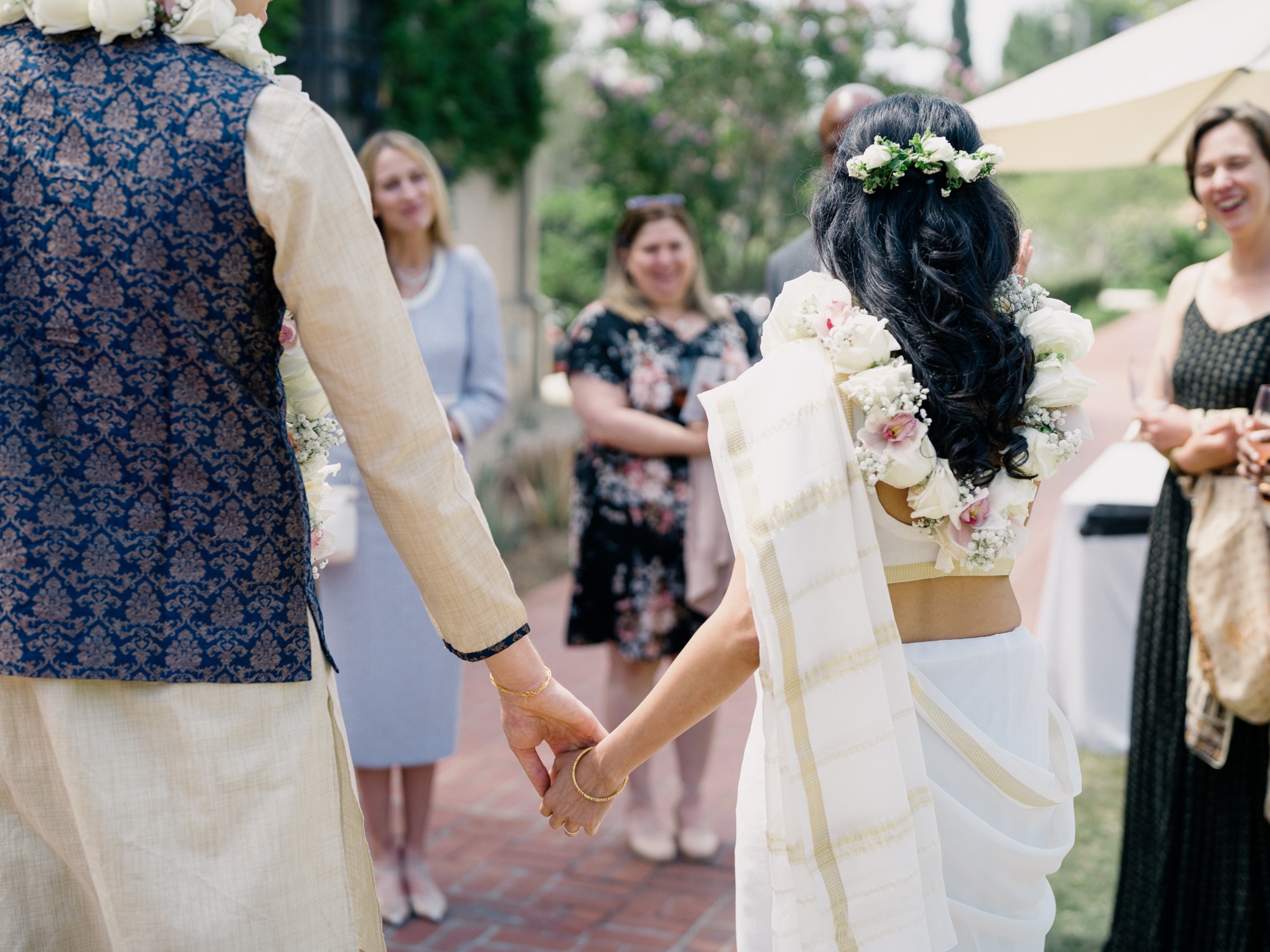 Cocktail Hour
We had the cocktail hour at the olive walk at the Ath.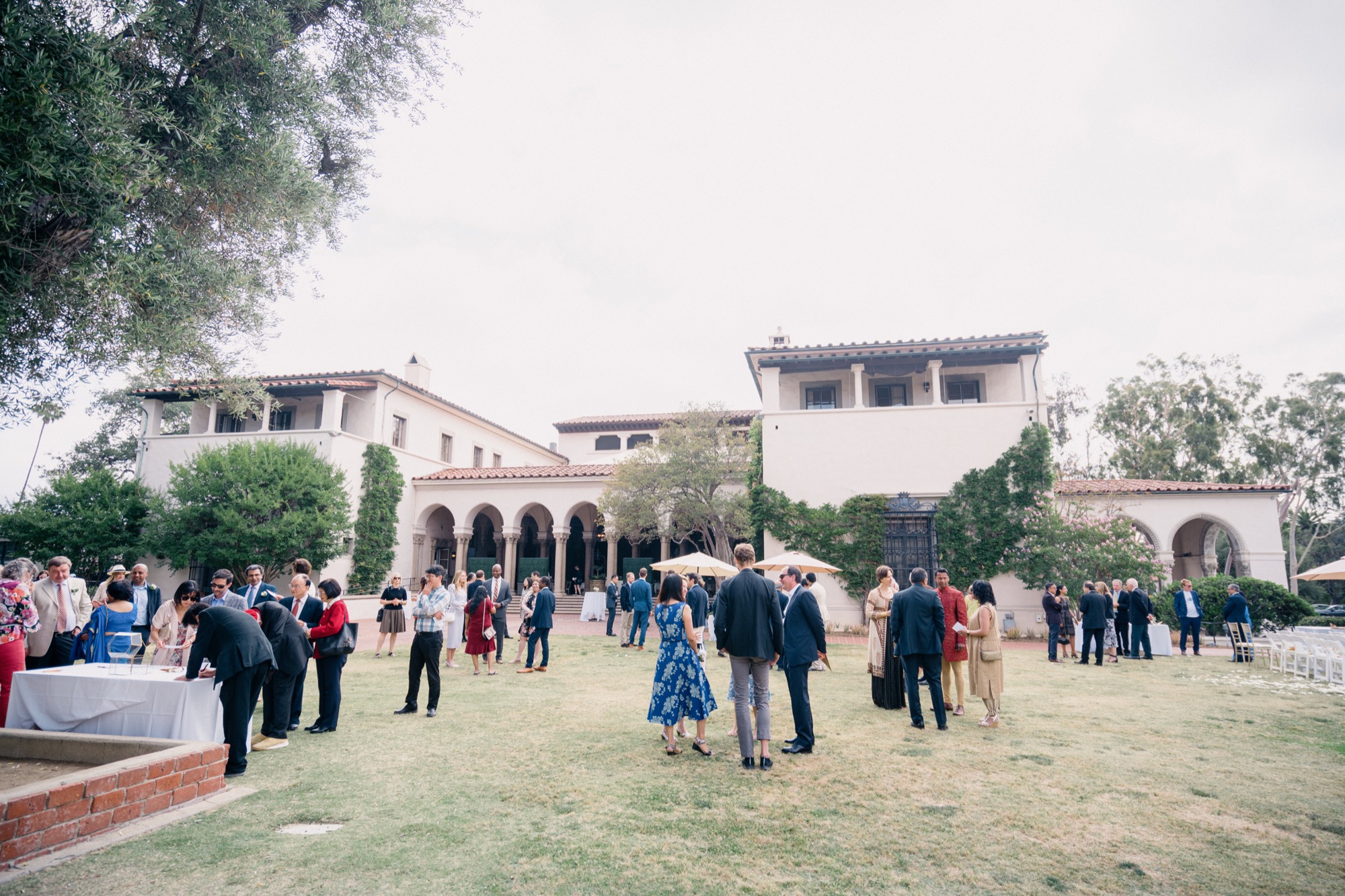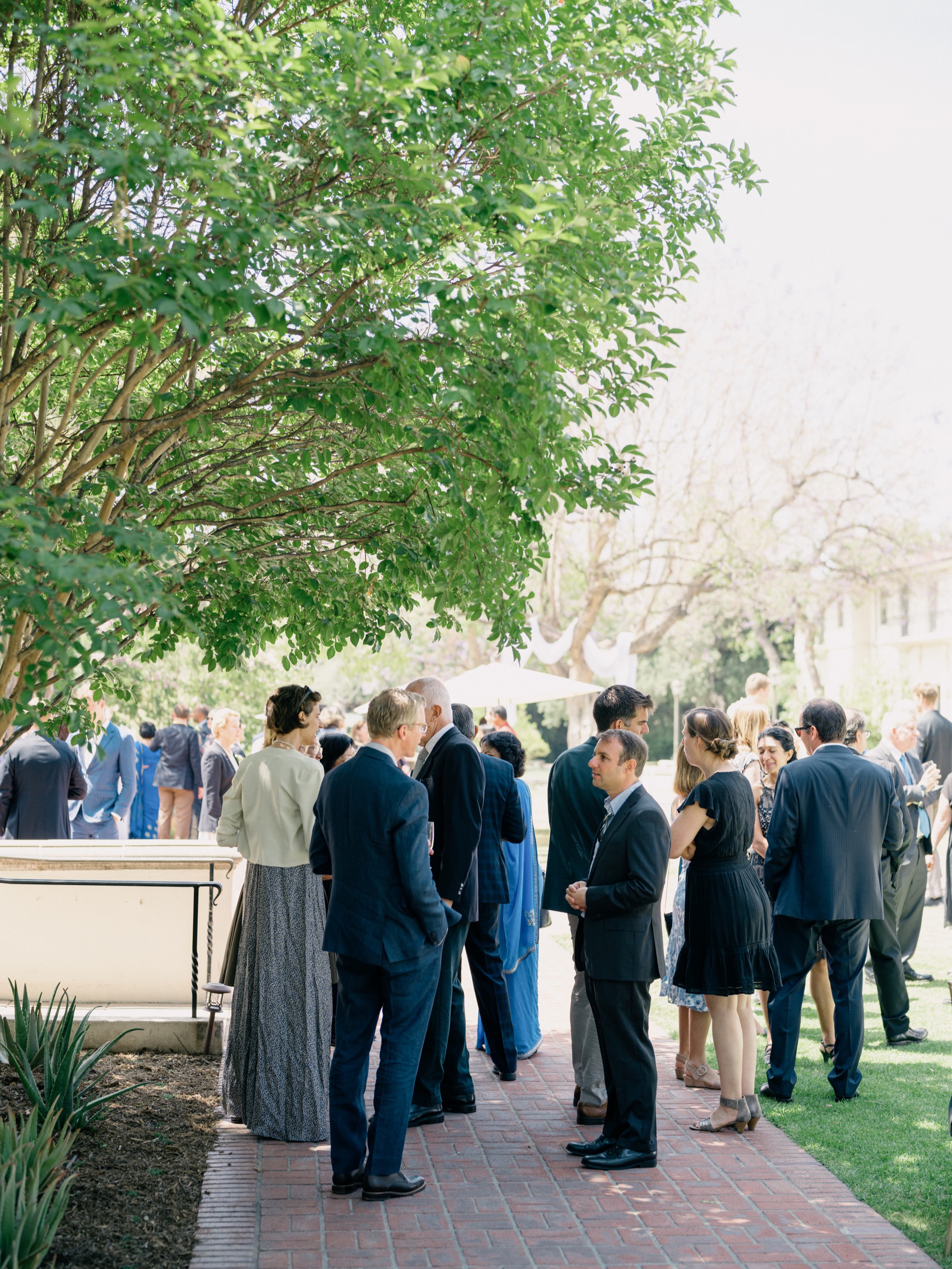 Olive tree with our memories.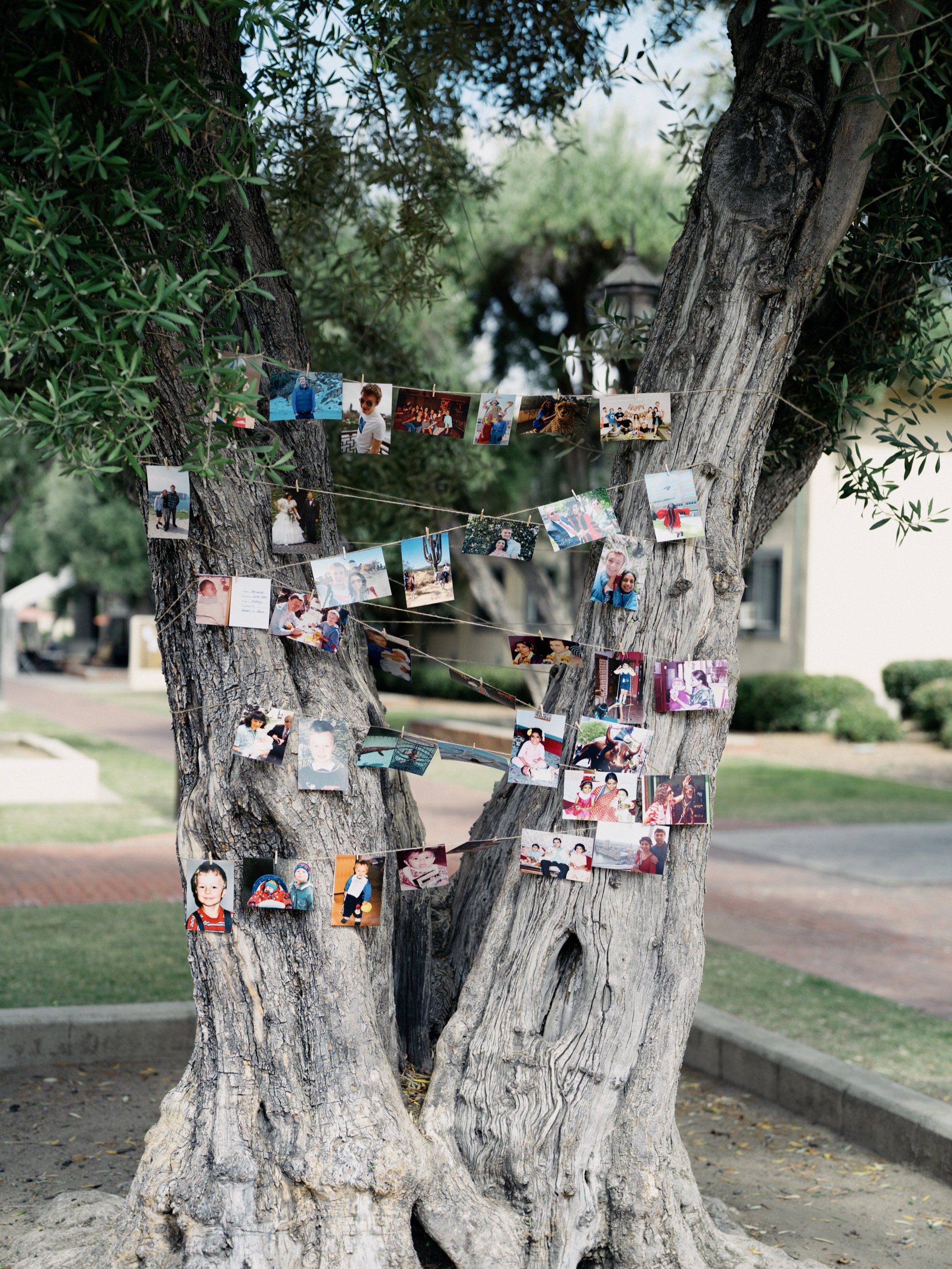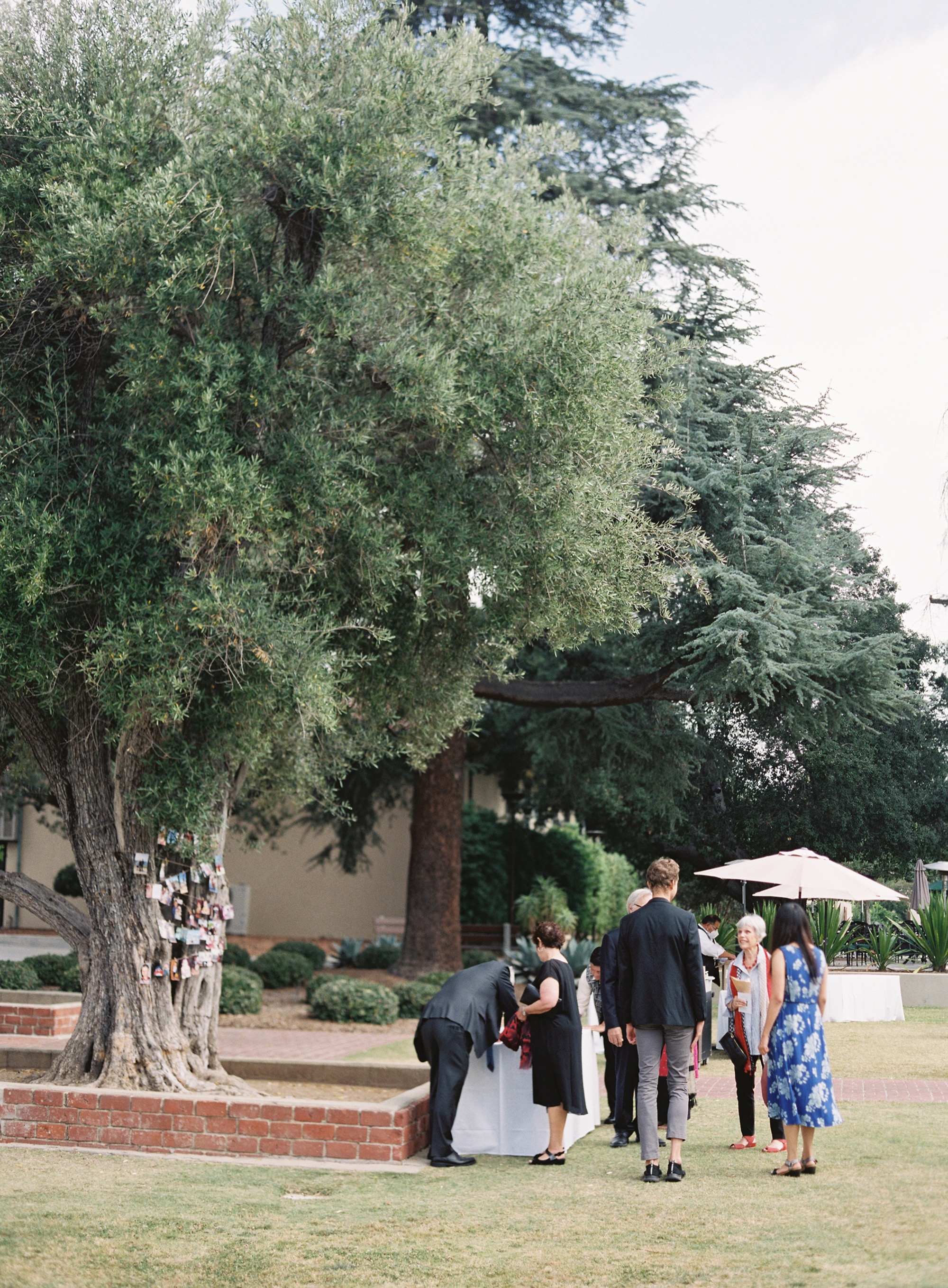 Our guests took the time to write advice cards for us.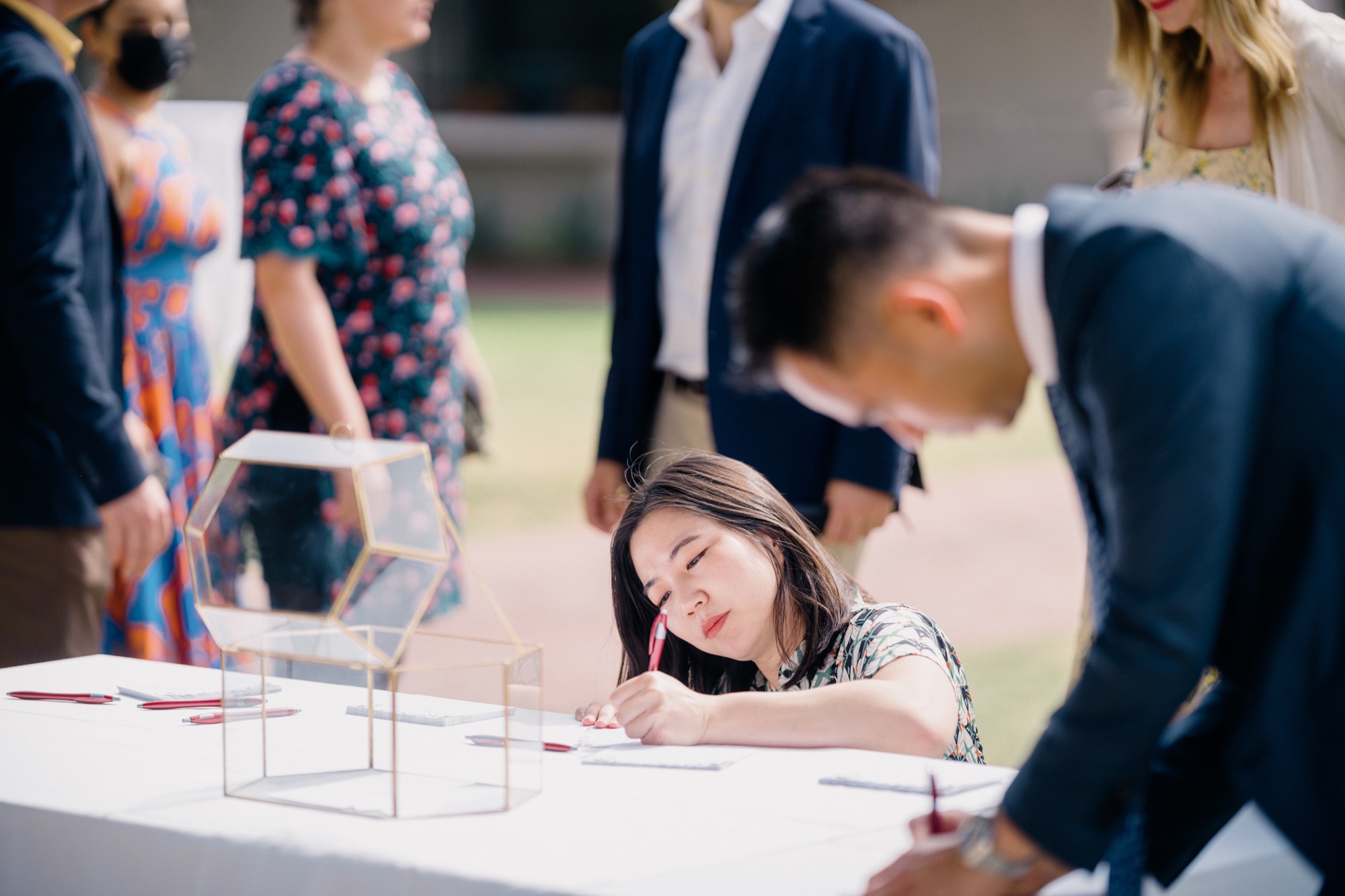 Lunch Reception
Our lunch reception was at the west patio at the Ath.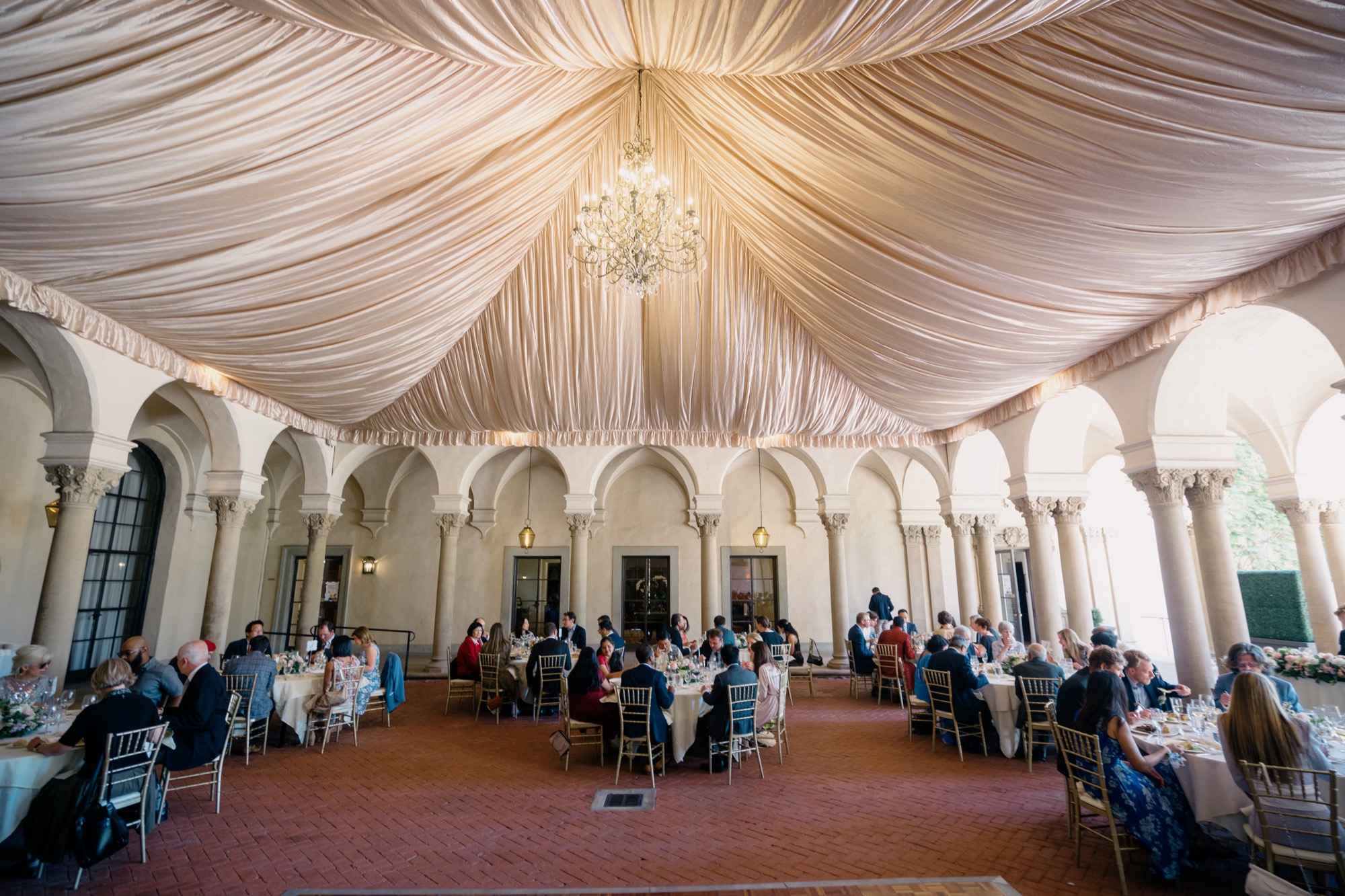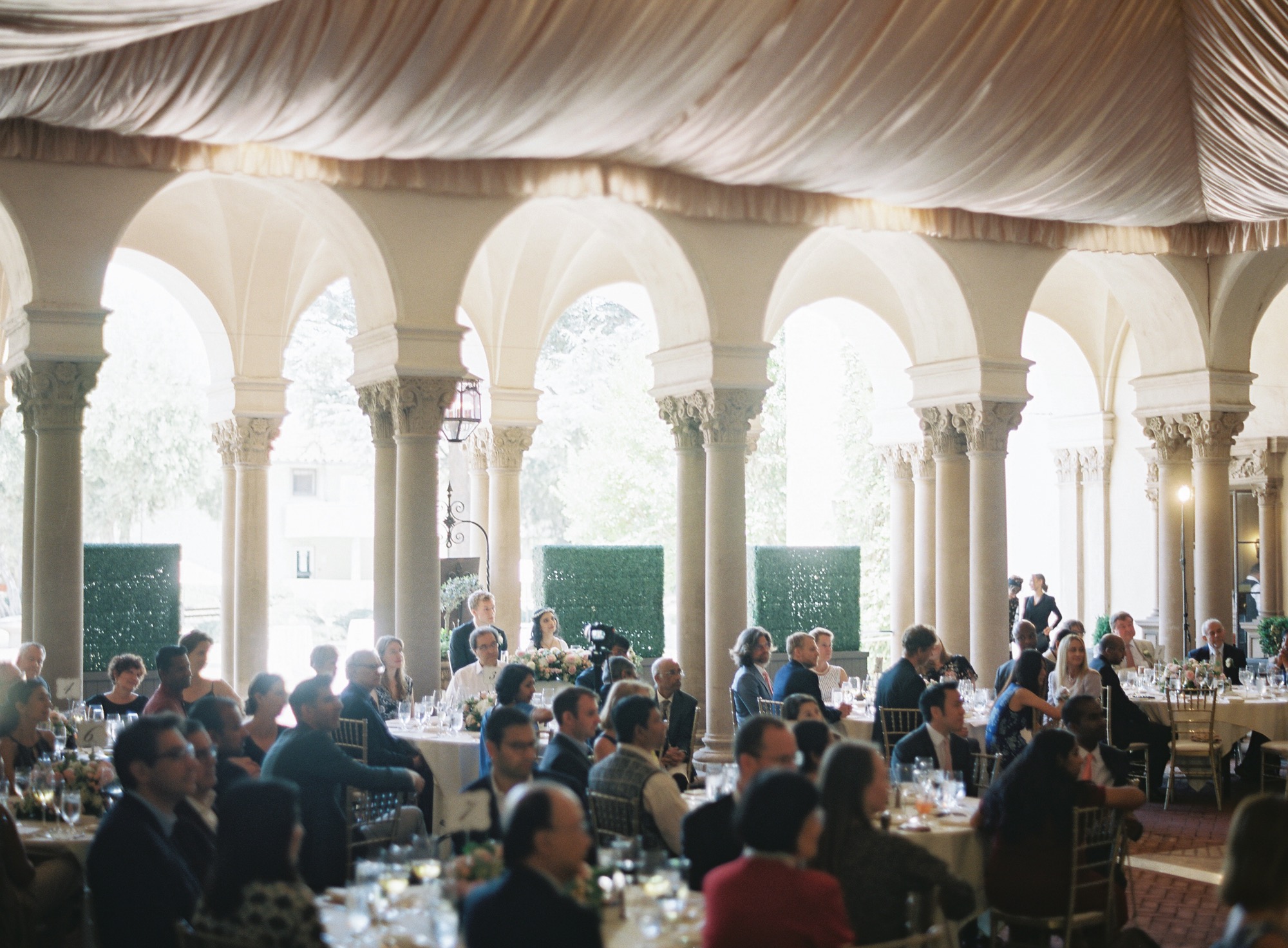 Sweetheart's table.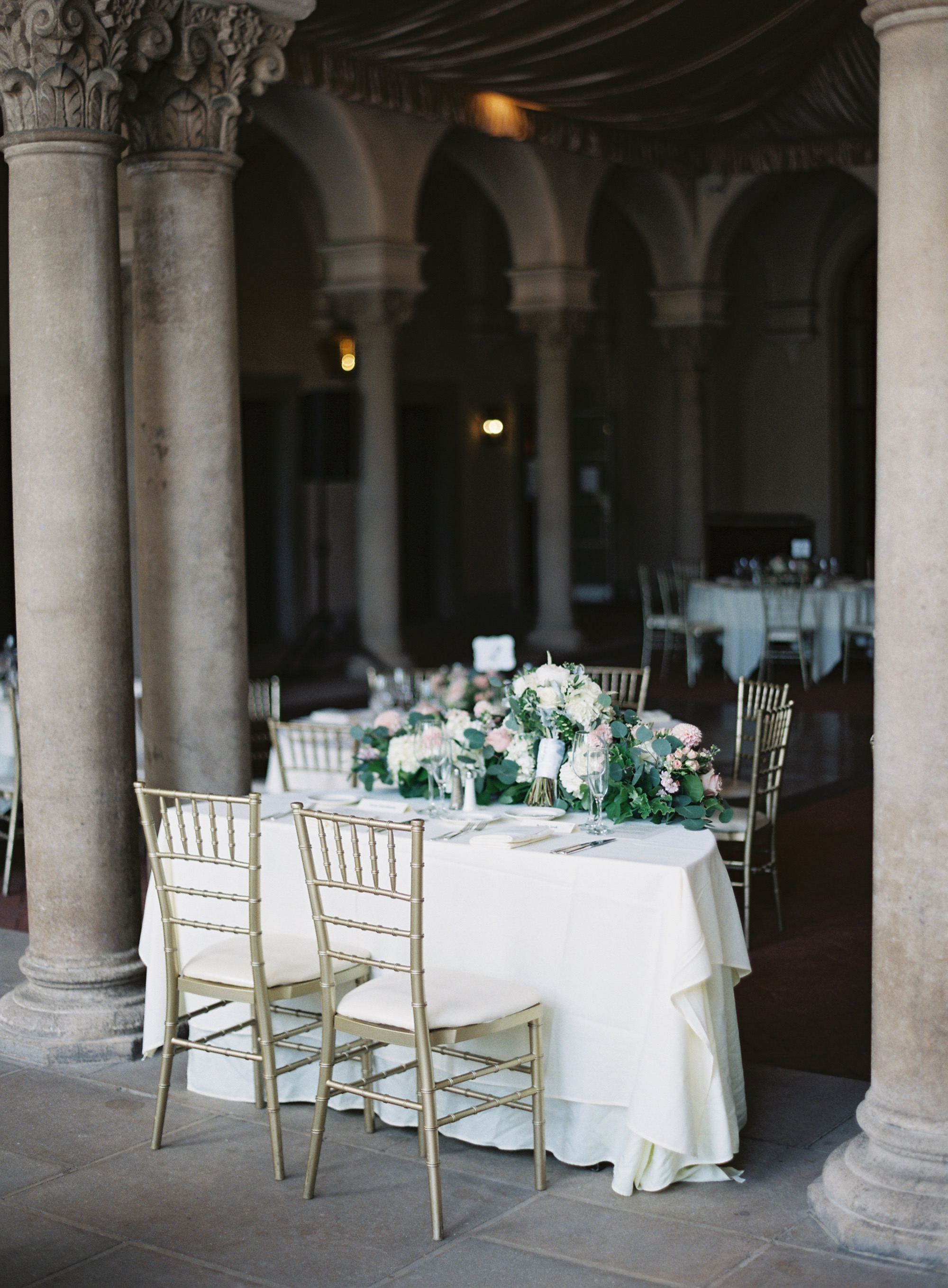 We got lovely cake toppers handpainted by my mother-in-law. But we decided to not have a big wedding cake because nothing beats her homemade cakes. We instead had the cake toppers set up on our table.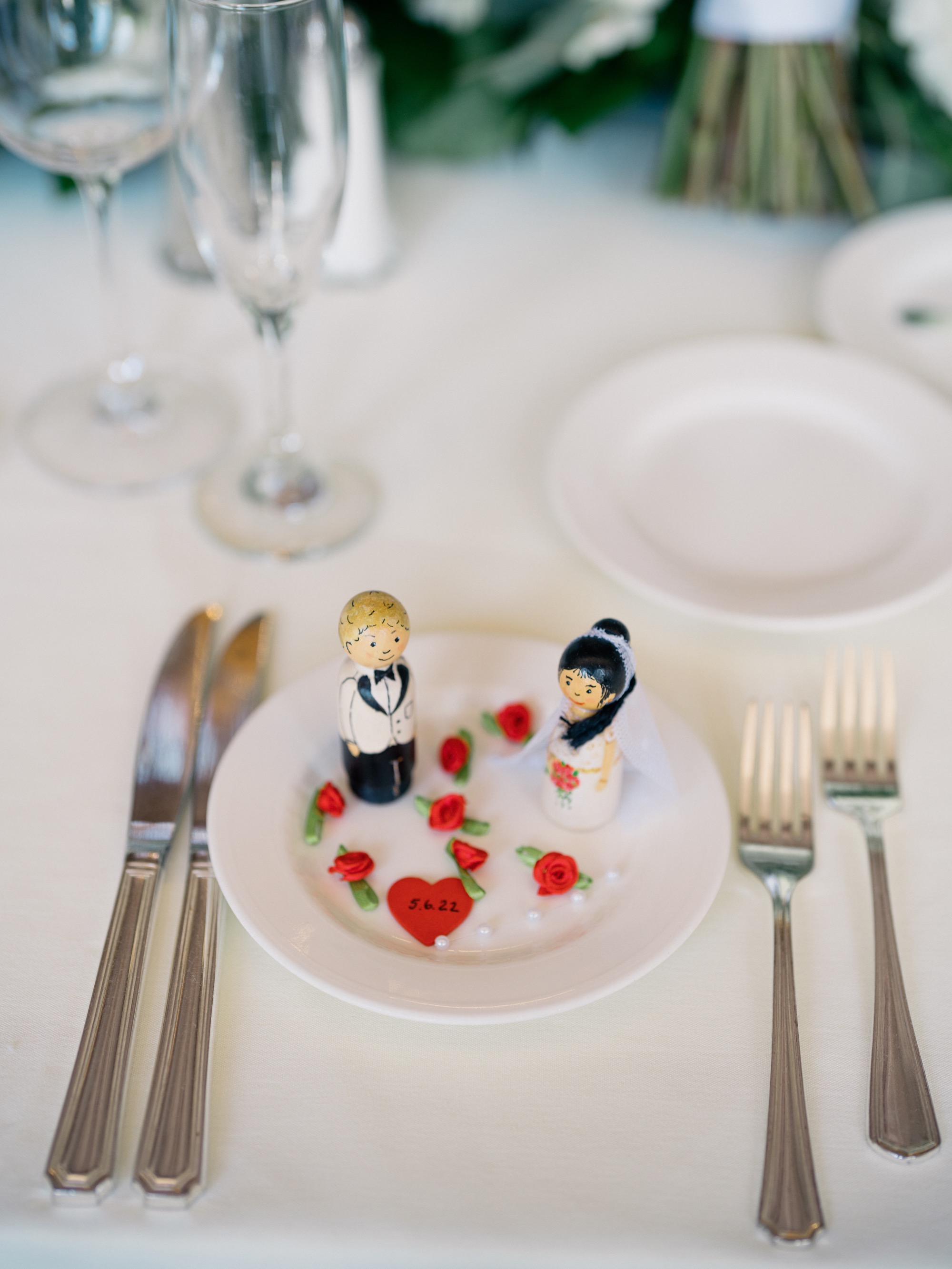 We enter the lunch ceremony.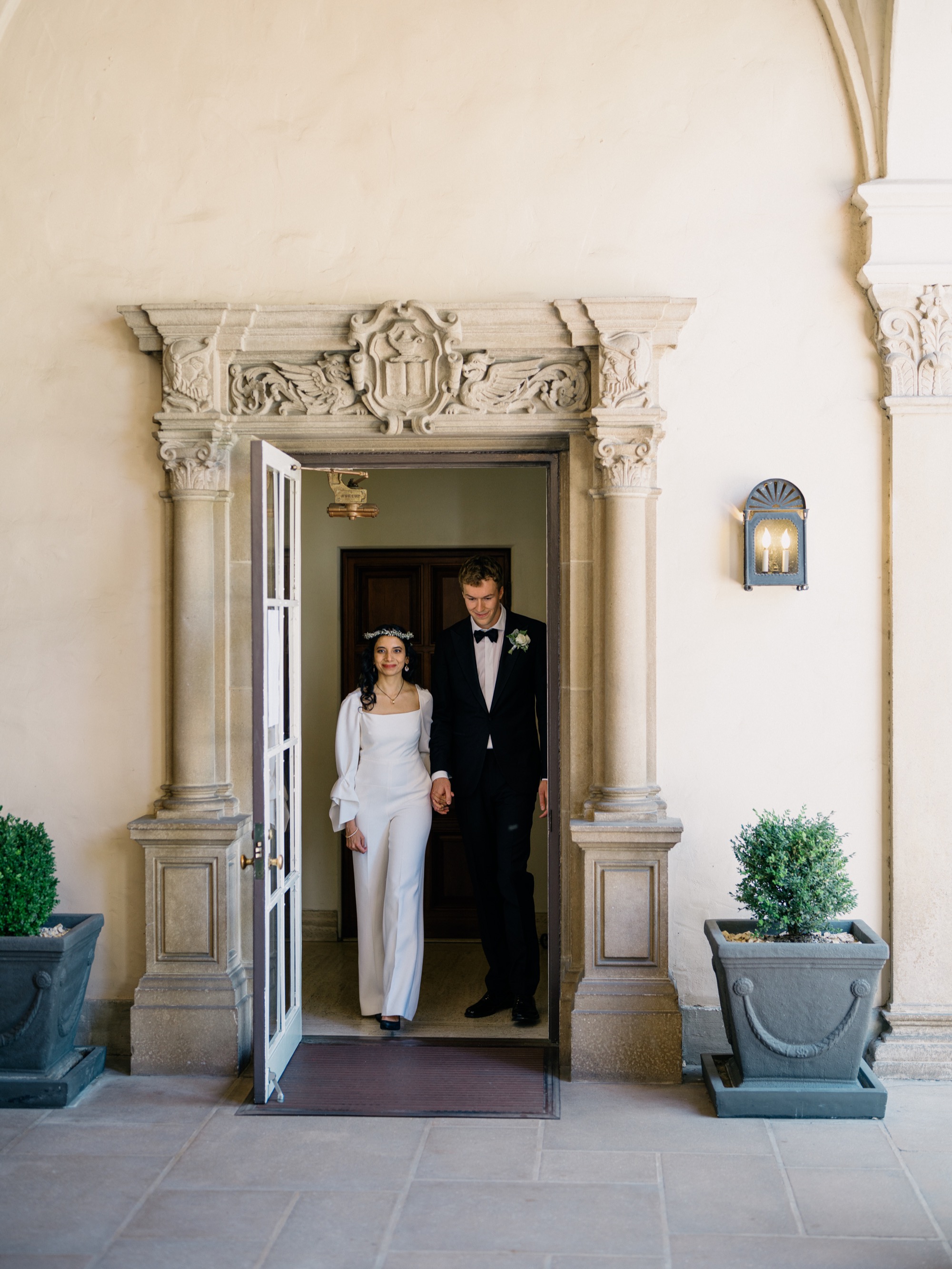 I switched to my Roland Mouret ivory jumpsuit and a short veil, so I could dance my heart out later.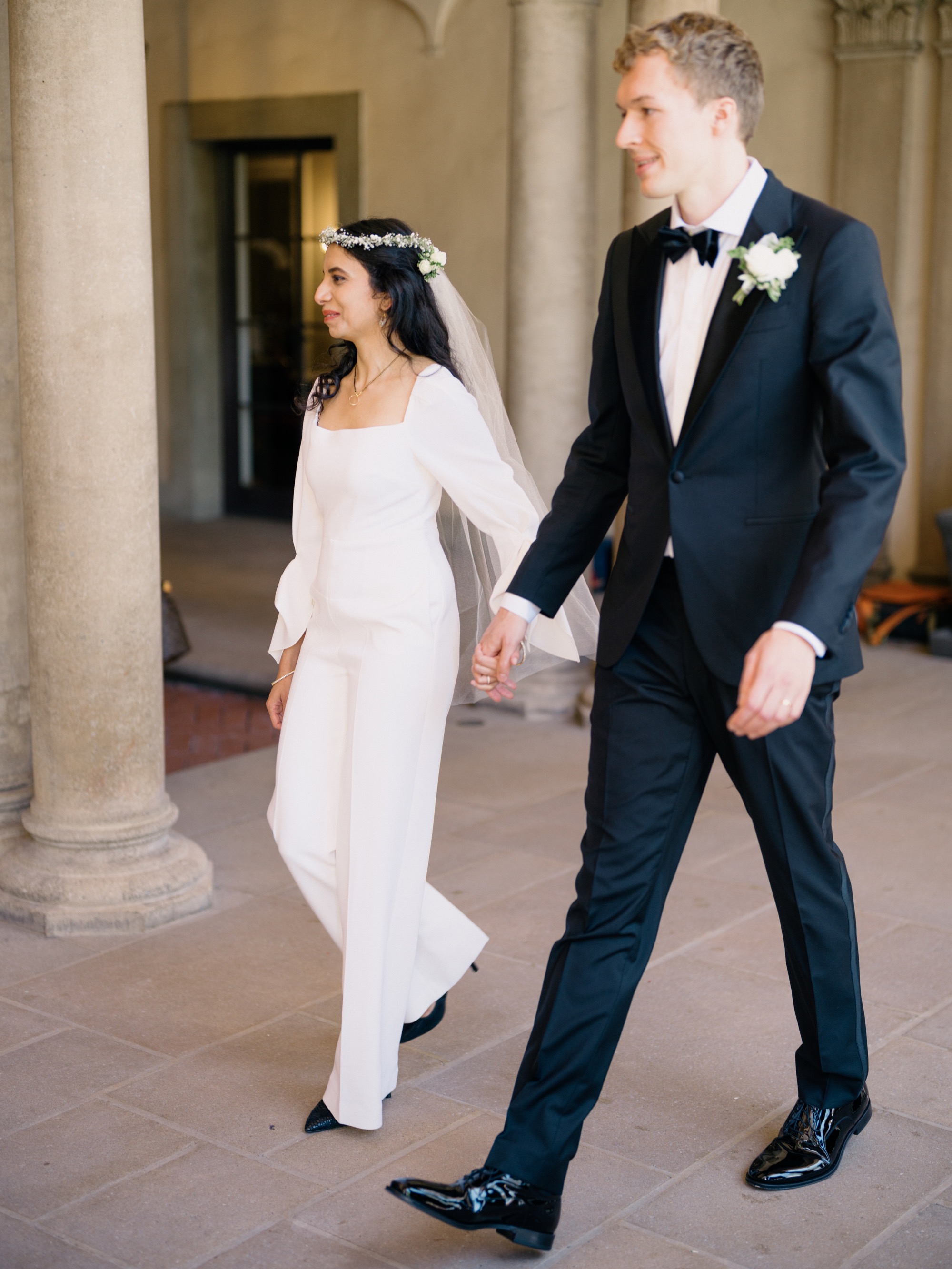 Lentil salad as a starter.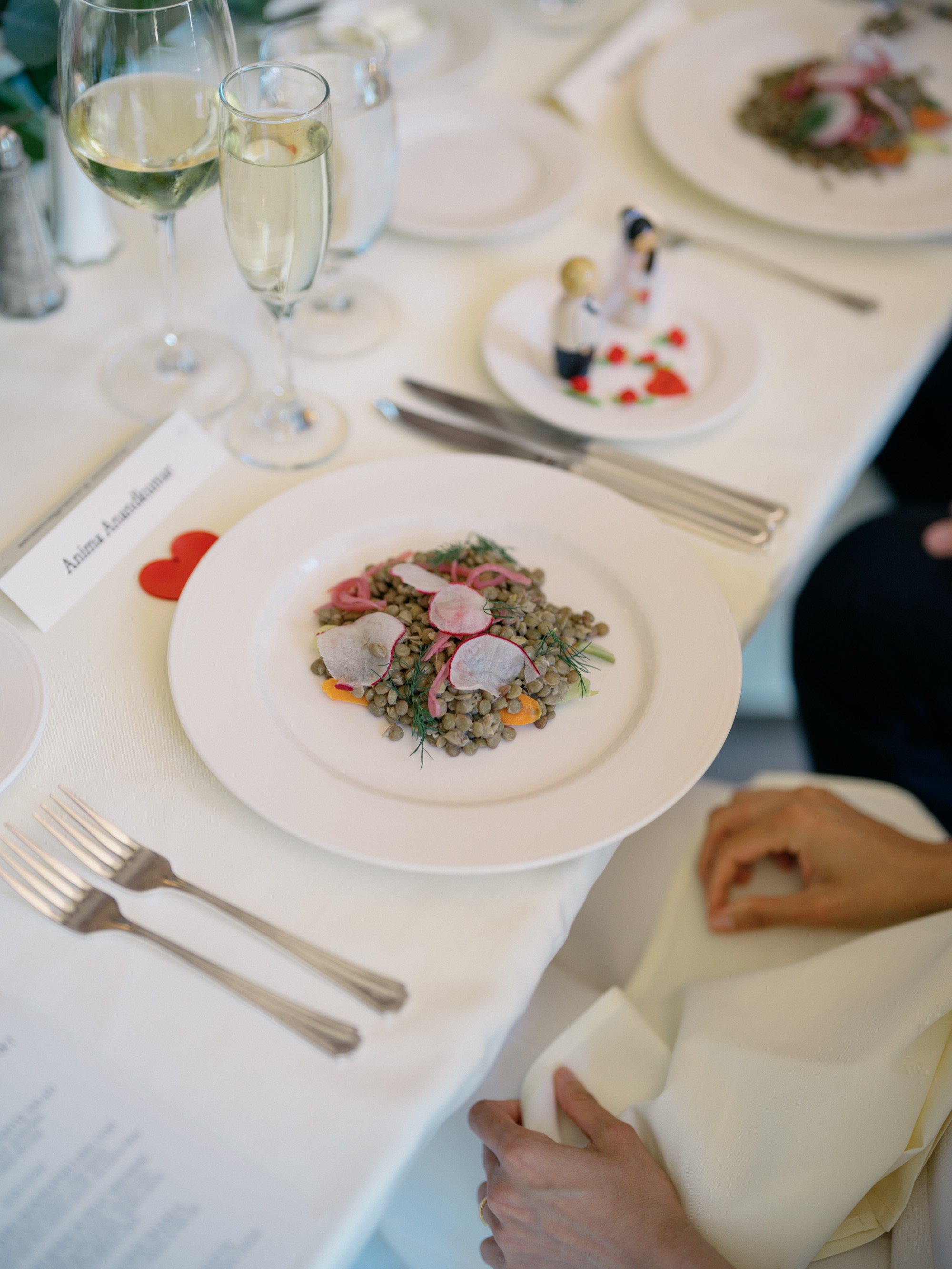 Green tea pannacotta for dessert.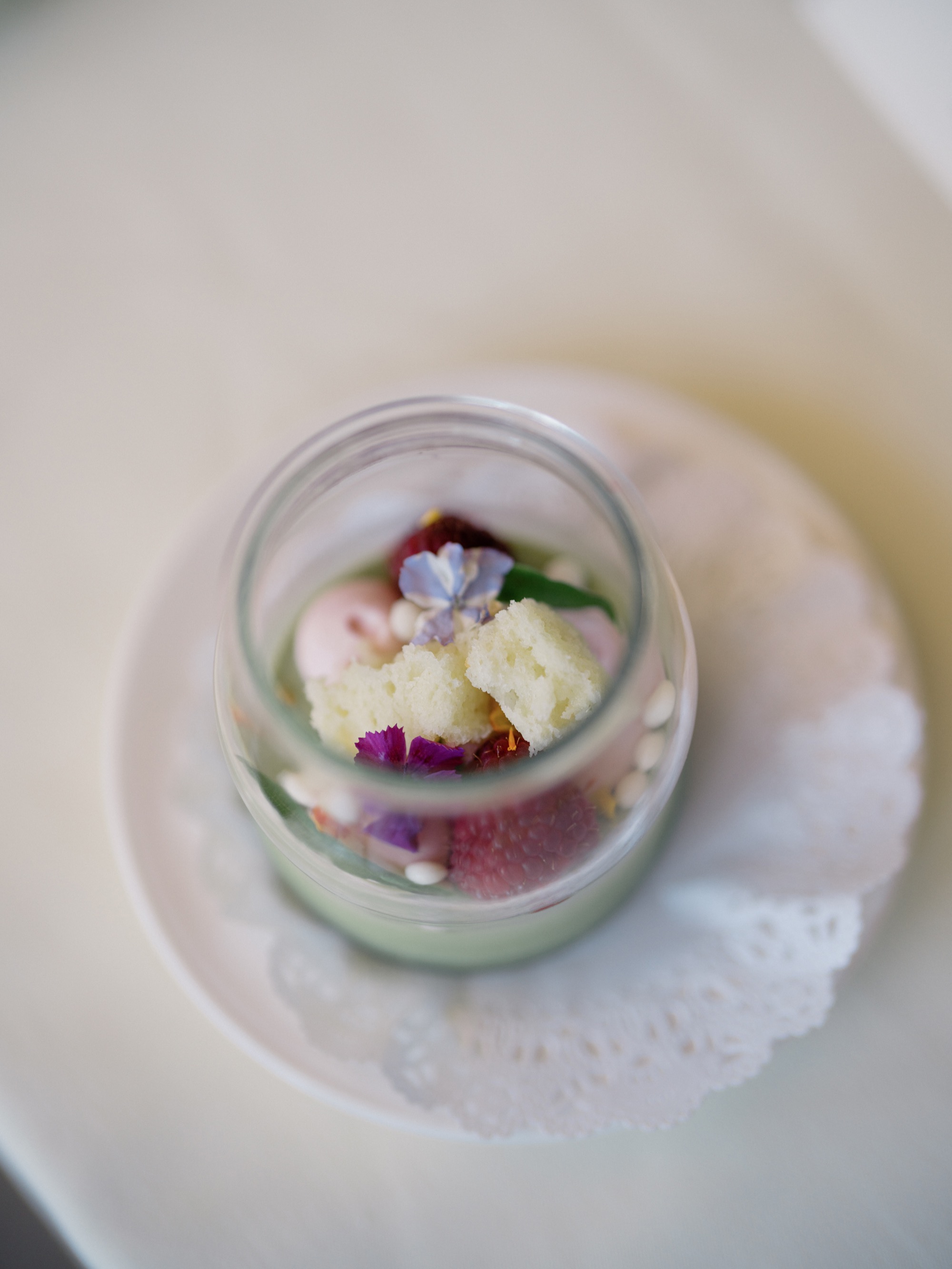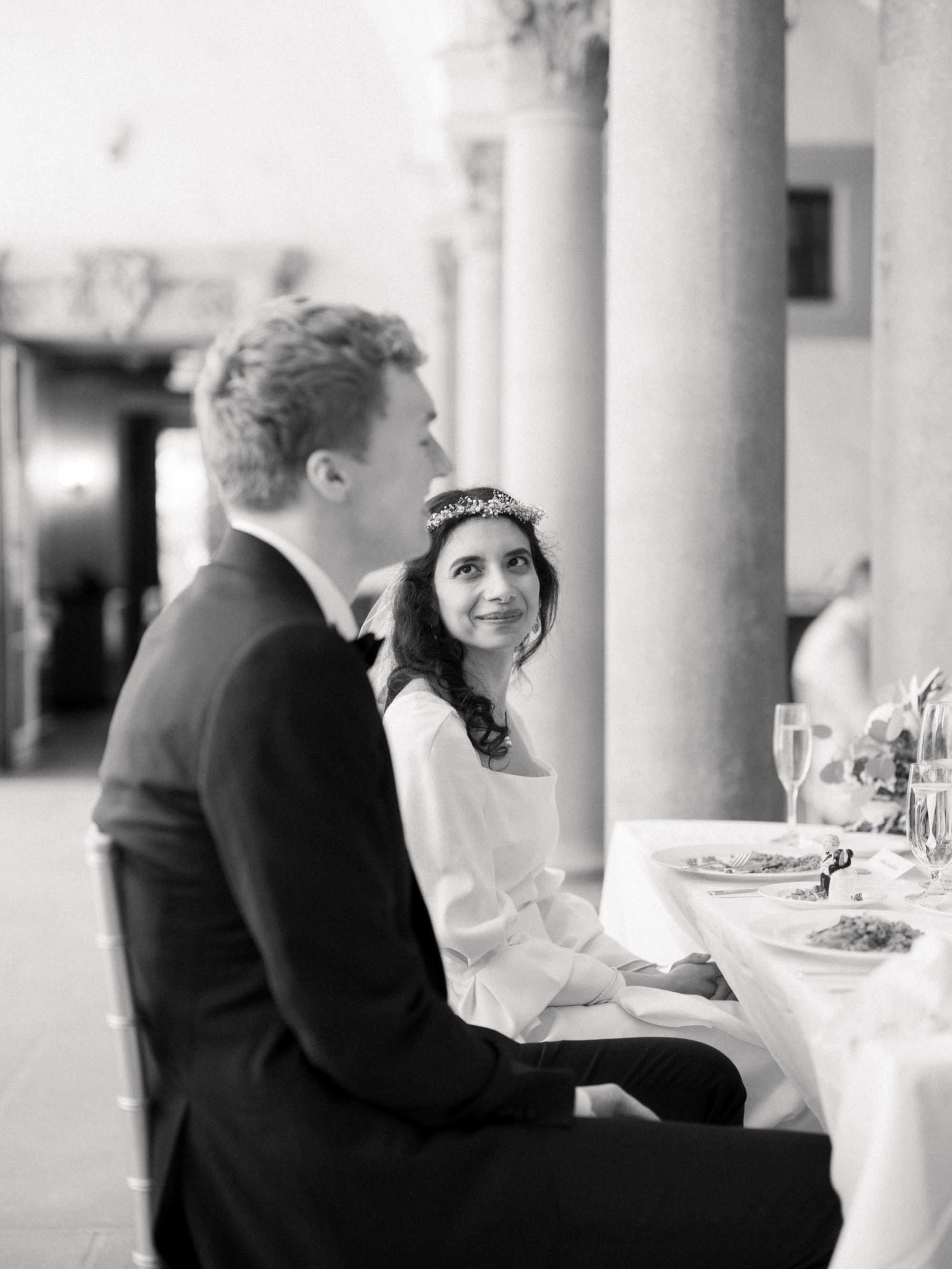 Toasts at the sweetheart's table.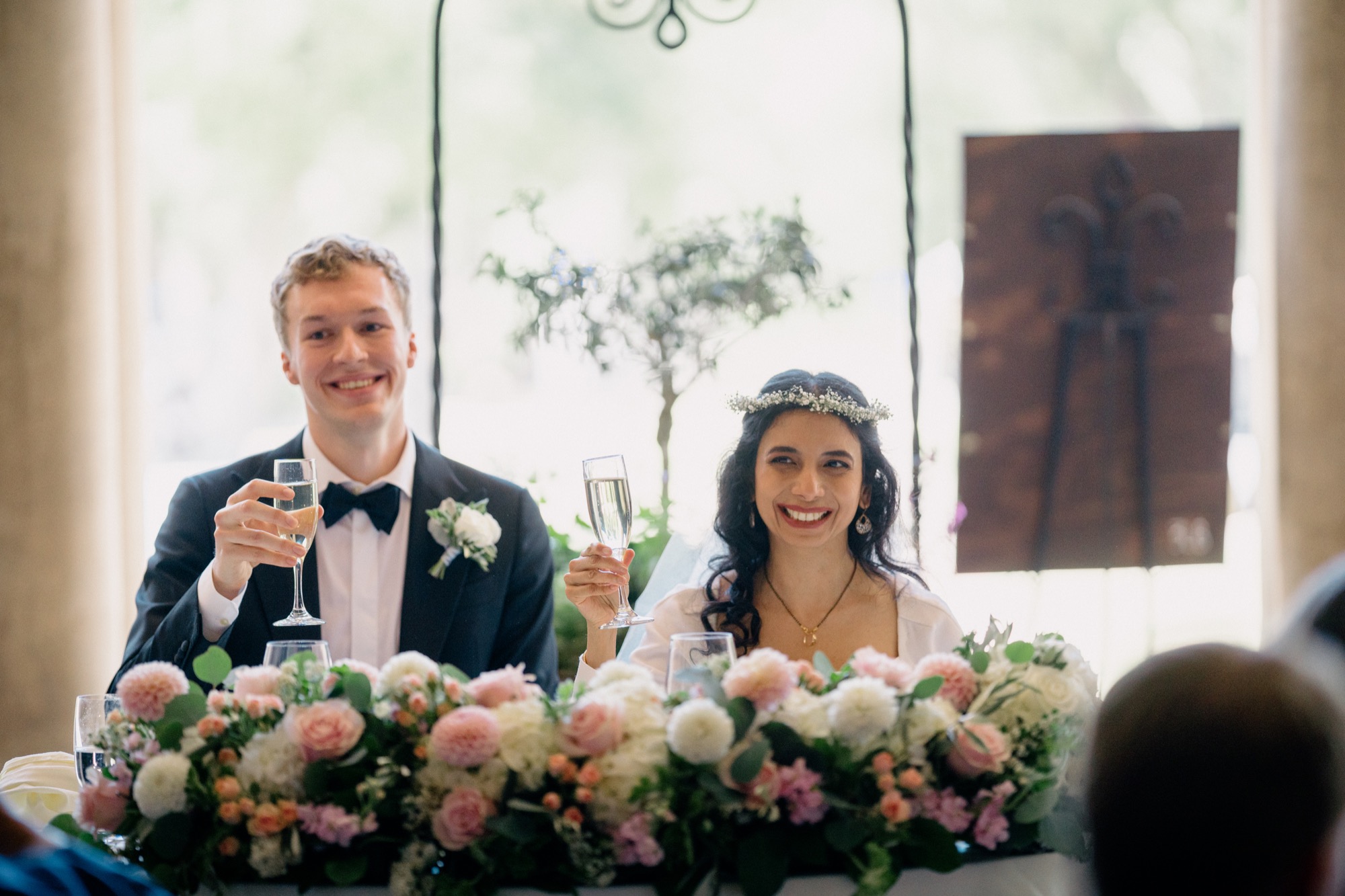 Sharing moments with guests.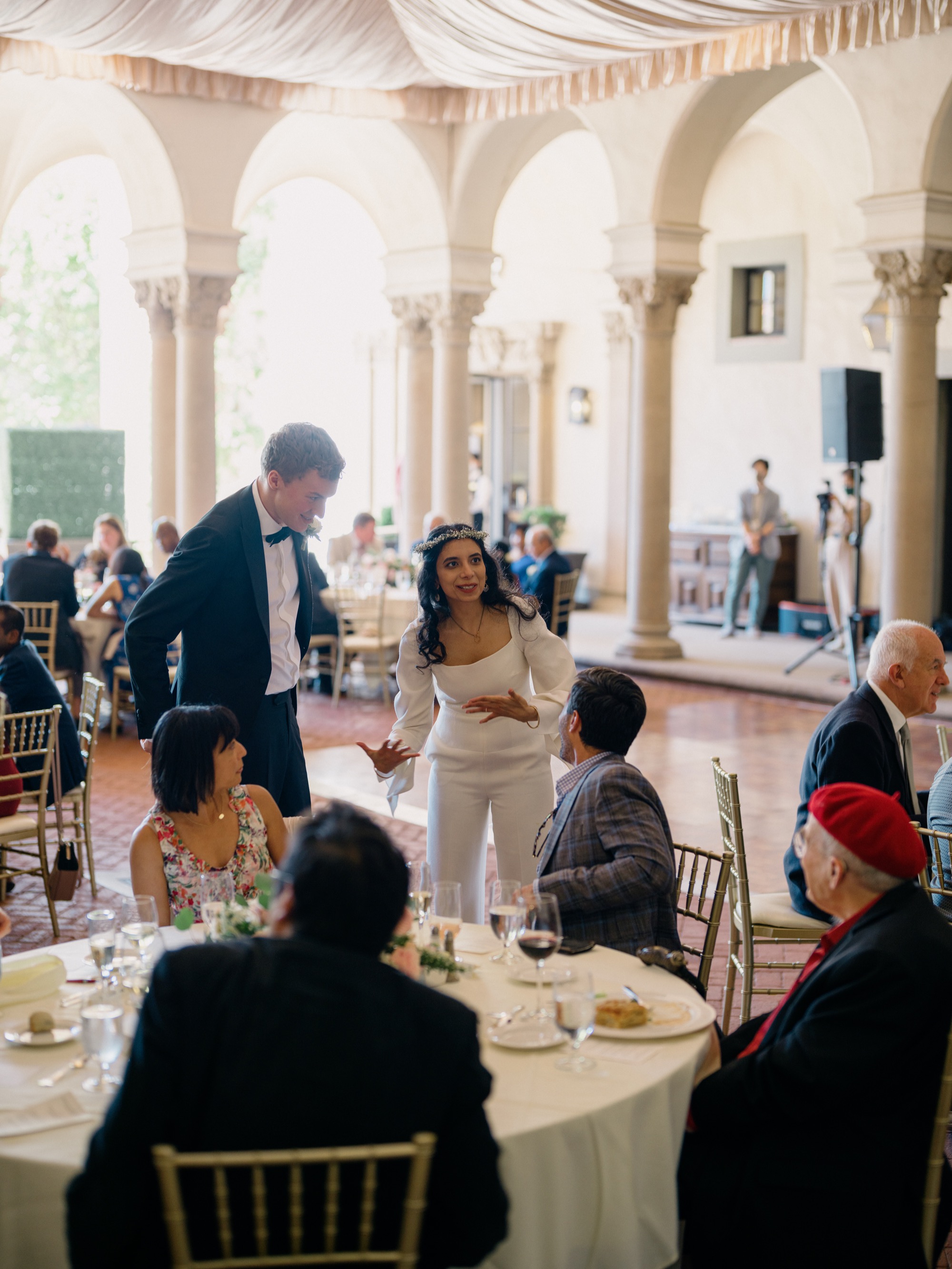 Laughing with our guests.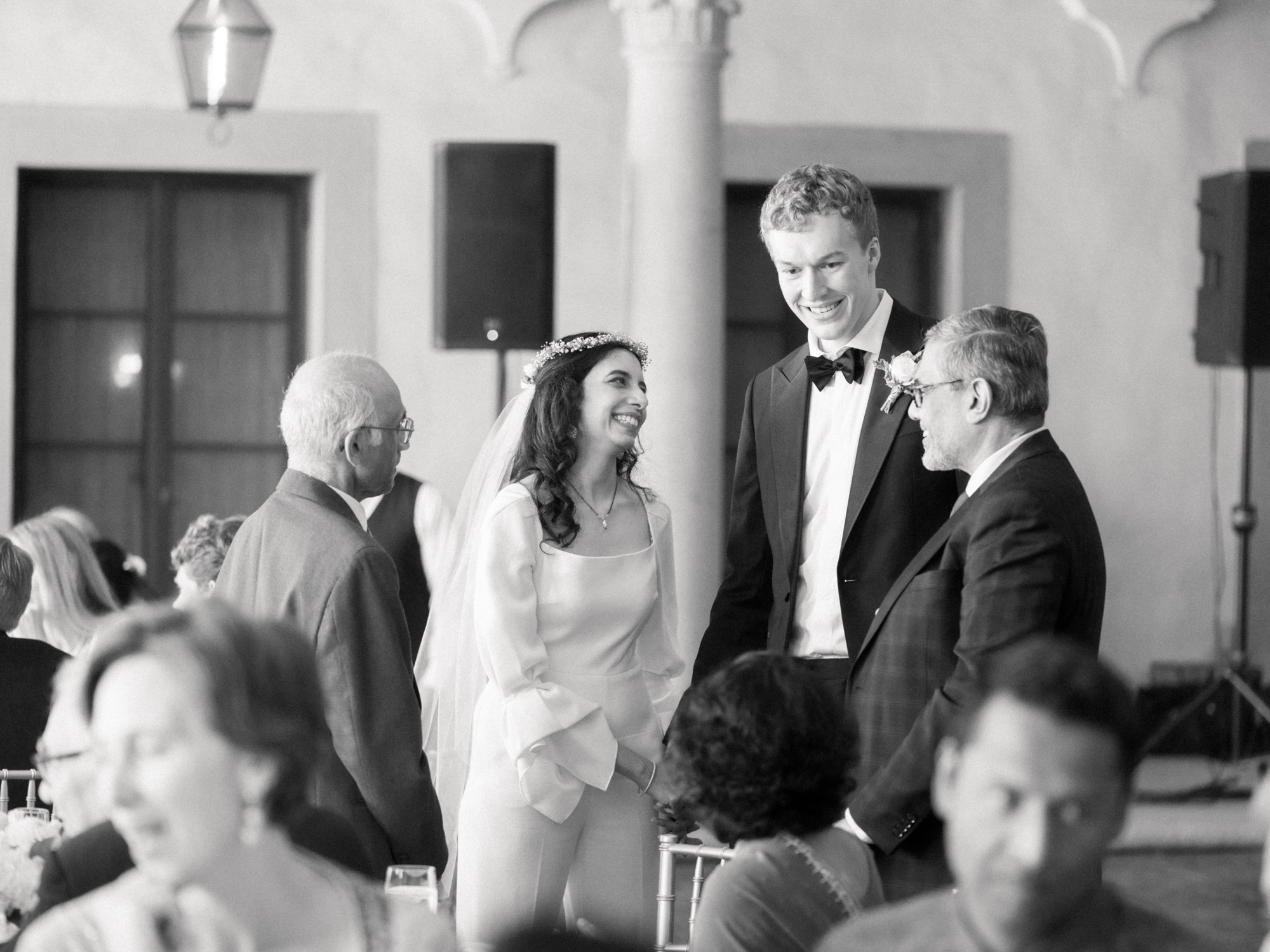 Ending it with extensive dancing.